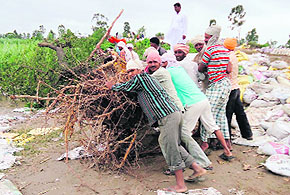 Red alert: Water enters fields in Karnal village
Karnal, September 19
Flood threat loomed large over hundreds of village along the Yamuna basin with the discharge into the Yamuna rising to 6.50 cusecs. The situation is critical near Mustafabad where water has started entering the fields.


Labourers try to plug a breach at Mustafabad in Karnal on Sunday. A Tribune photograph

Murder triggers violence
Saniana villagers pelt stones at house of accused, block road
Fatehabad, September 19
Angry villagers today blocked the Fatehabad-Chandigarh road near Saniana village and set a shop on fire after a liquor contractor was gunned down by his partner during a religious function in the village last night.
Now, homes for runaway couples
Action taken on orders of the High Court
Sirsa/Fatehabad, September 19
Runaway couples, who marry against the wishes of their families, can now stay in protection houses under the watchful eyes of the police. The couples can stay in residential quarters in Government Colleges at Bhodia Khera and Bhattu Kalan in Fatehabad and in working women's hostel in Sirsa.
HC directs action against Panipat judge
Chandigarh, September 19
Panipat Additional Sessions Judge Sarita Gupta is in trouble, apparently. Taking cognisance of Gupta's action of ordering the arrest of an accused despite bails order from the Punjab and Haryana High Court, Justice Ranjit Singh has directed action against her.
CBI tracks 'dead' boy to Alwar, arrests him
Palwal, September 19
A boy of Jatoli village here, who had allegedly fled from the police custody in May last year, has been re-arrested from Rajasthan by a team of Special Crime Branch of the CBI. The local police authorities heaved a sigh of relief at Sanjay's arrest as his father had alleged that the boy had been killed by the police.
Odissi dancer mesmerises
Sirsa, September 19
Noted Odissi dancer Kavita Dwibedi enthralled the audience in the local CMK Post Graduate College for Women last evening. The programme was organised under the aegis of the Society for Promotion of Indian Classical Music and Culture among Youths (SPIC MACAY).
Jawan's statue unveiled
Kaithal, September 19
The state government has decided to build a "Shaheed Samarak" in Kaithal as a mark of respect to residents of the state who sacrificed their lives for the nation after Independence. This was stated by state Minister for PWD (B&R) and Public Health Randeep Singh Surjewala in Kakeor Majra village here today after inaugurating a statue of Surinder Singh, a jawan of the Indian Army, who lost his life in Kargil war. Surinder Singh was a resident of Kakeor Majra.
Hooda govt accused of pro-Jat bias
Chandigarh, September 19
Accusing the state Congress government of discriminating against various castes, the Indian Bahujan Sandesh Party (Kanshiram) condemned the violence during the protest for reservation by the Jat community.