20 pc of paddy arrival purchased in dist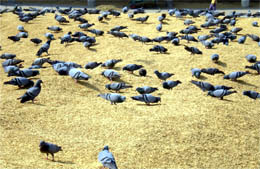 Bathinda, October 1
Against the tall claims of the district administration of ensuring quick and smooth procurement of paddy, the first day of official procurement today turned out to be a non-starter at most purchase centres in the district. Out of the total arrival of 15,767 metric tonnes (MT) of paddy, only 2,926 MT could be purchased till this evening, which included 1,562 MT of today's purchase.
Pigeons feast on the paddy lying at the Bathinda grain market.

Concern over encroachment at grain yard in Bathinda
Bathinda, October 1
Chairman of the Bathinda Market Committee Gurteg Singh Gikku today inaugurated the paddy procurement at the main grain yard here.
Ministerial staff burn state govt's effigy
Pen-down strike continues for third day in a row
Bathinda, October 1
In protest against the non-acceptance of their demands, ministerial staff of various government departments burnt an effigy of the Punjab government outside the Mini-secretariat here today. They were led by state president of the Punjab State Ministerial Services Union (PSMSU) Darshan Singh Bajaj.
Centenarians honoured on Sr Citizens' Day
Bathinda, October 1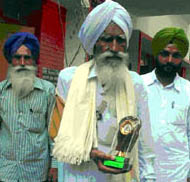 During a function organised to celebrate the International Senior Citizens' Day, the District Social Security Office honoured five centenarians of this district, namely Sher Singh (105) of Kesar Singh Wala village, Mukhtiar Singh (103) of Kotha Guru, Banti Kaur (103) of Kaille Baander, Ajmer Singh (102) of Goniana Khurd and Gurbakhash Singh (101) of Bathinda. Each centenarian was presented a shawl and a memento during the function, which was organised in association with the Gyandeep Shikhsha Samiti, Bathinda, at the Public Library here today.

Mukhtiar Singh of Kotha Guru was among those honoured by the District Social Security Office in Bathinda on Friday. Tribune photo: Pawan Sharma

Repair of rail track deferred in J&K
Ferozepur, October 1
The worsening law and order in different parts of the Srinagar Valley for the past many months has forced the railway authorities to defer the repair of 117 kilometres of rail track, which has allegedly been damaged by miscreants and other protesters.
Two farmers booked for power theft
Fazilka, October 1
Anti-power theft police station, Powercom (Bathinda), have booked two farmers in two different criminal cases of power theft. This is the first case wherein the farmers of this area have been booked in a criminal case of power theft in the recently established Anti-Power Theft police stations in Punjab after setting up of the Powercom.
Woman, son hurt in road mishap
Residents stage stir, block traffic
Abohar, October 1
Hundreds of anguished residents of the adjoining localities blocked three roads by erecting barricades, staged dharna and also held a demonstration resulting in complete suspension of vehicular traffic from 10 am to 2 pm following a road mishap wherein a woman and her son sustained serious injuries.
Drug inspector's case in Moga
Search at complainant's house in vain
Moga, October 1
The Moga police and drug authorities in a joint search operation has found nothing objectionable from the premises of a building owned by the former chemist, who got drug inspector Balram Luthra arrested by the Vigilance Bureau while accepting a bribe of Rs 5,000 from his employee on June 4, this year.
NGOs honoured on Blood Donation Day
Bathinda, October 1
Over 20 non-government organisations (NGOs) were honoured by the district health authorities for their role in voluntary blood donation activities, during a function organised to celebrate the National Voluntary Blood Donation Day at the Blood Bank of the Civil Hospital here today.
Arrival of White Gold
Old purchasing system back in place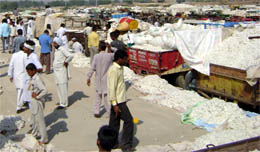 Abohar, October 1
Even when the arrival of cotton was officially recorded about 17,500 quintals less so far than last year in Abohar, hectic activities were seen in the cotton yard that had been developed under the Technology Mission of Cotton by the Central government here.


Cotton arrival in full swing at the market in Abohar. Photo: Raj Sadosh

Dist HQ status sought for Fazilka
Fresh stir planned from Oct 4
Fazilka, October 1
The Sanjha Manch (Fazilka) comprising different social, voluntary, farmers, employees, business, industrialists and labourer organisations, which has been observing hunger strike continuously for the past 47 days to get district status for this sub-division, has started getting support from the neighbouring towns and other organisations.