Presence of Uranium
Drinking water project okayed for Faridkot
SP Sharma
Tribune News service
Faridkot, October 2
Amidst reports of presence of uranium in the drinking water at several places in the district, the Punjab government has prepared a Rs 13.71 crore project to augment potable water supply in this historical town.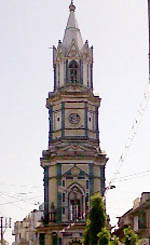 The clock tower in the main bazaar of Faridkot. Photo by writer

The drinking water was being supplied to households from the canal and deep tubewells that was highly contaminated.
Reports of water in the area being unfit for human consumption had initially started pouring in around early 1970s, but the situation has taken a serious turn with various laboratories confirming presence of uranium in certain samples.
A report in 1970 had declared the water unfit for human consumption here as it was brackish, saline and contained high percentage of fluorides. However, with the passage of time, the situation has become alarming as presence of uranium and arsenic has now been detected.
Deputy commissioner S.Karuna Raju said that steps were being taken to supply safe drinking water in the taps. The water supply and sanitation division has prepared the estimates for setting up another water treatment plant and augment the supply in the town.
Demand of water was sharply growing due to rapid growth of population in the town.
On the other hand, the World Bank sponsored scheme to build water supply infrastructure in rural areas on funds sharing basis by the beneficiaries has hit roadblock in several villages that have failed to deposit their share. Many other villages have so far not deposited their full share. Residents of most of these villages were consuming highly contaminated canal water as the Reverse Osmosis (ROs) has not yet been installed in all villages.
Of the 60 villages of the district that were selected for implementation of the scheme in the first phase, 35 villages have not deposited their share.
The contribution of two villages, Chameli in Faridkot and Bishnandi in Kotkapura, was short by a small amount of money. Against its due minimum share of Rs 1.22 lakhs, a sum of Rs 1.21 lakhs has been deposited. Similarly, the Bishnandi village has deposited a sum of Rs 3.04 lakhs against its due share of Rs 3.33 for building the water supply infrastructure.
The other 22 villages have deposited small amount of money that was too short of their due share as a result of which work on the drinking water infrastructure could not be taken in hand.