Lifting of paddy fails to take off
Bassi Pathana, October 9
Though the procurement of paddy by various government agencies had started from October 1, lifting of procured paddy has not yet started resulting in heaps of procured paddy bags lying in the grain markets.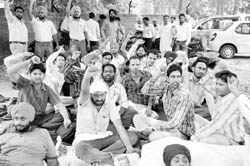 Government teachers hold a protest in Mohali on Saturday. Tribune photo: Parvesh Chauhan
Admn fails to take action
Bassi Pathana, October 9
Despite assurances from officials and the local MLA to provide drinking water to the residents at the earliest, nothing has been done so far and the situation had come to such a point that people were yearning for drinking water to quench their thirst and even for sanitation purposes.
YPS lifts memorial debate trophy
Patiala, October 9
The 21st Lt Col Frank Von Goldstein Memorial Debate concluded at Yadavindra Public School (YPS), Patiala, yesterday.
8 prisoners booked for 'manhandling' jail officials
Ambala, October 9
An undertrial Surender, alias Ganja, who was brought to Ambala City civil hospital for medical examination on court's order this evening, alleged that he and a few other prisoners were mercilessly beaten up in the jail late last night.
Modern Industrial Township
Farmers protest acquisition at Panjokhra
Ambala, October 9
The residents and farmers of Panjokhra village staged protest against the alleged forcible acquisition of more than 1,700 acres on the Ambala-Naraingarh road by the Haryana government.
Kharga Corps celebrate 39th anniversary
Ambala, October 9
The Kharga Corps celebrated its 39th anniversary here recently. Lt Gen Anil Chait said Kharga Corps was raised on this day in 1971 under the command of Lt Gen TN Raina, who later became Chief of Army Staff.
Traffic disrupted on NH-22
Kalka, October 9
Hundreds of tourists and daily commuters had to face great inconvenience today due to traffic disruption on the National Highway-22 in Kalka.


Case adjourned to Nov 13
Chandigarh, October 9
The CBI special court of Darshan Singh adjourned the cash-at-judge's-door scam case after the investigating agency said the sanction for prosecuting Justice Nirmal Yadav was still awaited. Justice Nirmal Yadav is presently a judge at the Uttarakhand High Court. The case is adjourned to November 13.
Youths pose as CIA cop, try to rob chemist
Mohali, October 9
Two youths, posing as police officials from the CIA wing, made an unsuccessful attempt to rob the owner of a medical store at Phase X here on Saturday evening. One of the youths posing as the CIA inspector accused Vikram, owner of the medical store, of selling prohibited drugs, but Vikram maintained that he was not doing any illegal activity. They also threatened Vikram to pay the money or else they would take him to the CIA. But when the shopkeeper called up his friends, they got scared and fled. It is learnt that they both had been traced from Kharar.
Youth held with 300 gm of charas
Chandigarh, October 9
The Chandigarh Police has arrested a youngster with 300 gm charas from Sector 23 here today. The accused has been identified as Suraj, a resident of Mandi, HP.


Cricket: Dinesh takes CL DAV home
Panchkula, October 9
Chaman Lal DAV School, Sector 11, defeated Delhi Public School, Pinjore, by eight wickets in the final of second Clive Shear Six-A-Side Cricket Tournament at the Tau Devi Lal Sports Complex, Sector 3, here today. St Xavier's School, Panchkula, organised the tournament. All-rounder Dinesh was responsible for CL DAV's comfortable victory. He top scored with 32 as DAV replied with 76 for 2 in reply to DPS Pinjore's 71 for 3. He also bagged 2 for 20. Dinesh was adjudged the best player. Semifinals: St Xavier's-Panchkula (50 for 5) beat DPS Pinjore (55 for 2), while CL DAV-Panchkula (65 for 2) beat Saupin's Chandigarh (59 for 3). — TNS
Rajeshwar Football Club, NPS to clash for title
Chandigarh, October 9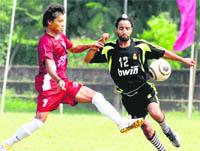 Rajeshwar Football Club will lock horns with NPS Club in the final of fifth Kanwar Harbans Lal Memorial Football Championship being organised by the Youngsters Football Club.



A forward player of the Friends Football Club being checked by an NPS player during the fifth Kanwar Harbans Lal Memorial Football Championship in Chandigarh on Saturday. Tribune photo: Pradeep Tewari
Chess meet from Oct 12
Chandigarh, October 9
The XIX National U-25 Chess Championship 2010 will be organised by the Chandigarh Chess Association (CCA) on behalf of the All-India Chess Federation at St Xavier's Senior Secondary School, Sector 44-C, from October 12. The one-week mega event is significant for the tricity, as it is for the first time that such a prestigious tournament is being organised in the region. — TNS