| | | |
| --- | --- | --- |
| | TOP STORIES | |
The great Debt debate
Empty treasury, but liberal in subsidies
Nirmal Sandhu
Chandigarh, October 9
If the Centre has linked a drastic cut in the Punjab power subsidy from Rs 3,100 to Rs 1,000 crore in five years to avail the Rs 35,000-crore debt-waiver offer, the reason is the state's dismal performance on the power front. Power, it is widely recognised, is key to industrial and agricultural growth and its mismanagement cripples economic growth.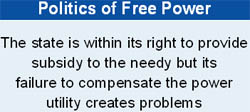 The Planning Commission, the World Bank and experts have warned the Punjab government that free power leads to over exploitation of groundwater, misuse by farmers, poor supply to customers, bankruptcy of the power utility and no fresh investment in additional generation. The state is within its right to provide subsidy to the needy but its failure to compensate the power utility creates problems.
Delayed payments for free power, political interference and non-professional appointments drove the power board to the edge as a weak and populist political leadership dithered on power reforms, fearing opposition from the board employees and farmers, the two key vote banks.
After 13 extensions in the deadline for implementing the Electricity Act of 2003 and a firm no by the Centre for any more extension, the state leadership was forced to split the Punjab State Electricity Board into two entities: Powercom and Punjab State Power Corporation Ltd (PSPCL).
The 2003 Act separates generation from transmission and distribution and provides for competition. In Punjab, there is no competition to the state utilities. Customers have no alternative provider if they are dissatisfied with the quality of power or service or the rate charged. The two corporations have not been right-sized. The old work culture continues and they function like government departments.
The state can retrieve the situation if it follows the Centre's advice, scraps the power subsidy and curbs power pilferage firmly. It can draw lessons from Andhra Pradesh, which has made power theft a cognisable offence and set up special courts and appellate tribunals for fast-track disposal of cases. Twenty lakh high-accuracy meters were installed and old meters handed over to low-value customers. As a result, 98 per cent consumers have started paying bills against 42 per cent in 1999.
For long the Punjab government, driven by the politics of populism and wasting its resources on ministerial whims and luxury, had no money to set up new power plants. Now private companies are doing the job.
Demand, meanwhile, has grown sharply keeping pace with the rise in urban incomes. The state buys power at exorbitant rates during the peak season to fill the demand-supply gap.
As power cuts made Punjabis' life miserable every summer, farmers did not complain since they did not pay the bills. However, their productivity fell and input costs went up. Since a cash-strapped government could not repair or clean up canals and rivers, which increasingly got polluted, raising their health budget, farmers depended more on ground water and went in for costly submersible and diesel pumps, thus raising their input costs and landing themselves in debt. Paddy growers, encouraged by free power, contributed to a sharp fall in the water table. Because of low returns from agriculture and high dependence on chemicals and farm machinery plus an ostentatious lifestyle, farmers do not want to let go the freebies they have got used to.
Erratic power supply, however, has hit the industry hard. Red tape, corruption, high land prices and Central tax incentives in Himachal have added to the industry's woes. While some have shifted their expansion projects to other states, some survive by resorting to power and tax theft, others have sold their units to set up marriage palaces or dabble in realty.
A near empty treasury forced the government to set up the Sukhbir-Kalia committee to mobilise resources. Though it hoped to generate Rs 4,000 crore, the actual accrual has been only Rs 1,100. On paper free power has been discontinued. Every tube well owner pays Rs 50 per bhp per month, which is paid back as productivity bonus.
Media reports say only 50 per cent of the tube well owners pay the bills. The Bhartiya Kisan Union (Rajewal) has asked farmers not to deposit their water and power bills. They know the elections are just a year and a half away.
The Punjab State Power Corporation Ltd urgently needs Rs 2,000 crore for carrying on the existing projects.
Since it has not started with a clean slate like power utilities in other states, the PSPCL has Rs 9,700-crore losses and is saddled with a loan of Rs 18,000 crore.
Four power projects are at different stages of completion. All are coal-based. Projects are not being allotted through competitive bidding. Besides, thermal plants tend to pollute air and water, while power generated is quite costly. The private firms setting up these projects will have to make profits also. This will further push up the state's power subsidy bill.
The state could have collaborated with Himachal and J&K for cheap power from hydroelectric projects. A nuclear power option has not been explored. Biomass is a cheap source of power. Farmers will not have to burn farm residues and pollute the air if biomass is put to judicious use. The state drifts due to lack of cash, vision and good governance.