ART & LITERATURE
'ART & SOUL
ENTERTAINMENT
TELEVISION
GARDEN LIFE
NATURE
FOOD TALK
CONSUMER, BEWARE!
FASHION
GLOBOSCOPE
BRIDGE
ULTA-PULTA
EARLIER FEATURE
TRAVEL
RELATIONSHIPS
DREAM THEME
TIME OFF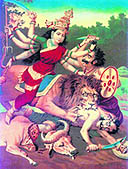 Goddess gracious
Artisans have perfected the traditional image of Durga over the years, but contemporary art has given it a whole new dimension, writes Nirupama Dutt
THE image of Durga or Shakti is built every year in clay and craftspersons have perfected this art over hundreds of years. It is built with care and minute details, only to be submerged in the waters at the end of the Durga Puja festivities.


Durga reinterpreted

To asura, with love

---

Colours of Ramayana
Themes from the epic have remained a favourite subject in works of art over the centuries, writes Kanwarjit Singh Kang
T

HE

Ramayana has had tremendous influence on the Indian culture. Themes related to Rama have inspired innumerable poets, bards, dramatists, painters, sculptors, muralists and craftsmen through the ages, not only in India but also in several countries of South-East Asia.

King of Pop on canvas
The tasks that most women in India perform as part of their daily routine are a source of income for them abroad, reports Kinjal Dagli Shah
KING of Pop Michael Jackson has been brought to life in 12 mixed media paintings here which capture his journey from obscurity to stardom, diseases and tragic death that remains a mystery.

Women in control
Women councillors in Karnataka are accessible and solution oriented. They solve problems of common people and those living in poor areas, writes Taru Bahl
RAVI Shetty had been struggling for three years to get his ration card allotted in Ramnagaram, a town some 50 km from Bangalore. When someone recommended he should meet the local woman councillor to get the work done, he was sceptical.

Breaking shackles
Muslim families of Malerkotla have shed their conservative attitude. Today women of the community get the best of education, reports Shariq Majeed
TWENTY-seven years ago, when Saira, a Muslim divorcee, started a beauty parlour in the once conservative town of Malerkotla, no one would have thought that she was making a wise choice.

Life on new planet?
Astronomers believe that a new planet detected outside our solar system may be a habitable one
It is not too hot and not too cold, and astronomers believe that a new planet detected outside our solar system may have a temperature that is just right to support life.

In Brahma's abode
One of the oldest cities of India, Pushkar lies on the shores of the Pushkar lake.
The date of its origin is not known, but according to a legend, it was created by
Lord Brahma. The only temple dedicated to the deity in India is located here,
writes Mukesh Khosla
RAJASTHAN offers glimpses of a bygone era of princes, palaces and medieval fortresses, together with the resplendent havelis, which are an architectural marvel.

Voices of the silenced people
Several Bollywood films that premiered in Toronto recently drew unique portraits of Mumbai, besides redefining the boundaries of Hindi cinema, writes Saibal Chatterjee
BHOPAL-born artist Baaraan Ijlal brings to light the oral tradition of fable telling, exemplified by the Arabian Nights tales into narrative paintings in her maiden exposition that was held in New Delhi recently.

'Robot was a tough film to make'
Aishwarya Rai, who is back with her latest release, tells Jyothi Venkatesh that an actor is a puppet in the director's hands
Aishwarya Rai is, perhaps, the only married actress who has been able to break the myth that married actresses cannot survive in Bollywood or have to make do with roles that require them to play the young mother, like say Kajol in films like Fanaa, U Me Aur Hum, My Name is Khan and We Are Family.

Bollywood bug bites Hollywood
The growing popularity of Indian films worldwide has made superstars from the West warm up to Bollywood, writes Priyanka Sharma
Bollywood seems to have become a hotspot for Hollywood actors. From Sylvester Stallone, Kylie Minogue to Brandon Routh, Ben Kingsley and now Drew Barrymore, superstars from the West have started showing interest in Hindi films.