Debate contest to hone augmentative skills
Patiala, October 18
The Rajiv Gandhi National University of Law (RGNUL), Patiala, is organising "Agahi-10", a national parliamentary debate competition that began at the university campus today.
Rs 10,000 cr VAT collection in 2010-11'
Patiala, October 18
The excise and taxation department, Punjab, has set up a target of Rs 10,000 crore for the collection of VAT in the year 2010-11, which will be achieved by the department easily.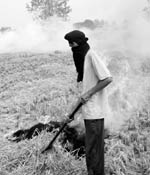 Ban on paddy burning goes up in smoke
Rajpura, October 18
The ban on burning paddy stubble has gone up in smoke with farmers resorting to this practice to save money. Thick clouds of smoke are seen emanating from paddy fields.






A farmer burns paddy stubble at Alampur Nepra village near Rajpura on Monday. Tribune photo: JS Virdi

Snakebite, ignorance claim youth's life
Rajpura, October 18
A youth died due to snakebite and lack of timely medical intervention. The deceased has been identified as 22-year-old Amanjeet Singh. He was taking coaching for IELTS in Chandigarh and planned to go to England next month. In the evening he had gone to the farms to spray medicine on the standing crop, when a snake bit him.

Woman tests positive for dengue
Ambala, October 18
A woman has tested positive for dengue while two patients are suspected to be suffering from the disease in Ambala City. A few days back another case of dengue was found in Prem Nagar area.

Man dies of electrocution, two injured
Ambala, October 18
One person was electrocuted and two others sustained burn injuries on the Ghel road in Ambala City today. The deceased was identified as Shiv Kumar, a resident of Lalru.



Centre to clear HC judges' outstanding dues
Chandigarh, October 18
The Punjab and Haryana High Court Judges, previously on the Central Government panel, will soon get their dues. For, it's payback time for the Centre.

Man gets two-year jail
Chandigarh, October 18
The District Consumer Disputes Redressal Forum has sentenced the managing director of Cargo Movers Private Limited to imprisonment of two years for not complying with orders.

Victim takes U-turn, fails to identify accused
Chandigarh, October 18
Accused of rape, Harmail Singh alias Bubby, husband of councillor Sunita Chaudhary, heaved a sigh of relief today as the victim filed to identify him in the court of Additional District and Sessions Judge GC Garg.



28-yr-old ends life
Chandigarh, October 18
A 28-year-old man allegedly committed suicide by injecting some poisonous substance into the vein of his right arm last night at Sector 19.

6 chain snatchers arrested
Panchkula, October 18
The district police has claimed to have arrested six accused in a hit-and-run case here today.



Emerges U-25 chess champion
Chandigarh, October 18
Hemant Sharma of Delhi became the National U-25 Chess Champion 2010 after defeating Krishna Prasad KC of Tamil Nadu in the final round of the 19th National U-25 Chess Championship 2010 held at St Xavier's Senior Secondary School, Sector 44, here today.
A chess meet in progress at St Xavier's School, Sector 44, Chandigarh, on Monday. Tribune photo: S Chandan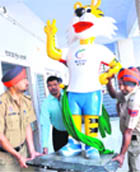 Shera's replica found in Mohali
Chandigarh, October 18
The mystery surrounding the repeated theft and prompt recovery of Shera, the Commonwealth Games (CWG) mascot, first from Mohali and then from Chandigarh by the police, has all ingredients of a typical Bollywood blockbuster in which efficient cops lay their hands on a stolen item, but the thieve(s) manage to give them the slip.

The Commonwealth Games (CWG) mascot, Shera (that was stolen from Sukhna Lake) at the Phase VIII police station after it was found in Sector 69 on Monday. A Tribune photograph
St Stephen's to face Shishu Niketan on Day 1
Chandigarh, October 18
St Stephen's School, Sector 45, will face Shishu Niketan School, Sector 22, in the opening match of the 7th Molly Carver Invitation Cup, starting from October 20 at St Stephen's School, Sector 45, here today.
Shooting meet from Oct 24
Chandigarh, October 18
The Chandigarh Rifle Association will organise the 35th Chandigarh State Shooting Championship at Patiala Ki Rao Shooting Ranges, Sector 25, from October 24 to 26.
Ravi to lead Punjab squad
Mohali, October 18
Ravi Inder Singh will lead Punjab senior T-20 team that left for Delhi this morning to participate in the Inter-State T20 Tournament at Delhi.
PEC taste victory in badminton
Chandigarh, October 18
PEC Tech, Chandigarh, lost to Lucknow University 2-3 on the inaugural day of the North Zone Inter-University Badminton (men) Championship 2010-11 at Panjab University Gymnasium Hall here today.
Junior golf camp for tricity kids
Chandigarh, October 18
The British School Golf Academy will hold a one-month junior golf coaching camp on the greens of Sector 44 campus from October 25.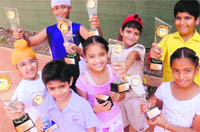 Mankirat clinches U-8 tennis title
Mohali, October 18
Mankirat was declared the winner, while Amitoj Singh finished as the runner-up in the under-8 category in the Open Lawn Tennis Tournament by Shemrock Ace Tennis Academy on the school premises here today.


The winners with their trophies in Chandigarh. A Tribune photograph