CID to probe fake marksheet case
Pratibha Chauhan
Tribune News Service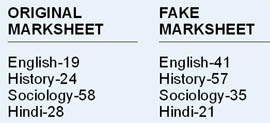 Shimla, October 18
With the marksheet submitted by a BA-II student turning out to be fake, Himachal Pradesh University (HPU) has handed over the entire record to the CID for registering a case against Parvati Devi, a student of Government Degree College, Rampur, and at the same time constituted a three-member committee to look into the functioning of the examination branch.
It was on October 15 that the fake marksheet of BA-II was submitted in the computer branch of the HPU so that her BA-III result, which had been withheld, could be declared. "After completing the inquiry I found that the BA-II marksheet of the student is fake as it has not been issued by us," the Controller of Examination (COE), AN Gupta, said.
He said the HPU had sent the BA-II marksheet of the student to Government College, Rampur, in 2008 in which she had failed. She had been issued a provisional roll number on the basis of which she took her BA-III examination, result of which had not been declared.
After receiving the report from COE today, Vice-Chancellor Sunil Kumar Gupta constituted a three-member committee headed by the Dean of Studies, Prof CL Chandan, to look into the functioning of the Examination Branch, especially the wing which issues degrees and marksheets.
The ADGP (CID), ID Bhandari, said the entire record of the case had been handed over to the police and a case would be registered tomorrow after examining the record provided by the HPU.
The other members of the committee include Prof OP Chauhan (Law) and Prof Suresh Kumar (Management). The committee will submit its report within the next 15 days. It is on the basis of the report that the VC has asked the CID wing of the police to register a case against the student for forging a certificate. However, during investigation the marksheet of BA-I was found to be original and issued by the HPU.
Gupta said the said student had approached the HPU in September to declare her result of BA-III and provided a photostat copy of her BA-II result. "Since the people dealing with it had doubt, they asked for her original certificate which she submitted last week and it did not had the security code and was also on a different paper than the one used by the computer branch," he added.
With the fake certificate issue being very sensitive, the HPU authorities are not willing to take chances. They have handed over the entire record of the said student along with the fake marksheet to the CID, which will investigate the matter to get to the truth and from where the fake marksheet had been procured and if any more such marksheets were in circulation.