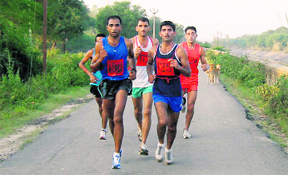 At Roorkee, Bengal Engineers Group spreads green message
Dehradun, October 24
The Go Green Marathon was organised by the Bengal Engineer Group and Centre in association with the State Bank of India (SBI) at Roorkee. There were participants from almost all parts of Uttarakhand and Uttar Pradesh.
Participants at a marathon held at Roorkee on Sunday.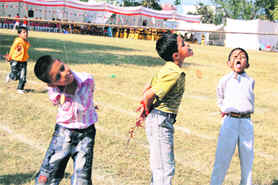 So near, yet so far:

Students participate in a biscuit race at Marshall School In Dehradun on Sunday. Tribune photo: Anil P Rawat

Nainital diary
Minister shoots his mouth off
Tribune News Service
Uttarakhand's politicians are known for shooting their mouths off at inopportune occasions. The latest in the series has been none other than Tourism Minister Madan Kaushik. Kaushik was in Nainital recently to launch an MBA course in Tourism that has been started by Kumaon University. Just as he was speaking to the participants on the occasion, he went on to talk about how to attract clientele to the state.
Scholars discuss Indian ecosystem at conference
Haridwar, October 24
With biodiversity and environmental conservation becoming a global cause of concern, the steps necessary to save these as well as the causes behind degeneration were discussed in depth at a three-day international conference that concluded here yesterday.
Bhatoli keeps sports spirit alive in Jaunpur
Mussoorie, October 24
Dignitaries from various political parties today encouraged participants and organisers of the ongoing tourism, cultural and sports festival being held under the aegis of the Aglar Sports, Culture and Tourism committee, Bhatoli village, Jaunpur Block.
A kabaddi match in progress at Bhatoli village in Jaunpur block, near Mussoorie, during a festival.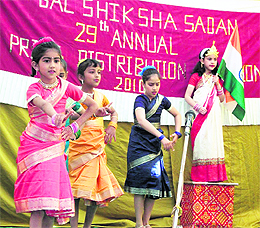 Tiny tots promote national integration
Mussoorie, October 24
Tiny tots of Bal Shiksha Sadan near the Landour Bazar celebrating their 29th annual and prize distribution day presented cultural programmes highlighting the issue of national integration. The prep children presented a number of programmes consisting of several nursery rhymes and small skits showcasing their confidence and personality to the audience amid thunderous applause.
Students stage a play, "Jai Bharti", at Bal Shiksha Sadan in Mussoorie on Sunday.

Haryana win race event title in skating meet
Mussoorie, October 24
On the concluding day of the All-India Invitational Roller Hockey and Skating Championship the team from Panchkula, Haryana, won the overall trophy in speed and road races today, whereas in the junior roller hockey final Aligarh Muslim University defeated Jammu and Kashmir in a close margin of 5-4.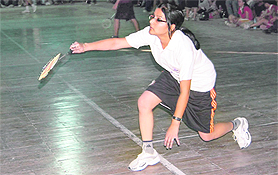 Jyotsana trounces Shagun in UTU badminton meet
Dehradun, October 24
The Uttarakhand Technical University Inter-College Badminton Tournament being organised by Tulas Institute at multi-purpose hall of the Parade Ground here commenced today.
A girl in action at the Uttarakhand Technical University Inter-College Badminton Tournament in Dehradun on Sunday. A Tribune photograph

ONGC holds Petrotech Walkathon
Dehradun, October 24
Revenue Secretary, Rural Development and Disaster Management, Dr Rakesh Kumar, flagged off Petrotech Walkathon at the ONGC Kendriya Vidyalaya (KV) here today.
Dr Rakesh Kumar, Secretary, Rural Development, flags off a walkathon in Dehradun on Sunday.

Aryan School skating champs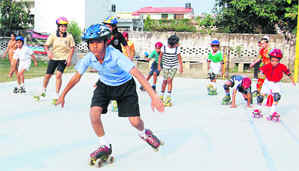 Dehradun, October 24
The Aryan School bagged the overall championship and Asian School won the Junior Roller Hockey Competition during the 16th Doon District Roller Skating Championship, which was organised by the Yati Skates in association with the BSNL and the IMA Blood Bank at Olympus High School, GMS Road, here today.
Participants in the 16th Doon District Roller Skating Championship in Dehradun on Sunday. A Tribune photograph

Doon Star lift DFA Challenger Cup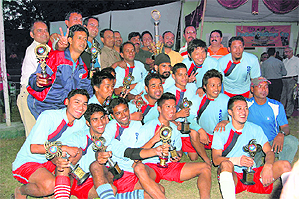 Dehradun, October 24
Doon Star lifted the DFA Challenger Cup trophy beating New Gypsy Club 3-1 in the final on the Pavilion Ground here today. Doon Star not only won the toss, but also won the match. Just after the kick off by New Gypsy Club, the opponent team started building a pressure on the rival team. After making some futile good moves, the Doon team got its first success in the 25th minute through Balbinder Singh.
The Doon Star team with the DFA Challenger Cup trophy in Dehradun on Sunday. A Tribune photograph

Fulfil vacancies under SC/ST quota: Chairman
Pitthoragarh, October 24
Chairman of the Uttarakhand SC/ST Commission Chanar Ram said yesterday that the 8,000 government jobs in the state under the SC/ST quota, which were vacant from the past many years, would soon be filled under a special drive.
Bal Vikas Parishad launches animation film
Dehradun, October 24
Neelam Sehgal, president of the Bal Vikas Parishad, yesterday launched an animation film titled "Incredible India", prepared by city-based Aryan Group, a secular group working for the socio-cultural development. Apart from this, the group also performed the oath ceremony as their group just got registered.
Marshall School holds 43rd sports meet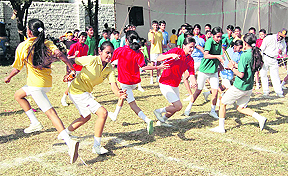 Dehradun, October 24
Students of Marshall School celebrated their 43rd final day sports meet at GC Juyal Sports Stadium here today. The programme commenced with the inauguration of the ceremony by chief guest Lieut-Gen HB Kala (retd), PVSM, AVSM.
Students participate in a relay race at Marshall School in Dehradun on Sunday. A Tribune photograph