Resolution of Kashmir Issue
Mirwaiz seeks US help
Launches signature campaign ahead of Obama's visit
Srinagar, October 24
The chairman of the moderate faction of the Hurriyat Conference, Mirwaiz Umar Farooq, today urged the USA to impress upon India to start a comprehensive dialogue process for the resolution of the Kashmir issue. He also launched a signature campaign ahead of US President Barack Obama's visit.
The chairman of the moderate faction of the Hurriyat Conference, Mirwaiz Umar Farooq, launches a signature campaign in Srinagar on Sunday. Photo: Amin War
City-based groups unite to oppose Omar's speech
Jammu, October 24
Presenting a united face, political, social, business and religious organisations of Jammu today came on a single platform to oppose the "pro-secessionist statement" of Chief Minister Omar Abdullah on the floor of the Legislative Assembly, where he had "questioned" the accession of the state to India.
Omar for comprehensive policy on agriculture
Srinagar, October 24
Chief Minister Omar Abdullah has called for a comprehensive policy to make agriculture an economic hub, especially for educated youth, saying that diverse cropping pattern and utilisation of modern farm technology were significantly important in this regard.
Shops open in Srinagar
Srinagar, October 24
Normalcy returned to the Kashmir valley today as the hardline faction of the Hurriyat Conference did not give any strike call, while no curfew restrictions were imposed in any part of the Valley.
Core group reviews security
Srinagar, October 24
A meeting of the core group chaired by the GOC,15 Corps, Lt- Gen N C Marwah, which was held here last evening reviewed the situation in the Valley to evolve a joint strategy to restore normalcy in the state.


28 rescued kids to reach Leh today
Jammu, October 24
At least 28 children rescued by the Jammu administration from an NGO that had illegally brought them here from cloudburst-affected Leh would be flown back to Leh tomorrow morning and handed over to their parents there.

Rescued children allegedly kidnapped by an NGO play caroms in Ladakh house in Jammu. A Tribune photograph
DPS teacher suspended for slapping student
Jammu, October 24
The Delhi Public School, Rajouri today suspended a computer teacher for allegedly meting out corporal punishment to a student of Class IV on October 20. The punishment allegedly perforated the child's eardrum.
Students demand nomination of their school as examination centre
Jammu, October 24
Students of Government High School, Thumb-Ishtiyari, Padder, of Kishtwar district are demanding that their Class X Board examinations must be held on their school premises.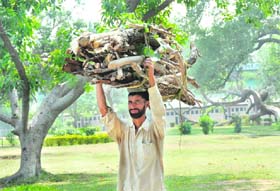 A man carries firewood for cooking food in Jammu. Tribune photo: Anand Sharma



A scene from the play 'Ghumayee', written and directed by Balwant Thakur, being enacted at Reasi. A Tribune photograph
BJP slams Padgaonkar over Pak remark
New Delhi/Srinagar, October 24
The BJP took exception to comments made by Dileep Padgaonkar,one of the three interlocutors, that a permanent solution to the Kashmir issue was not possible without involving Pakistan.
Army holds free medical camp at Nagrota Gujroo
Udhampur, October 24
Under the Operation Sadbhavana, the Army today organised a free medical camp at Nagrota Gujroo village in Kathua district. The camp was meant for the people of remote villages along the Udhampur-Dhar Road.
Play reading function held
Jammu, October 24
The Samooh Theatre organised a play reading function at the KL Sehgal Hall here today in which Mahesh Dattani's Hindi play "Last Solution," translated into Dogri, was read by the translator, Dr Gian Singh.
KP women urged to observe 'Prayaan Divas'
Jammu, October 24
The Kashmira Vahini today appealed to its members and Kashmiri Pandit women to participate in the 335th Kripa Ram "Prayaan Divas", which will be held on Tuesday.
'Kashmir has never been integral part of India'
Srinagar, October 24
Activist Arundhati Roy, who created a controversy by questioning Jammu and Kashmir's accession to the Union, today harped on the same thing saying that the state was never an integral part of India.
Kin block national highway after woman found dead
Jammu, October 24
Angry relatives of a married woman who was found dead under mysterious circumstances blocked the Jammu-Pathankot National Highway for nearly two hours at Hiranagar in Kathua district this morning, seeking arrest of her in-laws.
Couple commit suicide
Jammu, October 24
A boy and a girl, who ran away yesterday from their houses, allegedly committed suicide after hanging from a tree at Bal Peyo village in Rajouri district this evening after they failed to get married.
Kidnapped girl rescued from Ludhiana
Jammu, October 24
The RS Pura police today rescued a 13-year-old girl from Ludhiana in Punjab, who was allegedly kidnapped by a Gujjar boy about a month ago from their Raipur Gujjra village in RS Pura here.
Army jawan hurt in Pak firing
Jammu, October 24
An Army jawan was injured when Pakistani troops opened heavy fire this evening on Indian positions in Poonch in yet another ceasefire violation — the third time in this month.