Boom time for mehndiwalas
Yamini Sunwar
Tribune News Service
Dehradun, October 25
With only few hours left for Karva Chauth, women were busy shopping for the occasion with great enthusiasm in the Doon Valley here today.
They were seen embellishing their hands with henna designs and purchasing matching accessories for their expensive saris.
"The mehndi on my hands will augment my look. I've come along with my mother-in-law and daughter. Karva Chauth is once-a-year occasion and every woman wants to look her best," feels Binita, a housewife.
Along with prayers for the well being of their spouses, women love to apply mehndi on their hands as it has great significance in the life of every married woman.
Summer and monsoon are not profitable months for mehndiwalas, but from Raksha Bandhan to February, women in large numbers throng mehndi artists on one occasion or the other.
At the city's famous Paltan Bazar, long queues of women and girls with a smile on their faces can be seen patiently sitting along the roadside to get a henna design done on their hands.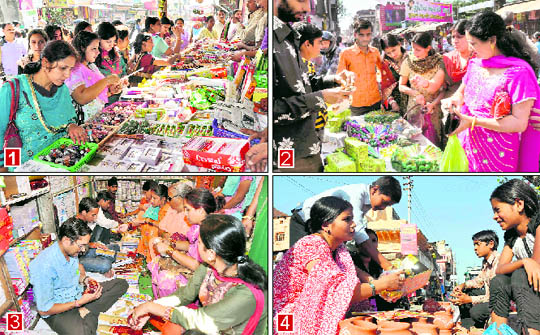 1. A scene at a cosmetics shop; 2. Women buy mehndi cones at a stall; 3. The rush at a bangle shop in Dehradun; and 4. A customer buys karve in Haridwar on Monday. Tribune photographs
One can also notice several mehndi artists with booklets having different designs. There are some who provide home service to those who are not able to come to the market.
Today, the market was jam-packed and mehndiwalas had a booming business. Many women were also seen buying mehndi cones from cosmetic shops to try out their artistic skills at home.
"For the past two days, married women have been coming to my shop to get mehndi designs made, but today, we started early in the morning and will remain busy till late in the night. We have not even had any time to relax or have our lunch properly.
"The price of a henna design per hand is Rs 25. It increases with the length and the intricacy," said Arvind of Arvind Mehndi Art.
From basic mehndi with minute detailing pattern to variants in Arabic, Marwari, glitter mehndi and tattoos, there is enough variety for everyone.
Momin Mehndiwala, who for the past eight years has been minting money at Karva Chauth, plans to sit till the wee hours tomorrow with his 15-worker team, such is the rush.
"I started applying mehndi since the age of 14, along with my four siblings and my maternal uncle in Paltan Bazar. Now, I've started my own business. We also take advance orders for applying henna during weddings and we have travelled to other cities too for the same," said Momin.
"Yesterday, almost 450 women got henna work done on their hands at our shop and today, we are expecting that the number will cross all records. Our rates start at a meagre Rs 25 per hand to approximately Rs 50,000, which is the bridal mehndi," added Momin.
Festival not for the unwed
Traditionalists and astrologers disagree with the observance of rituals by unmarried girls, even terming it detrimental to the health of their future husbands.
Noted astrologer Pandit Vipin Parashar remarked that Karva Chauth is only to be observed by married woman for the long life of their husbands. "There are other fasts that unmarried girls can undertake to get a good husband like the 16-Somvar (Monday)fast and Mangala Gauri vrat."
The right time
"The auspicious time for the puja of Goddess Parvati is 7:57 pm in North India with the rise of the moon. The fast should be broken only after sighting the moon through a sieve. The moon provides calmness and purity to the minds of the couple," said Dr Acharya Prateek Mishrapuri.
The women, whose husbands are not in town, should imagine their husband's faces in the moon and break their fast by offering water with a 'kurwe' (an earthen pot) to the moon.