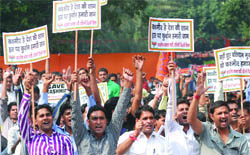 The Bharatiya Janata Party youth wing activists participate in Sankalp Diwas Rally to save Kashmir, in New Delhi on Tuesday. Tribune photo: Manas Ranjan Bhui
Agarwal renominated as DPCC chief
First renomination in the history of Delhi Congress
New Delhi, October 26
The All India Congress Committee (AICC) has renominated Jai Prakash Agarwal as the president of the Delhi Pradesh Congress Committee (DPCC) today.
Winter session from Nov 23
New Delhi, October 26
The Delhi cabinet today decided to recommend to the Lieutenant-Governor, Tejendra Khanna to summon the winter session of the fourth legislative assembly of Delhi from November 23 to December 1, 2010. — TNS
Striking DU teachers refuse to budge
Threaten to intensify stir after Friday
New Delhi, October 26
Reacting to vice-chancellor Deepak Pental's decision to write to the Union Grants Commission (UGC) and ministry of human resource development (MHRD) to cut salaries of the striking teachers, the Delhi University Teachers Association (DUTA) members today said they would not back out on the semester issue.
Politico told to pay Rs 2 lakh for defaming CWG medallist cop
New Delhi, October 26
A city court today awarded damages of Rs 2 lakh to a police official who won India a gold medal in the 1974 Commonwealth Games, after holding a local politician guilty of making baseless and defamatory statements against him.
Delhi bids goodbye to summer
New Delhi, October 26
As October, officially the last month of monsoon, gives way to November, which heralds the arrival of winter, the nip in the air is being felt across the city, especially in night and morning.
Anti-malaria steps bear fruit
Faridabad, October 26
If the claims of the district malaria office here were accepted, Faridabad would become malaria and dengue-free in two years.
Karva Chauth function held
New Delhi, October 26
Mahila Jagriti Sangh, Delhi, organized a Karva Chauth function today on a large scale at Dussehra Grounds in Janakpuri. Thousands of women dressed in their best participated in the function.



Games wives play: Bangles much in demand in Gurgaon (Left) and Women play
dandia at a function held in New Delhi on the occasion of Karva Chauth (right) on Tuesday. Tribune photos: Mukesh Aggarwal
Racing teen crushes two
New Delhi, October 26
Two persons were last night crushed to death in west Delhi's Tilak Nagar area by a speeding Toyota Corolla car, the police said today.



(Left) The spot where the accident took place in Tilak Nagar, New Delhi. (Right) The car involved in the mishap at the Tilak Nagar police station on Tuesday. Tribune photo
Work in illegal colonies gets a boost
New Delhi, October 26
Residents of unauthorized colonies in Delhi may again hope that their properties will be regularized as the Delhi cabinet at a meeting today asked the urban development department to accelerate the development work in these colonies.
Actors fight with fellow passenger
New Delhi, October 26
Bollywood actor Anushka Sharma of 'Rab ne bana di jodi' fame and her co-star Ranvir Singh had a scuffle with a fellow passenger in a New Delhi-bound Kingfisher flight when he was filming them on his mobile.
Scolded for carrying liquor, boy jumps from school building
New Delhi, October 26
A class XI student of Summerville School in Vasundhara Enclave allegedly jumped from the third floor of the school building today, after he was pulled up by the principal for carrying a liquor bottle in his school bag.
3 held for 12 burglaries
New Delhi, October 26
The Delhi police has arrested three persons for allegedly committing thefts and burglaries in different parts of Delhi, cops said today.
DU student kidnapped, robbed
New Delhi, October 26
Three men in a car allegedly kidnapped a Hansraj College student near Kashmere Gate Metro Station in the wee hours today and dumped him in the Pitampura area after over 90 minutes.
4 caught for vehicle thefts
New Delhi, October 26
The Delhi police has arrested four persons for allegedly being involved in cases of snatching and vehicle theft.
4 caught with stolen antique idols
The Delhi police yesterday arrested four persons for allegedly stealing antique idols worth crores. The police has seized antique idols of Lord Rama, Laxmana and Sita.
Prisoners attack policemen
New Delhi, October 26
In a shocking incident, a group of accused brought to a Delhi court in a police van from jail attacked some policemen while they were checking them, the police said today.