Delay in Opening of Procurement Points
Farmers forced to sell produce to middlemen
Hiranagar (Kathua), October 26
As the authorities have so far failed to implement their order regarding the opening of procurement points before October 10, helpless paddy growers of Kathua district are forced to sell their produce to middlemen who have been blatantly duping them.
Forensic lab in dire need of staff
Jammu, October 26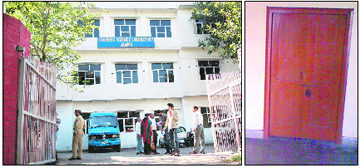 With an increase in the crime rate, the importance of the Forensic Science Laboratory (FSL) has also increased, as all states heavily rely upon it while solving any serious crime.
An outside view of the Forensic Science Laboratory in Jammu; and (right) a locked room at the Forensic Science Laboratory. Tribune photos

Fasting wife's wishes saved my life, says mishap victim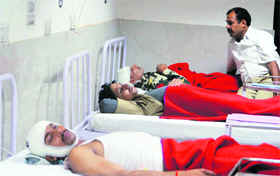 Jammu, October 26
It was perhaps the Karva Chauth fast being observed by their wives that saved the lives of 20 jawans of the 76th Battalion of the CRPF, as the bus they were travelling in overturned twice at Domail, about 25 km from here, but luckily did not fall into the gorge nearby.
Injured CRPF jawans get treatment at the GMCH in Jammu on Tuesday. A Tribune photograph

Natrang's cultural festival ends
Udhampur, October 26
A two-day cultural festival organised by the Jammu-based theatre group, Natrang, on the premises of Government Higher Secondary School, Reasi, today concluded with the staging of play "Chhoona Hai Aasmaan".
Arrested militants ran ISI's communication centre in PoK
Jammu, October 26
Two Hizbul Mujahideen militants arrested from the railway station here on Saturday last were running a dedicated communication network centre of the Pakistan's Inter Services Intelligence (ISI) in occupied Kashmir (PoK). They used to code and decode the calls/messages of militants active in the Jammu region.
Six held with fake stamps
Jammu, October 26
The Jammu Police last evening arrested six persons, including two government employees, and seized a large number of fake stamps and electoral photo identity cards (EPIC) from their possession. However, three more accused were still absconding.
Uniforms, gifts given to students
Jammu, October 26
Sarishta Sharma, Principal of Government Girls High School, at Resham Ghar Colony today distributed uniforms and gifts among schoolchildren in a function organised on the school premises.
Karva Chauth sees gold sales soar
Jammu, October 26
Karva Chauth has brought happiness for the jewellers of the city, as despite high prices of gold ornaments, they witnessed a huge sale of their products. Gold was priced at Rs 19,250 per 10 grams in the market.
Interlocutors visit Shopian
Srinagar, October 26
The three-member panel of interlocutors appointed by the Centre on Jammu and Kashmir today visited Shopian town in south Kashmir which had witnessed an agitation over the death of two women in June last year.
Central varsity for Ladakh demanded
Jammu, October 26
The All-Ladakh Students Association, Jammu, demanded a central university for the Ladakh region here yesterday. In a meeting held at the Ladakh Sarai, the students unanimously demanded a central varsity for Ladakh, besides improvement in other educational institutions in the region.
Sixteen shopkeepers challaned
Udhampur, October 26
Intensifying the drive to check the quality and rates of eatables ahead of Diwali, officials of the Consumer Affair and Public Distribution (CA&PD) Department today conducted surprise checking of markets here and challaned 16 shopkeepers for violating different provisions of the Essential Commodities Act (ECA).
7 administrative officers shifted
Srinagar, October 26
The government has transferred and posted seven officers, including four KAS. An official spokesman here said Purnima Mittal, Deputy Director, Handicrafts (Administration), Srinagar, had been transferred and posted as Chief Executive Officer, Urban Development Agency, Kashmir, while Parvez Sajad Ganai had been posted in her place in his own pay and grade.
Ladakh councillors take oath
Leh, October 26
The newly elected councillors of the Ladakh Autonomous Hill Development Council (LAHDC) took oath at a function held in Polo Ground here yesterday.
Centre's nod sought for prosecuting Armymen
Jammu, October 26
The state government has sought sanction from the Centre for the prosecution of Armymen under the Armed Forces Special Powers Act (AFSPA) in 41 human rights violation cases in the state.
Jamwal is JJSF president of SPMR college
Jammu, October 26
Jammu Joint Students Federation (JJSF) activist Arun Dev Singh Jamwal was yesterday elected as the president of the federation's unit of Sri Pratap Memorial Rajput (SPMR) College of Commerce.