IITians have gala time
Dehradun, October 29
Months of planning and hard work caught excitement at footloose and vogue today. Gorgeous students dressed in dazzling clothes walked the ramp displaying their hidden talents caught up many eyes like each year at a fashion parade here today.
Nainital Film Fest gets rolling
Documentaries on Girda, Nirmal Pandey and film 'Daayen ya Baayen' screened; artists B Mohan Joshi and Prayag Joshi honoured
Nainital, October 29
The Second Nainital Film Festival opened here today amid flowing tributes to the two cultural icons Girish Tiwari, who is fondly remembered as Girda, and Nirmal Pandey, who spent a major span of their lives in the Lake City and were snatched by death this year.
Pradhans demand appointment as panchayat administrators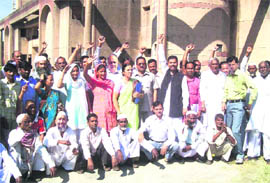 Haridwar, October 29
Though the state government while further derailing the scheduled zila panchayat elections in the district had stated that these panchyats official working would not get hampered with the appointment of the assistant development officers (ADO) as administrators for the 302 gram panchayats, the very village heads are not happy with the decision.

Pradhans hold a protest outside the office of District Magistrate in Roshanabad on Friday. Tribune photo: Rameshwar Gaur

Beehive college student dies
Dehradun, October 29
A 21-year-old student of Advanced Studies of Beehive College died today when a truck hit him in the Selaqui industrial area. He has been identified as Mohammad Tarik, a resident of Mau district in Uttar Pradesh.
Teachers should develop scientific temper among children, says Pant
Dehradun, October 29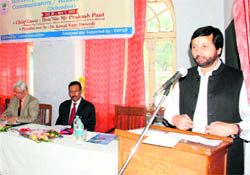 Uttarakhand Minister for Parliamentary Affairs and Planning Prakash Pant said today that even a simple scientific intervention, if explained to the people, could go a long way in reducing perplexity. "The parents and teachers should develop scientific temper among the children so that they could think and perform better in life," he mentioned, while inaugurating a four-days workshop on "Empowerment of Science Communicators, Writers, Journalists" today.
Uttarakhand Minister for Parliamentary Affairs and Planning Prakash Pant addresses a workshop in Dehradun on Friday. A Tribune photograph

Folk singers hone classical music skills
Pitthoragarh, October 29
Fifteen students from the folk singer community of Kumoan are getting training of classical in recital of folk musical instrument and singing under the "guru-shishya parampra" from noted folk singer Kabutari Devi in a camp organised by the Department of Culture that began on October 24.
Rs 35.10-cr annual plan approved for Nainital dist
Nainital, October 29
The annual plan to the tune of Rs 35.10 crore for the next financial year for Nainital district has been approved. The approval came at a meeting of the District Planning Committee at Haldwani chaired by Cabinet Minister Madan Kaushik here yesterday. Out of the approved sum, Rs 7.23 crore has been earmarked for the Public Works Department, Rs 3 crore for the Jal Sansthan, Rs 5.56 crore for the Payjal Nigam, Rs 1.58 crore for health and Rs 2.40 crore for irrigation projects.
Boost job scheme, DM tells officials
Dehradun, October 29
Angry about the slow progress of the Garhwali Employment Scheme, District Magistrate (DM) Sachin Kurve yesterday asked District Tourism Officer Vivek Singh Chauhan to bring progress in the work.
Transport serious patients immediately, 108 Service told
Almora, October 29
District Magistrate Subardhan has asked the authorities managing the 108 Emergency Response Service in the district to ensure that the patients referred to bigger hospitals in Haldwani and further are transported there. He said no prior sanction was required to transport such patients whose life was at stake.
Environmentalist seeks multi-disciplinary body for Himalayan glaciers' study
Dehradun, October 29
Ramon Magsaysay recipient and Padam Vibhushan Chandi Prasad Bhatt has sought a multi-disciplinary body for carrying out studies of the Himalayan glaciers even as he called for inclusion of all levels of glacial bodies and their extensions into such studies.
Baba Bulle Shah remembered
Mussoorie, October 29
Sufi mystic Baba Bulle Shah was fondly remembered by devotees of all faiths at the symbolic tomb situated at the Tehri Bypass in Mussoorie on the occasion of Urs or death anniversary of the much-revered saint of all times.
Mentally disturbed man commits suicide
Dehradun, October 29
A 30-year-old-man, who was mentally disturbed, allegedly committed suicide by hanging himself from a tree in the jungle area some 300 m away from his house near Badowala.