WHO IS the president?



Posters put up by one lobby of PUSU at the student centre mentions Sukhjit Singh Brar as its new president; and (right) other posters on the campus carry the name of Gurbir Singh Dhillon as PUSU president. Tribune photos: S Chandan
Illegal structures near Air Force station
GMADA issues demolition notices to violators
Mohali, November 8


The Greater Mohali Area Development Authority (GMADA) has issued demolition notices to those who have erected illegal structures, including cattle sheds, around the boundary wall of the Chandigarh Air Force station here.
Illegal structures near the boundary wall of the Chandigarh Air Force station. File photo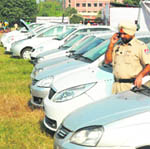 Interstate gang of car lifters busted
Stolen vehicles passed off as genuine
Mohali, November 8
To avoid being caught while selling stolen vehicles with forged registration documents, over half-a-dozen members of an interstate gang of car lifters hit upon a novel idea of disposing the vehicles on the basis of genuine registration numbers.

Stolen vehicles recovered by the Mohali police on Monday. Tribune photo: Vicky Gharu
Now, laptops@councillors.mc
Chandigarh, November 8
Municipal corporation councillors are set to go hi-tech with the UT administration finally giving the go-ahead to the civic body's decision to purchase laptops for each of them. Punjab governor and UT administrator Shivraj V Patil is understood to have asked his adviser, Pradip Mehra, to convey to the MC the administration did not have any objection to the move that would enable the councillors to work more effectively.


Special Housing Scheme: No end to CHB's woes
Category B applicants allege discrimination, say ratio disproportionate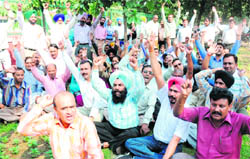 Chandigarh, November 8
More trouble spells for the Chandigarh Housing Board (CHB) over the already turmoiled special housing scheme for UT employees.






UT employees protest in front of the CHB office at Sector 9 in Chandigarh on Monday. Tribune photo: Pradeep Tewari
Proposed Panchkula ISBT yet to see light of day
Panchkula, November 8
Even after more than two years, the inter-state bus terminal (ISBT) in Sector 1-A, near Majri Chowk, to be set up by the Haryana government is yet to see the light of the day.



A view of the proposed site of the inter-state bus terminal in Sector 1-A in Panchkula. Tribune photos: Nitin Mittal
GMADA rejects applications of seven
Mohali, November 8
During the scrutiny of successful applicants of the reserved categories in Aerocity, officials of the Greater Mohali Area Development Authority (GMADA) today rejected the applications of at least seven persons as the supporting documents were not found in place.
City Magistrate to take over as president
MC vice-president opposes appointment
Panchkula, November 8
BJP leader and vice-president of Panchkula municipal corporation BB Singhal here today opposed the appointment of City Magistrate as the president of the MC by the Haryana government.
Wrong parking, encroachments along NH main causes
Zirakpur, November 8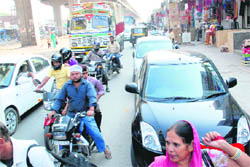 Encroachments and wrong parking along the national highway (NH) here causes traffic congestion on a regular basis and the authorities concerned have failed in checking violations.





Wrongly parked vehicles and encroachments along the Chandigarh-Ambala highway at Zirakpur on Monday. Tribune photo: Nitin Mittal
Theatre fest from November 11
Chandigarh, November 8
The fifth Annnual Chandigarh Theatre Festival will be held at the Bal Bhawan auditorium, Sector 23 here, from November 11 to 17.
Fire brigade at service of cops

Minutes before the Mohali police was to show the stolen vehicle to mediapersons, a fire engine was pressed into service to wash cars at Government College, Phase VI, in Mohali, on Monday. A Tribune photograph

From Singapore to Sukhna

Students and teachers from Yishun Secondary School, Singapore, who are on a study exchange programme, have fun at Sukhna Lake in Chandigarh on Monday. Tribune photo: Manoj Mahajan
Councillors mull moving SC
Kalka, November 8
In a meeting of municipal councillors of Pinjore , which was chaired by Vijay Bansal, president of Shivalik Vikas Manch, it was decided that the councillors would not hesitate to approach the Supreme Court over the issue of Panchkula Corporation , under which the state government, under a notification , was to include Municipal Committees of Kalka and Pinjore in the Panchkula Corporation.


Violators can breathe easy here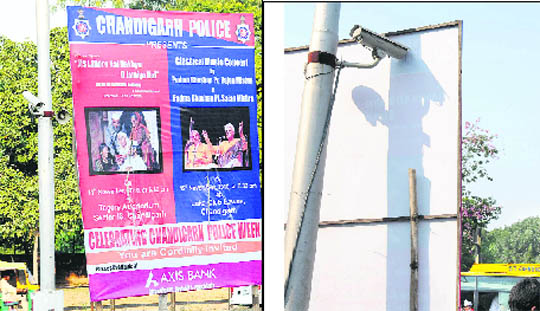 Hoardings put up at the Matka Chowk and the Sectors 7-19-27-26 roundabout, as part of Police Week celebrations, block CCTVs installed to keep a check on traffic
violations, in Chandigarh. Tribune photos: Manoj Mahajan
Water leakage ruins Stu-C hall
Chandigarh, November 8
Water leakage has ruined the interiors of Panjab University's student centre (Stu-C), so much so that a conference hall for the proposed placement cell is now a shambles. The roof of this room is full of blots and patches of water due to the leakage. Such dismal is the condition of the room that during a press conference hosted by the incumbent Panjab University Student Union (PUSU) last week, the water continued to leak and thereby rotting furniture lying there.



The ceiling of the proposed conference hall of the student centre, Panjab University, Chandigarh. Tribune photo: Manoj Mahajan
Right to Education Act
Education dept seeks time to frame guidelines
Chandigarh, November 8
The UT education department today sought time in the case pertaining to frame guidelines for implementing the Right of Children to Free and Compulsory Education Act, 2009.
SD College gets Rs 70 lakh grant
Chandigarh, November 8
Under the FIST programme-2010 of DST, New Delhi, GGDSD College, Sector 32 C, has been granted Rs 70 lakh for strengthening teaching and research facilities in science departments of the college.