Home dist of 2 CMs, Pauri reels under water shortage
Sandeep Rawat
Tribune News Service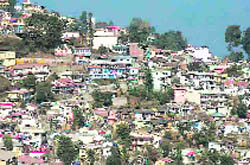 A view of Pauri town. A file photo
l Pauri town gets meagre 2.5-3 MLD water supply against a requirement of 6MLD a day
l 20 years on, ambitious Nanghat water project still not completed
l Several crores have been spent on renovation of two existing water pipelines
Pauri Garhwal, November 11
The divisional headquarters of Pauri for outsiders may be a beautiful hill station, which, apart from rich cultural heritage also boasts of having leaders who have not only ruled this hill state but also made a mark in the national politics, but the fact is it has been reeling under a severe water crisis for the past few decades.
From present Chief Minister of Uttarakhand Ramesh Pokhriyal Nishank to his predecessor Major-Gen Bhuwan Chandra Khanduri (retd), who was also Union Minister for Roads and National Highways, erstwhile Uttar Pradesh's Chief Minister Hemwati Nandan Bahuguna who was also Union Finance Minister, present MP Satpal Maharaj, to Leader of Opposition in the state Assembly Harak Singh Rawat, all belong to Pauri district.
The gravity of the water crisis can be gauged by the fact that while the whole state was celebrating the 10th founder's day of Uttarakhand, the very people of Pauri, who played a pivotal role in the statehood agitation, had to queue up consecutively for two days on November 9 and 10 at natural water sources or at a few water supply tankers.
And this happens several times every month. Despite several mega water schemes being sanctioned by respective governments for the area, department concerned even fail to provide a regular water supply, and even if it is provided it is merely for just half an hour.
The town of Pauri has a population of approximately 30,000 and water requirement touches 6MLD a day. But, contrary to the requirement, the supply is only a meagre 2.5-3 MLD, forcing people to rely on the natural water resources almost the whole year.
While the Ganga, which is known by the name from the Alaknanda-Mandakini confluence at Devprayag, just 30 km from Pauri city, it is quite ironic that an area so close to the Ganga is bereft of a regular potable water supply.
In several colonies potable water has been supplied every alternate day for the past few months.
Decades back, in view of the water problem and the future requirement of Pauri, an ambitious water project from Nanghat was started, but more than two decades have passed, yet even half of the project work has not been completed.
Jal Sansthan officials state that as soon as Nanghat project is completed the water woes of the Pauri region will be sorted out. However, they failed to give a deadline for the project completion.
Local legislator Yashpal Benam too agrees that water woes of Pauri have not been addressed to despite it has given two Chief Ministers to the state apart from several big politicians.
Benam, an independent legislator who defeated Narendra Singh Bhandari of the Congress and Tirath Singh Rawat of the BJP, states despite two heavyweights of two major parties in the fray, he won the election as people of Pauri are quite perturbed by water and other infrastructural problems. Both these parties have failed miserably to solve these problems despite a decade of the state formation.
People from all walks of life, irrespective of their party affiliations, have joined hands against the irregular water supply and apathy of the local administration.
An organisation has also been formed, namely the Nagrik Sangarsh Samiti, to protect the rights of the city people. It led a delegation of representatives of various sections to Dehradun and apprised Nishank of their woes. Its founder member Devanand Nautiyal said a massive agitation would be started in the coming days if no concrete steps was taken by the government.
Legendary folk singer Narender Singh Negi, who has taken this issues via his songs, laments since the state was formed, people of Pauri had been neglected as most of the offices had been shifted to Dehradun, which is creating an unrest among the people.
Despite several crores being allocated for the renovation and maintenance of the two existing water pipelines to the city a year back, no significant change is visible.