PUNJAB
HARYANA
JAMMU & KASHMIR
HIMACHAL
REGIONAL BRIEFS
NATION
OPINIONS
LETTERS
BUSINESS
SPORTS
WORLD
Plan on satellite townships remains on paper
Dharamsala, November 16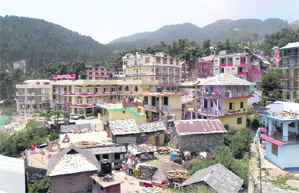 Th Dhumal government's ambitious project to develop satellite townships around major cities and towns has failed to take off.
Cluttered construction at Baghsunag adjoining Dharamsala. Photo by the writer

RTI exposes scam in Jogindernagar power project
Mandi, November 16
The Right To Information (RTI) Act has exposed a scam in the 100-MW Uhal stage-III project in Jogindernagar being executed by government-run Beas Valley Power Corporation Ltd (BVPCL). The project authorities awarded six different works which were estimated at Rs 24.86 lakh to D-class contractors for Rs 1.07 crore throwing all terms and conditions of tenders to wind, RTI activists charged.