Young World
City schools celebrate Children's Day
Tribune News Service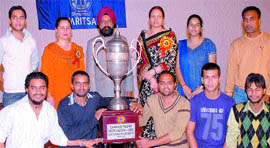 Apeejay College of Fine Arts students pose with the overall trophy in Inter-Zonal Youth Festival of GND University in Jalandhar on Tuesday. A Tribune photo
Jalandhar, November 16
Manav Sehyog School, Shahpur, Jalandhar organised a Baal Mela on the occasion of Children's Day on November 14. Pavinder Jain (managing partner of Bombay Box Factory and Printers) inaugurated the fete. Dr SK Sharma, chairman of the school, Dr NK Khosla, patron of the Manav Sehyog Society, co-chairman Mukund Rai Gupta and members of the school management visited the school.
Dr SK Sharma congratulated students on Children's Day. Children spent the whole day playing games and participating in competitions like fancy dress. Lucky draw was held at 4:00 pm. Chief guest Rakesh Gupta (managing partner Vinko Alaska Factory) and his wife Arti Gupta presented prizes to the winners of the lucky draw.
MGN Public School, Urban Estate-II, celebrated Children's Day on November 15. Students from nursery to XI standard were given chocolates. Principal Jatinder Singh addressed students on the occasion. The school captains and prefects of the houses formed four teams and were made to play Antakshri, school quiz etc. The winners were given books as prizes.
To mark the birth anniversary of Pandit Jawahar Lal Nehru, Children's Day was celebrated on the premises of CT Public School.
A special assembly was conducted, in which teachers offered the school prayer and read the news. An English skit 'listen to your conscience' was staged by teachers Vivek Tiwari, Divpreet Kaur and Monika Aggarwal, which delivered a message for students. Likewise, the tiny tots in the CT Kindergarten also celebrated the occasion. The nursery staff sang wonderful songs and enjoyed with kids.
St. Soldier Group of Institutions organised its 11th Annual Fete-cum-Bal Mela in the campus located behind REC. As many as 25 schools and 18 colleges of the group participated in the fair.
Local Bodies Minister Manoranjan Kalia, Arun Pal, IPS, DCP, Gurcharan Singh Channi, Chairman, Planning Board, were the guest of honours. A cultural programme was presented by students in which they participated in dance, modelling, fancy dress, healthy baby show, choreography, giddha and bhangra.
In a raffle draw, Gurjot Singh, a student of St Soldier Divine Public School, Lamba Pind, was declared the king of Bal Mela who was honored with a motorcycle.
Press Day celebrated
The department of journalism and mass communication of the DAV College, Jalandhar, celebrated Press Day here today.
On the occasion, inter-department extempore competition, photo exhibition and caption contests were held.
Judges for the competition, Prof Sanjiv Sharma, Prof Renuka Gupta and Prof KK Badyal, adjuged Parul as the best speaker. Vishwadeep Singh bagged the caption contest.
The Department of Mass Communication and Video Production of B.D. Arya Girls College, Jalandhar Cantonment, celebrated National Press Day today.
Irwin Khanna from Uttam Hindu and Surinder Seth from Dainik Bhaskar spoke on the role of free press in democracy.
While Ranjit Kaur, a student of BA-II, highlighted the history and importance of Press Day. About hundred students were present.
Faculty development programme
A five-day faculty development programme on Managing Effectiveness of Management Educators has been organised by the Punjab Technical University, in collaboration with the Innocent Hearts Group of Institutions, Jalandhar, at
the PTU Institute of Technical Teachers Training Research (PITTTR), PTU, Ladowali Campus, Jalandhar, from November 15 to 19.
Dr Rajneesh Arora, VC, PTU was Chief Guest. Dr HS Bains, registrar, PTU, Dr Butta Singh, dean academics, Dr Anup Bowry, secretary, Innocent Hearts Group of Institutions, Dr Sayeed Zafar, group director and programme co-ordinator were the guests of honour.
The purpose of the programme is to utilise a number of learning interventions, including exercises, self assessments, discussions and role plays, to make the activities learning centered.
The programme was chaired by Dr Nachhattar Singh, advisor to VC, PTU, Jalandhar. Dr Anup Bowry assured the gathering and PTU co-operation and help for such programmes.
Blood donation
The faculty of Applied Medical Sciences of Lovely Professional University awakened students for social needs by organising a volunteer blood donation camp with the help of NGO PAHAL and Blood Transfusion Department of Civil Hospital, Jalandhar. As many as 120 units of blood were donated.
The girl students dominated the list of such volunteers. On the occasion, a lecture on 'Shoulder anomalies and their management' was delivered by the prominent ortho-surgeon, Dr Dilbant Pandher of Oxford Hospital, for the awakening of students and members of the staff of physiotherapy. The doctor guided more than 200 students about shoulder pains and its management through three ways of medication, physiotherapy or surgery.
Art competitions
The English Literary Society of Lyallpur Khalsa College organised inter-department competitions in calligraphy, rangoli, card-making, poster-making, sketching and flower arrangement.
The competitions were held to sensitise the students on the issues like global warming, pollution, female foeticide, terrorism, water management and energy crisis. Fifty students participated in competitions. Principal Dr Jaspal Singh Randhawa appreciated the performance of the students.
Youth festival
The host team Apeejay College of Fine Arts won the overall trophy in the inter-Zonal Youth Festival of Guru Nanak Dev University here this evening. BBK DAV College for Women Amritsar was declared the first runners up. Vice-Chancellor Dr Ajaib Singh Brar presided over the valedictory function of the festival and gave away the trophies to the first and second position holders. He congratulated the winners of the festival. Results - Literary Trophy: B.B.K. D.A.V. College for Women, Amritsar (1st), H.M.V., Jalandhar (2nd). Fine Arts Trophy: Apeejay College of Fine Arts, Jalandhar (1st), B.B.K. D.A.V. College for Women, Amritsar (2nd). Theatre Trophy: D.A.V. College, Jalandhar (1st), K.M.V. Jalandhar (2nd). Folk Trophy: B.B.K. D.A.V. College for Women, Amritsar (1st), Apeejay College of Fine Arts, Jalandhar (2nd). Music Trophy: Apeejay College of Fine Arts, Jalandhar (1st), B.B.K. D.A.V. College for Women, Jalandhar (2nd). Overall Third: D.A.V. College, Jalandhar
Quiz contest
The Gandhian Studies Centre of Kanya Maha Vidyalaya (KMV) organised a quiz competition for the students of 10+1 and 10+2 of Citizen Model School. The quiz was held to acquaint the students of the life and ideology of Jawahar Lal Nehru.
Sports week
Kapurthala: Bawa-Lalvani Public School is celebrating its annual sports week and annual prize distribution function from November 13 to 19.
On second day, the races were organised for Class 3 and 4 students. In 100 m race, third class boys Anubhav stood first, Lavanya Second and Tushar got third place, whereas in girls section Harshpreet bagged first position, Tanya second and Gursis got third place.
In the same race of fourth class of boys category, Harshil bagged first position, Pratyush second whereas Jasjit had to satisfy with third position, while in Girls category Muskan Sabherwal stood first, Navneet second and Lakshita got third place.
Manu Sood, Davinder Singh and Hardev Singh bagged first, second and third positions, respectively in fathers' race. In mothers' race, first, second and third positions were bagged by Aarti Gupta, Meenu Aggarwal and Shallu, respectively.