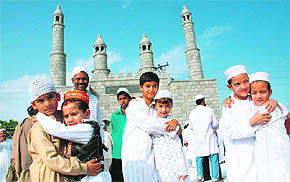 Children exchange greetings after offering prayers in Jammu on Wednesday. A Tribune photograph

Army celebrates Eid with public
Udhampur, November 17
The Rashtriya Rifles Battalion located at Sarh today visited local mosques to extend Eid greetings and exchange gifts with the general public at various locations. The Commanding Officer at Sarh distributed sweets among children and gave blankets to the poor and the needy. A Barakhana was also organised at all army posts for the local populace at Tuksan, Niram, Batoi, Saldhar, Shajru, Dharmari and Lancha.
Eid celebrated in Valley amid stray violence
Srinagar, November 17
Amid a heavy deployment of the security forces, Eid-ul-Azha was celebrated across the Kashmir valley today with a large number of people offering prayers at mosques and shrines. Congregations were held at the Hazratbal shrine and Eidgah and other major shrines and mosques across the capital city today.The authorities had made tight security arrangements across the Valley.
Red Ribbon Express arrives in Udhampur
Call to spread awareness about AIDS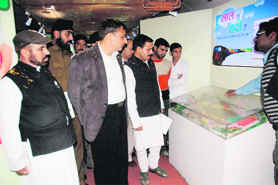 Udhampur, November 17
Stressing greater need to spread awareness and promote services on HIV/AIDS across the state among masses, Minister for Health Sham Lal Sharma called upon officers, local public, representatives and field functionaries of different departments to put in their sincere efforts to initiate a comprehensive campaign to mobilise people against this life consuming disease.
Minister for Health, Horticulture and Floriculture Sham Lal Sharma visits an exhibition in the Red Ribbon Express in Udhampur on Wednesday. A Tribune photograph

Hizbul's recruitment network busted in Kishtwar, 2 held
Jammu, November 17
Acting upon information, the Kishtwar police has smashed a recruitment network of the Hizbul Mujahideen and arrested two persons. The police was informed about the possible induction of 17-year-old Junaid Akram Malik of Sangrambhatta, who was at present putting up at Bhatindhi Morh in Jammu, into the Hizbul Mujahideen. It alerted all check- posts and some details were also sought from Junaid's father.
Manhunt begins for Hizbul ultras Subhash, Rizwan
Jammu, November 17
Even as the police busted a recruitment network of the banned terror outfit Hizbul Mujahideen in Kishtwar district, security forces have launched a manhunt to either eliminate or arrest a dreaded ultra, Subhash Kumar, alias Wafif, alias Qamran, who has become divisional commander of the banned militant outfit, by the end of this year.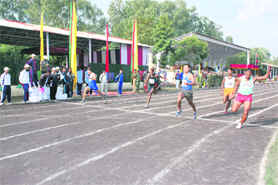 BSF Inter-Frontier Athletics Meet
Punjab bags two gold medals
Jammu, November 17
In the ongoing BSF Inter Frontier sports meet at BSF stadium in Paloura here athletes from Punjab Frontier dominated the show by bagging two gold medals today.
BSF athletes in action during the Inter-Frontier Athletics Meet at Paloura Stadium in Jammu on Wednesday. A Tribune photograph

'Amend Prevention of Food Adulteration Act'
Jammu, November 17
Expressing concern over the increase in the number of deaths due to road mishaps and adulteration in food items, the Criminologists Society of Jammu and Kashmir today demanded amendments to the Prevention of Food Adulteration Act and the Motor Vehicles Act.
Fruit show at Udhampur village
Udhampur, November 17
To showcase the activities of the department under various schemes, besides creating awareness among farmers about the latest technology in fruit cultivation, the Department of Horticulture, Udhampur, organised a fruit show-cum-awareness mela at remote Moungri village in the district here today. MLA, Reasi, Baldev Raj Sharma was the chief guest on the occasion.
Three girls sustain burns
Jammu, November 17
Two sisters sustained severe burn injuries when the elder one was performing some religious rituals at their house in Bakshi Nagar here today. Maansi Kohli (21) sustained burn injuries when the flames touched her suit and it was burnt, the police said. It added that after seeing her elder sister in a precarious situation, Tanika (18) tried to save her and in the process was also injured.
CRPF jawan found dead in hotel
Jammu, November 17
A 28-year-old jawan of the 84 battalion of the CRPF was found dead under mysterious circumstances in a room of a private hotel at Trikuta Nagar here yesterday.
Udhampur teacher excels in seminar
Jammu, November 17
Bharti Shishoo, a teacher of Government School, Gahri, Udhampur, won the first prize in a divisional-level seminar in connection with International Year of Biodiversity today. The seminar was held on the premises of the Directorate of School Education.
Rayat Group makes foray into Jammu
Jammu, November 17
The Rayat Bhara Group has entered the state with the opening of its campus here in Bari Brahmana today. The group has started management courses in its campus.