SAD-BJP govt flayed for stalled development projects
Bathinda, November 18
Local Congress MLA Harminder Singh Jassi today accused the SAD-BJP government of not starting work on the development projects in Bathinda area, the foundation stones of which were laid before the Lok Sabha elections. He also flayed the state government for not fulfilling several promises made to the residents of Bathinda.
'Political parties should join hands to eradicate social evils'
Muktsar, November 18


Congress MP and state youth Congress chief Ravneet Singh Bittu today urged all political parties to join hands to eradicate the social evils of drug abuse and female foeticide that were posing a big challenge to the youth of Punjab. Bittu made the suggestion while addressing roadside rallies after he reached Muktsar on the 18th day of his "Nav Inquilab Yatra".
Ravneet Bittu
Cong MLA flays state govt for negligence
Abohar, November 18
The sugarcane crushing season in the cooperative sugar mills is schedule to start after a week, no efforts have been made by the state government either to increase the total area under sugarcane farming or commission the co-generation power plants in most of the mills, former parliamentary secretary for irrigation and horticulture Sunil Jakhar said here today.
Dengue cases in dist rise to 266
Bathinda, November 18
The number of dengue cases this season today rose to 266 in Bathinda district when the district health authorities here today received a report about four new dengue positive cases from the DMC Hospital, Ludhiana. Of these, two were from Bathinda city while one each was from Talwandi Sabo and Sangat blocks.
Social changes can't be resisted, says Gurdial Singh
Bathinda, November 18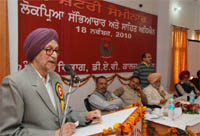 The national seminar on 'Pop Culture and Literary Studies' concluded at the local DAV College today. Eminent novelist Padamshree Gurdial Singh was the chief guest at the two-day seminar.



Noted litterateur Gurdial Singh speaks at the concluding day of the seminar at the DAV College, in Bathinda on Thursday. A Tribune photograph
School kids roped in to help register women as voters
Abohar/Fazilka, November 18
Making a significant departure from the traditional process of registration of new voters, the district administration has decided to take the help of school kids to get their mothers registered as voters in the summary revision of electoral rolls, which would come to an end on November 27.
Cleaning of Abohar canal to begin in Dec
Abohar, November 18
The long-awaited cleaning of Abohar branch canal and other distributaries is likely to be taken up by next month.
Less than prescribed quantity in bags
Fertiliser firm owner booked
Abohar, November 18
A case under section 7 of the Essential Commodities Act and three different provisions of Fertilizer Control Order was registered against Bharat Kumar, owner of a firm dealing in fertiliser and located at village Gumjal of this sub-division, for his alleged involvement in selling fertiliser bags containing less quantity than was prescribed on the bags.
Villagers to aid in green cover drive
Faridkot, November 18
Setting aside all odds in the implementation of Mahatama Gandhi National Rural Employment Guarantee Act (MGNREGA) scheme in Punjab, the Faridkot district has become a role model in the state by involving the rural folk to remove encroachments along the link roads, paving the way for planting trees to increase the green cover.
New set of rules for traders soon
Ferozepur, November 18
To minimise the evasion of market fee by traders and commission agents on various food grain items including wheat, paddy, cotton and other crops, the Punjab Mandi Board has decided to frame a new set of rules to plug those channels of evasion which have come to light so far.
Trains may be suspended on loop-canal track
Sriganganagar, Nov 18
The Railways may soon decide to suspend trains on the loop-canal track to expedite conversion of 116 km long Sriganganagar-Swaroopsar from meter gauge to broad-gauge, said SC Gupta, new Divisional Railway Manager (Bikaner).
Illegal detention of SMO
Five activists of coordination committee booked
Ferozepur, November 18
Even as a criminal case was registered against the five activists of the Coordination Committee, Paramedical and Health Employees, Punjab, including its Ferozepur unit chairman Ravinder Luthra detaining Gyan Singh, senior medical officer, the coordination committee demanded that cases should be registered against a section of functionaries of the district health authorities involved in harassment of employees and corrupt practices.