Controversies mar Billing paragliding event
Kangra, November 23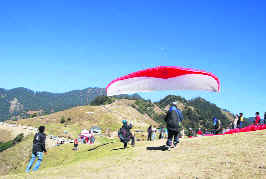 The four-day Himalayan Open Paragliding Championship, which concluded recently at Billing, remained mired in controversies right from planning of the event till its conclusion.
A paraglider in action at Billing. Photo by the writer
Pisciculture catching up in rural areas
Palampur, November 23
Fish culture is fast emerging as a potential sector for providing food security to the ever-growing population as well as vocation for the rural unemployed youths, especially those residing in the riparian areas of lakes, rivers and streams.