Red tape holding back renovation in Mussoorie
Ajay Ramola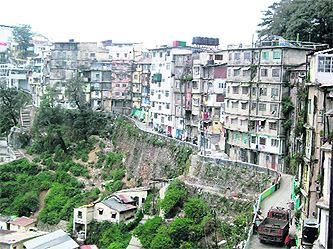 Buildings in a dilapidated condition in Mussoorie.

Mussoorie, November 29
It seems that the administration in Mussoorie has not learnt any lessons from the recent Lakshmi Nagar disaster where many persons lost their lives due to faulty construction. Residents believe that a similar incident could take place in the town any given moment if permission to renovate their dilapidated buildings is not given soon. Residents have begun questioning the procedures followed by the Ministry of Environment and MDDA in expediting the cases where new construction is involved.
According to Director Yasmin Fernery, construction and renovation activities in Mussoorie, though on paper, do not fall under the category of ban, but are highly procedure-oriented, which almost implies a ban.
Bimal Sharma said during the days of Uttar Pradesh, the Uttarkashi earthquake of 1991 was used as an excuse to impose a ban during 1995 and 1996 within the freeze zone.
However, the state of Uttar Pradesh on July 25, 1992, relaxed construction activity for residential purposes up to plot area of 200 sq m.
There did not appear any evidence of any follow-up action having been taken by the MDDA on the 1992 orders of state. As per the government order (GO) of May 31, 1996, the seismic zone falls within certain defined boundaries of Mussoorie hills and not the entire hills.
The land area outside the clamp zone is open for construction. The administrators claim to have definite information as to which areas will suffer the most in case of an earthquake, and it appears according to their reasoning that people living outside the periphery of ban zone are all angels and will survive the earthquake and avoid devastation whilst people living within the freeze zone are all devils and should be penalised and shunned from building any additional room according to the needs of their growing families.
Another logic that construction also threatens to engulf the natural beauty of Mussoorie was also floated in the town to discourage construction.
However, construction, legal or illegal, has continued unabated in which only the poor residents of Mussoorie seem to be left out as they do not have any source at the level of the Ministry of Environment which has its nodal office at Lucknow and at the MDDA where one has to be influential enough to flex his arms to clear one's construction within the stipulated time.
The legal process is so slow that the average resident loses interest till the time the file moves to the top officials, added Sharma.
He said it was intriguing that houses built on or before 1980 were allowed three storeys (load-bearing capacity becomes irrelevant) and plot of land adjacent to the same building would require an NOC from the MOEF.
For example, an existing house with 1,000 sq ft covered area presently with only ground floor qualifies to add two more floors of 1,000 sq ft each. This means an additional load of 2,000 sq ft. In comparison, a plot of land adjacent to the same building of size 500 sq ft would create load-bearing problem if just the ground floor was built.
He said residents of Mussoorie had become outlaws on their native land. The plot of land measuring 1,00, 200 sq m bought by them in the past seems to be a dead hope.
The administration's denial to allow all these people their long-cherished desire to live in a house which is their own and to manage it has become a distant dream. An NOC from the concerned departments be it MDDA or Ministry of Environment is a nightmare and they are forced to curse their stars.
Bimal Sharma opines that the solution is not to ban construction. According to him, a ban does not work as people have an uncanny knack of finding loopholes or influencing officials to look the other way reminding one of the famous quote that 'India is not governed by law but by loopholes in law'.
Sharma said, "Well-designed residential houses should be allowed. The number of sites for construction may fall, but their impact will increase."
District Magistrate Sachin Kurve when contacted was of the view that construction was a serious issue as far as question of the 3,500 buildings cited by the disaster management study held in the past was concerned.
He, however, feels that many landlords of old buildings are not interested in renovating these for various reasons. As far as construction in the town is concerned, the regulatory body is the MDDA.
However, he said, it was really a sensitive issue for the district administration and if the administration felt that there was a need to act on an emergency basis due to any threat of disaster, it would act accordingly. The residents of the town hope that it might not end up being too late.