9 rural innovations get NABARD aid
Dehradun, November 29
As rural poor develop inventions out of necessity, villages have begun to attract the attention of banks and they are coming forward to fund rural innovations. To usher in rural prosperity through rural innovation, the regional office of the National Bank for Agriculture and Rural Development (NABARD) has sanctioned Rs 68.76 lakh for undertaking projects in Uttarakhand.
Provide tents to rain-hit, orders Almora DM
Nainital, November 29
Subardhan, District Magistrate at Almora, has ordered Sub-Divisional Magistrates (SDMs) and Tehsildars to ensure that all disaster-affected people are provided with tents at the earliest.
BJP demands suspension of Central government
Dehradun, November 29
Aggrieved at the increase in corruption day by day, members of the Bharatiya Janata Party (BJP) today submitted a memorandum to the Dehradun District Magistrate (DM) addressed to the President. They have demanded the suspension of the Central government.
Cong unable to rein in corruption, says Jamdagni
Haridwar, November 29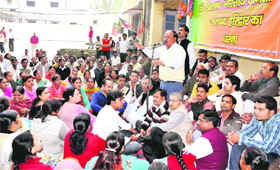 While facing severe protests on the accusations of seeking bribe by a state minister in the BJP state government, the BJP district unit today staged a symbolic agitation accusing the Congress of failing to provide able governance in the country.
A dharna organised by the BJP district unit against the Congress-led UPA government's failure in controlling inflation in Haridwar on Monday. Tribune photo: Rameshwar Gaur

Aipan-making competition held
Nainital, November 29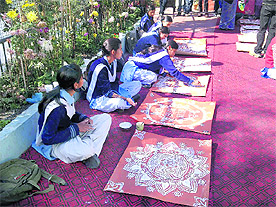 About 20 students from various schools of Nainital put on display their skills in the traditional art of making aipan. A CL Sah Memorial Society School Aipan Competition was held for the first time with a motive to save ancient Kumaoni heritage of aipan and generate awareness about the dying art. The students, who had gathered at Vrindavan Public School in the Tallital area on Sunday morning, came out with innovative designs of aipan made with biswar (ground rice) and geru (red mud).
Students display their skills in making aipan on Monday.
UJVNL to start 7 hydro projects soon
Dehradun, November 29
Uttarakhand Jal Vidyut Nigam Limited (UJVNL) is inching closer to the completion of many of its seven new Small Hydro Projects (SHPs), which were commissioned in 2008.
ONGC steps in for girls' education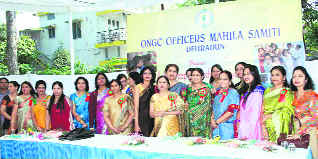 Dehradun, November 29
Enthused with the success of its last year's initiative to provide education to underprivileged girls of Dehradun, the ONGC Officers Mahila Samiti launched its second phase, 'Ashadeep-Shiksha Ki Jyot', at a function organised at NB Modern School, Kaulagarh Road, here today.
Members of the ONGC Officers Mahila Samiti in Dehradun on Monday.
Constable suspended for slapping Army Captain
Dehradun, November 29
Military vehicles and its personnel gathered at the Kotwali police station in large numbers at night after their unit Captain was allegedly slapped by a cop during checking.
Citurgia case: HC makes strong observations
Nainital, November 29
The hearing in the high-profile Citurgia land use case will continue on Tuesday. A double Bench of the High Court comprising Chief Justice Barin Ghosh and Justice VK Bisht heard the case throughout today making strong observations on various occasions.
Congress burns effigy of state govt
Dehradun, November 29
Members of the Uttarakhand Pradesh Congress Committee burnt the effigy of the state government for its alleged involvement in corruption deals at the Astle Hall here today.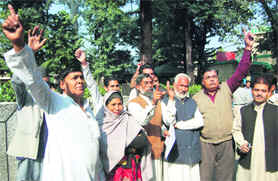 Jobs for Urdu teachers sought
Dehradun, November 29
There are only 345 Urdu teachers in the state and the government should start appointing more now. This was stated by city president of Tazim-e-Rehnuma-e-Millat, Dehradun, Latafat Hussain, while submitting a memorandum to the District Magistrate addressed to the Chief Minister.
Members of Tanzeem-e-Rehnuma-e-Millat demonstrate in Dehradun on Monday. A Tribune photograph

Improve bus service at airport, CM urged
Dehradun, November 29
Garhwal MP Satpal Maharaj today requested Chief Minister Ramesh Pokhriyal Nishank to improve bus service provided at the Jolly Grant Airport near here. In his written request, he said the Garhwal Mandal Vikas Nigam (GMVN) controlled the buses used at the airport and the buses were not comfortable at all and had not been maintained well.
Urja 2010 celebrated
Dehradun, November 29
The University of Petroleum and Energy Studies celebrated its annual fest Urja 2010 here yesterday. Around 3,000 students participated in the various competitions with great enthusiasm and fervour.
Four killed as car falls into gorge
Dehradun, November 29
Four persons died today when the car they were travelling in fell into a deep gorge at Satpuli near Kotdwar in Pauri Garhwal district.