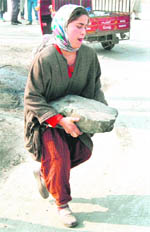 A woman blocks a road during a protest against the arrest of a youth in Srinagar on Monday. Photo: Amin War
Job fair begins in Billawar tehsil
Jammu, December 6
Minister of State for Cooperative, Finance and Planning Manohar Lal Sharma today inaugurated a three-day employment fair at Phinter in Billawar tehsil of Kathua district today.
Valley schools to remain open in winter
Jammu, December 6
The state government announced here today that all schools in the Kashmir valley would remain open in the winter. However, elementary classes would be exempted.
Militants attack CRPF camp in Sopore
Srinagar, December 6
Suspected militants fired grenades and opened fire on the office of the Superintendent of Police and a CRPF camp leading to an encounter with the security personnel in Sopore town of Baramulla district late last night.
Drug Trafficking
Warrants against five persons
Srinagar, December 6
Divisional Commissioner Asgar Hassan Samoon has issued warrants under the Public Safety Act (PSA) against five persons involved in trafficking of narcotic drugs and psychotropic substances.
Tributes paid to Ambedkar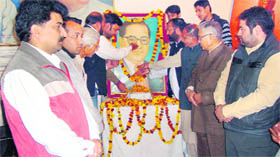 Jammu, December 6
The Jammu University SC/ST Employees Association observed "Nirvan Divas" on the university campus here today to pay tributes to Bharat Ratna Dr BR Ambedkar. Speaking on the occasion, association president RL Kaith said.
Members of the Anusuchit Jaati Morcha pay homage to Dr B.R. Ambedkar on his 54th death anniversary in Jammu on Monday. Photo: Inderjeet Singh
Leh Floods
Scouts and Guides give Rs 2.20 lakh
Jammu, December 6
A group of Bharat Scouts and Guides led by Roma Wani called on Chief Minister Omar Abdullah here today. The group comprising of boys and girls shared their experience with Omar.
Students of Army School, Miran Sahib, give a performance at the annual day function at University of Jammu on Monday. Photo: Inderjeet Singh
Army sends students on educational tour
Jammu, December 6
A Rashtriya Rifles Battalion, under the aegis of Counter-Insurgency Force (Delta), today flagged off an education-cum-motivational tour for the students of backward and remote areas of Doda district to Pune, Mumbai, Daman and Diu from the Tourist Reception Centre, Bhaderwah.
Beware of divisive forces, says Rana
Jammu, December 6
Political Adviser to Chief Minister Devinder Singh Rana said the coalition government was committed to maintaining communal harmony and integrity in the state at all costs and the forces adamant on creating a wedge among people would be fought tooth and nail.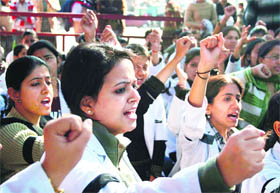 Members of the Jammu and Kashmir Physiotherapists Association hold a demonstration in Jammu on Monday. Photo: Inderjeet Singh
Air courier service to Kargil begins
Srinagar, December 6
The first air courier service between Srinagar and Kargil in the Ladakh region began with 21 passengers flying from here to Kargil and 19 from Kargil to the summer capital in an Air Force AN-32 courier plane today.
Coldest night of the season in Valley
Srinagar, December 6
The summer capital registered the coldest night of the season so far, with the mercury plummeting to minus 3.4°C as the Valley continued to reel under dry cold wave conditions.
Display Your Talent Event
Neha, Pooja win first prizes
Jammu, December 6

Neha Talwar from the Institute of Music and Fine Arts (IMFA) won the first prize in Classical Instrumental (solo) Percussion whereas Pooja Sumbria from the Government Women College (GCW), Parade, won the first prize in Classical Instrumental (Solo) Non-Percussion event in the ongoing second phase of "Display Your Talent" 2010-11 today.

Students participate in Display Your Talent contest held in University of Jammu on Monday. Photo: Inderjeet Singh
2 women killed in accidents
Jammu, December 6
A 35-year-old woman was killed after a truck of the SRTC hit her near the Jewel Chowk in the Nawabad area today. Paro Devi, a resident of Utterwani in Samba district, was crossing the road along with her daughter when the truck hit her. The police said the injured was rushed to the GMCH where she died
Two killed in accidents
Srinagar, December 6
At least two persons were killed and three others were injured in road accidents across the Kashmir valley since yesterday.