Upload fares on websites, DGCA tells carriers
Vibha Sharma
Tribune News Service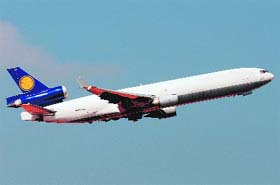 Close watch
Ministry officials said a close watch will be kept on airfares to ensure that carriers do not resort to any unreasonable and excessive increases in tariffs. Appropriate action will be initiated against erring airlines, officials warned, and added that it was gratifying to note that tariffs during the past 48 hours have shown downward trend of nearly 25 per cent in many sectors.
New Delhi, December 6
The Directorate General of Civil Aviation (DGCA) on Monday directed Indian carriers, both private and state-owned Air India, to upload route-wise and date-wise airfares on their websites by Wednesday evening. The airlines have also been directed to ensure complete transparency so that passengers do not feel cheated by high air fares, particularly of spot prices.
Airlines have been given 48 hours to comply with the directive. Private airlines are not happy with the 'government's interference', especially in 'today's era of liberalised environment'.
Sources however say Civil Aviation Minister Praful Patel, who is often charged with being lenient toward private airlines, this time made it clear that he expected a pro-passenger response from airlines.
Patel also made it clear that the DGCA would be forced to action if errant airlines did not stop 'predatory' pricing of fares. The new directive was issued this evening after top officials of the Ministry and the DGCA met representatives of full cost carriers Air India, Jet Airways and Kingfisher.
To ensure that customers are not taken by surprise, especially while booking tickets close to the day of travel, airlines have been asked to 'upload the route wise tariff across its network in various fare categories commensurate with date of purchase on their respective websites, in addition to adhering to the directions issued on November 19'.
Ministry officials say airlines' representatives were briefed about the provisions of Rule 135 of the Aircraft Rules, 1937, which deals with publishing of tariff established by them on their websites or in daily newspapers. All airlines have agreed to comply with the directive, which has to be implemented latest by 5 pm on December 8, they add. This means that airlines will have to provide details of route-wise fares and also each 'fare bucket'. Aircraft seats are grouped into different categories, each at a distinct price, called 'fare buckets'.
Airline officials say while they have been providing fare details to customers on websites, they do not want to make public competitive information like bucket-seat prices.
Their apprehension is that if put on the web, the information can adversely impact health of the industry, which has just about recovering from a long recessionary spell. Post Diwali, air fares, especially the last-minute or spot tickets, skyrocketed.
In view of the sudden and inordinate surge in airfares from November 15, particularly on various metro routes, scheduled airlines were directed to bring tariffs to a reasonable level on November 17.
Following this, the DGCA had issued a directive on November 19 asking airlines to furnish a copy of established tariff route-wise across its network in various fare categories to the DGCA on every first day of the calendar month. The response of the airlines to the notice was not satisfactory and as the increase in tariff continued unabated, the DGCA held meetings with CEOs of established domestic airlines on Saturday and today to remedy the situation.