Only 70 housing scheme forms sold on Day 1
Chandigarh, December 13
With only 70 forms being sold, the opening day of the latest housing scheme of the Chandigarh Housing Board (CHB) got a dull response.
Shivaliks under threat again
Farmhouses come up, courtesy confusion over demarcation
Tanda (Mohali), December 13
Taking advantage of the confusion over demarcation of hundreds of acres denotified under the Punjab Land Preservation Act (PLPA), 1900, influential landowners have again started cutting the eco-fragile Shivalik Hills at Nada, Karoran, Perch and Jayanti Majri to develop farmhouses in the northwest periphery of Chandigarh.


Mercury dips, so does school attendance
Chandigarh, December 13
Early chill has taken its toll on attendance in city school with most of the schools registering an average turnout of around 30 per cent since last four days. Things are worse in the pre-primary section.
It's back to school for PU teachers
Chandigarh, December 13
It's 'back to school' for the teaching fraternity of Panjab University (PU) and its affiliated colleges, particularly those who matriculated without Hindi or Punjabi as a subject.
Cops out with measuring tape
The body of an accident victim kept lying unattended for over an hour near Fun Republic as police personnel from Panchkula and Chandigarh fought over jurisdiction
Panchkula, December 13
This case may sound bizarre, but it is a common practice for police personnel of the tricity to decide the jurisdiction of a case even at the cost of delaying justice.
Ex-MLA's grandson booked
Country-made pistol, 3 live cartridges recovered
Chandigarh, December 13
The Chandigarh Police today booked a grandson of a former Tarn Taran MLA for possessing a .32-bore country-made pistol, three live cartridges and for driving a car with fake registration number.
2 quintal of polished pulses destroyed
Chandigarh, December 13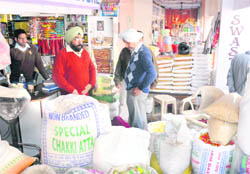 In a significant development, the UT food and supplies department, along with officials of the UT administration, today raided two grocery stores at Dadu Majra colony and destroyed over two quintal of different varieties of polished pulses.




Officials check goods in a grocery store at Dadu Majra colony in Chandigarh on Monday. Tribune photo: Pradeep Tewari
UT to get 20-MW power from NTPC
Average requirement in city around 50 lakh units per day
Chandigarh, December 13
In order to meet with the power demand of the city, Home Secretary-cum-Secretary Engineering Ram Niwas has signed four agreements with the National Thermal Power Corporation (NTPC) for the purchase of 20 MW of power.
Road repair work gets under way
Mohali, December 13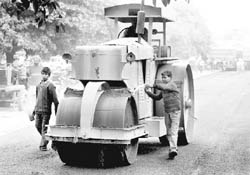 The municipal council has started the repair of parking areas in various markets of the town at a cost of around Rs 2 crore. The parking lots have remained in neglect for years.


STEAMROLLING INNOCENCE: In complete disregard for the child labour laws, the contractor has engaged minors for the recarpeting of roads. Two children are seen working in Phase VII market, Mohali, on Monday. Tribune photo: Vicky Gharu
BJP seeks white paper from Hooda Government
Panchkula, December 13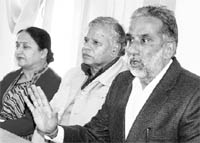 The local unit of the BJP has demanded a white paper on the recruitment carried out in government departments during the past five years by the Hooda government, alleging widespread corruption in the state bureaucracy.



BJP state president Krishanpal Gujjar addresses mediapersons in Sector 2, Panchkula, on Monday. A Tribune photograph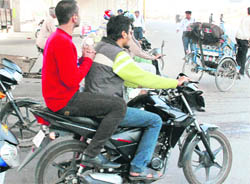 Violators take traffic police for a ride
Zirakpur, December 13
The "intensive" challaning drives by the Mohali traffic police from time to time seem to have had a little impact on traffic violators.





Youths ride a motorcycle without headgear in Zirkapur. Tribune photo: Nitin Mittal
Commonwealth youth leaders' meet begins
Chandigarh, December 13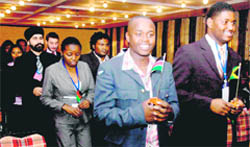 The Commonwealth Youth Leaders' Conference commenced in city today with about 40 delegates from across the globe gathered to elect their new leadership.





Delegates participate in a conference held in Chandigarh on Monday. Tribune Photo: Manoj Mahajan
Season's coldestday in city at 5.8° C
Chandigarh, December 13
City residents experienced the coldest day of the season today with the meteorological office recording the minimum temperature at 5.8 degrees Celsius and the maximum at 24.6 degrees.
Patil visits Art Gallery
Chandigarh, December 10
Punjab Governor and UT Administrator Shivraj V Patil today visited the Museum and Art Gallery and asked officials to focus on cleanliness and maintenance of buildings.
Greenbelt inaugurated
Chandigarh, December 13
Chandigarh Municipal Corporation Mayor Anu Chatrath today inaugurated the newly developed greenbelt in Sector 2. Addressing the gathering, the Mayor lauded the development works done by the MC by developing green parks. People know Chandigarh as the 'City Beautiful', but now it will be known as the 'Green City', said the Mayor.
PGI docs honoured
Chandigarh, December 13
Dr Anil Bhansali, professor and head, Department of Endocrinology, PGI, has been elected national president of the Endocrine Society of India, at the 40th Annual Conference of Endocrine Society of India at Vellore.
Letters
Felicitating '71 war hero


PU redefines English teaching in colleges
Chandigarh, December 13
With a clear objective of redefining teaching of English (compulsory paper) in more than 150 affiliated colleges of Panjab University, the Board of Studies and Faculty of Languages have made teaching in the subject language oriented to underline subject proficiency rather stressing on the aspect of literature.
Recruitment interviews
PU evaluation powers restricted
Chandigarh, December 13
Reacting to the repeated complaints of Panjab University Senators allegedly using their influence to get recruitments done in its aided colleges, the UT department of higher education has restricted the evaluation powers of Panjab University in recruitment interviews.
Degrees conferred on 1,500 students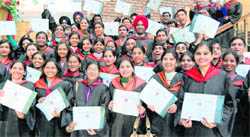 Chandigarh, December 13
Around 1,500 students of the long distance education programme of Punjab Technical University (PTU) were conferred degrees at the annual convocation held at Tagore Theatre today.
Students of the long distance education programme of Punjab Technical University in a jubilant mood after getting degrees during the convocation function at Tagore Theatre, Chandigarh, on Monday. A Tribune photograph
First semester result out
Mohali, December 13
The Punjab School Education Board today declared the result of class XII first semester exam conducted in September for the first time under the newly-introduced semester system. The detailed result can be seen on the board's website <http://www.pseb.ac.in> tomorrow from 6 am onwards.