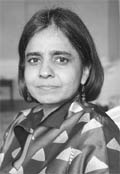 There is not doubt that the world was meeting in Cancun with little or no expectations for a deal. At the last meeting in Copenhagen, the split between the industrialized world and the rest was still wide open. The world remained divided on how it would share the economic and ecological space, given that growth depended on who had the right to pollute.
In Cancun there has been an unexpected breakthrough. The outlines of an agreement have been finalised in the form for the text of the Long Term Cooperative Action working group. The Western media has been liberal in its praise. Even the critics say that pragmatism won and the world has taken a small step ahead.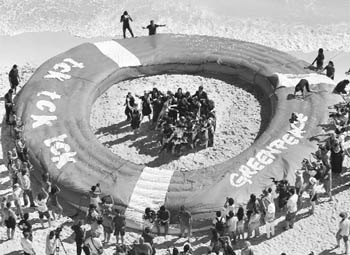 Greenpeace activists protest next to a giant life ring during talks on climate change in Cancun. — Reuters
The question is what has been agreed to and will this move the world ahead on its difficult mission to cut emissions of carbon dioxide? My analysis, based on the proceedings at Cancun, is the opposite of the widely held perception.
First, let us understand the outcome against the challenge we face. It is well accepted, that to keep the world below the already dangerous 2 degree Centigrade temperature increase, global emissions need to drop to 44 billion tonnes of carbon dioxide equivalent (the mix of greenhouse gases, as measured in CO2e) by as early as 2020 — as against the roughly 48 billion tonnes of CO2e currently. In other words, the world has already run out of space and has to cut fast and drastically.
This is why at the Bali climate conference held in 2007 the proposal on the table was that industrialized countries would cut emissions drastically by 2020 — some 40 per cent reduction over the 1990 levels was being discussed. It was also agreed at this meeting that developing countries, including India and China, would take on steps to avoid the growth of emissions. But as this energy transition — still not afforded by the industrial world — would cost money, they would be enabled by technology and funds.
This is what was being discussed in Cancun. How much would the industrialized countries cut, by when and what would be deal on technology and funding.
The outcome
Now let us what we have got:
On emission reduction targets it says that "there will be scaled up mitigation efforts, needed for stabilization, with developed country parties showing leadership by undertaking ambitious emission reductions and in providing technology, capacity building and financial resources to developing countries."
There are no specific targets have been set for the industrialized countries, based on their historical responsibility to the problem.
Instead, what it endorses are the voluntary 'pledges' made by industrialized countries. The pledges add up to as little as 9 per cent reduction below 1990 levels to as best as 15 per cent (if the countries are extremely ambitious). In other words, they fail any target of reduction by any measure. The US, which has been instrumental in getting the deal at Cancun, will have the most to gain. As against the 40 per cent reduction it needed to do by 2020, it will get away by doing zero per cent reduction over its 1990 levels. It is no wonder it is laughing its way to the bank.
The burden shifts to us
The agreement also marks another big shift in the global architecture. The distinction between the developed and developing countries has been removed as there will be universal agreement for all. This is unlike the Kyoto Protocol, which asked for binding actions from the industrialized countries as the first step, based on their responsibility to the problem.
The agreement is based on each country's pledge to cut emissions, including ours. Now, if these 'pledges' of developing — including India's target to cut energy intensity by 2020 — are compiled, then a curious fact emerges. The burden of cutting emissions has in fact been shifted to us.
Therefore, while the total amount that the rich will cut, amounts to some 0.8-1.8 billion tonnes of CO2e, the poor developing countries have now agreed to cut 2.3 billion tonnes of CO2e by 2020. In other words, the agreement shifts the burden of the transition to us.
Equity is given a go-by
The agreement has all the right words on equity, which would satisfy the uninitiated. But the fact is that as of this agreement, the concept of global equity in climate negotiations has been undermined, if not completely destroyed. How?
First, it is based on creating a new framework, one, which is based primarily on what countries pledge they will do domestically. It therefore, does not demand that countries take on targets based on principles of historic responsibilities or equity.
Second, it dilutes the provisions for equity in the agreement itself. In the previous drafts it was unambiguously stated that developing countries would have equitable access to the global carbon budget. This equitable sharing of the atmospheric space has been replaced by the vague statement "equitable access to sustainable development". In other words, we have bargained away the need to apportion the global atmospheric space to protect our future right to development.
Thirdly, the deal requires that a developing country's actions must be internationally reported, measured and verified. While this does not mean that we have agreed to a legally binding global deal, it does take the first steps to internationalise our domestic actions and so paves the way for a legal global agreement for all. This is in fact part of the agreement for the next meeting scheduled in Durban.
Bad for the world's climate
The Cancun agreement and our fatal compromises could even have been justified, if the world was indeed on course to cut emissions to avoid catastrophic changes. We know we are most vulnerable to climate change. But the bottom-line is that the agreement in Cancun is not just too little, too late. It is nothing. All data shows that the current pledges — developed and developing — put the world on track for at least 3 degree Centigrade increase. It is a climate disastrous deal.
Finance, technology: no gains
Lets then look at the agreement for finance — needed for adaptation in the already vulnerable world and for mitigation in the rest. It was agreed in Copenhagen that there would be fast track funding available — some US$ 30 billion by 2012 and some US$ 100 billion by 2020. When this figure was put out, it was already considered too little for the challenge ahead.
But the Cancun agreement goes no steps ahead. It only calls for the creation of a green fund. No money is seen or promised.
In the case of providing technology for mitigation is concerned, the agreement is even weaker. It only talks about the setting up of a climate technology centre and network, with no idea of how low carbon technologies will be made available on free or concessional terms to the South. The contentious expression, Intellectual Property Rights (IPR) is not even mentioned.
Based on these facts, it is clear that however much we would like to believe that the Cancun glass is half full, it is completely empty. The developing world has made major compromises in its position; it has staked its future. But it has got nothing in return. Worse, the world has not got a deal to avert climate change. It is a dud deal, which will devastate large parts of our world.


Shared Vision
This means the big overall picture.
The Aim An official aim, accepted by all, of halting global warming at a rise of less than 2C above pre-industrial levels (it presently stands at about 0.8C above those levels). Recognition that industrialised countries must do more. Setting a date for a global peak in carbon emissions.
The Deal The 2C target was agreed and the need for stronger action by developed countries was recognised, The idea that the world's CO2 emissions should peak was recognised — for "as soon as possible" — but no date was set.
What are we waiting for? A date for this emissions peak — 2020 was what Chris Huhne wanted — and perhaps an even tougher target than 2 degrees, such as 1.5. (Small island states threatened with sea level rise want this). A scientific review will look at this in 2013.
Legal Form
This means what future agreements are going to look like.
The Aim Developing countries wanted a pledge to renew the Kyoto protocol, with its commitments only on rich countries to cut their emissions. Rich countries want a universal emissions treaty binding on everyone.
The Deal A compromise in which both of these potentially irreconcilable positions were held in abeyance without wrecking the talks through clever language drafted by Chris Huhne and his team.
What are we waiting for? A second commitment period of Kyoto, with perhaps a parallel treaty legally binding everyone (which Britain would accept). A target for next year's climate conference in Durban.
Emissions Pledges
This refers to the cuts in carbon emissions that countries say they will carry out
The Aim The bringing into the official UN climate change negotiating process of the pledges that many developing countries, such as China, have made over the past year under the Copenhagen Accord. This was an ad-hoc document drafted by heads of state as a face-saver at the meeting last year that has no official status.
The Deal The pledges have been brought into the UN process and documentation, or in the jargon, "anchored".
What are we waiting for? Industrialised countries, including Britain, would like to make these developing country pledges legally binding; that's some way off yet.
MRV
This refers to Monitoring, Reporting and Verification
The Aim A system by which the world community as a whole could be guaranteed that countries which claimed they were cutting their carbon emissions were actually doing so.
The Deal A softened version of the original MRV proposals that the Chinese angrily rejected as too intrusive at Copenhagen. It was drawn up by the charismatic Indian minister for the environment and forests, Jairam Ramesh.
What are we waiting for? Widespread application of monitoring.
Forests Agreement
An outline treaty to prevent deforestation because of the carbon emissions released.
The Aim Financial sticks and carrots to halt deforestation. Many countries wanted the full-scale "monetisation" of protected forests so rainforest countries could generate carbon credits and there would be a new market commodity, forest carbon.
The Deal A large-scale agreement to halt deforestation in developing countries in return for rich-world funding, but reference to market mechanisms was left out at the insistence of Bolivia. Various safeguards, including rules to protect forest peoples and wildlife.
What are we waiting for? The emissions-credits-from-forests idea is the big attraction for many investors, private and public. It will doubtless creep back in.
Green Fund
A new institution to channel some of the vast new flows of climate finance to the developing countries — likely to be $100bn (£63bn) annually by 2020.
The Aim To bring the fund into existence now. Developing countries wanted a big say in how it will be run.
The Deal It was brought into existence yesterday at Cancun, with the World Bank as its trustee. It has got a board, a design committee, terms of reference and a one-year deadline for it to be up and running. Developing countries are well represented.
What are we waiting for? For the fund to start lending money for climate change projects. This will probably happen after the next UN climate meeting in Durban next year.
— The Independent
The writer, a well-known environmentalist, is the Director of the Centre for Science and Environment