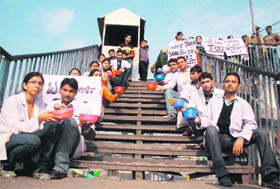 Members of the Jammu and Kashmir Physiotherapy Association stage a protest with begging bowls in Jammu on Thursday. Photo: Inderjeet Singh
Doda MLA reviews development works
Udhampur, December 16
Abdul Majid Wani, MLA, Doda, today visited remote areas of his constituency, including Jodhpur, Chankrathi, Manthorri, Panchal, Behrot, Sounsh, Dongru, Assissee, Mohalla and Battal, and reviewed various development works.
Militants flee state due to security forces' pressure
Jammu, December 16
Following intense pressure from the security forces, terrorists are fleeing the state. "There is intense pressure on terrorists and they are fleeing the state," IG, Jammu zone, Ashok Kumar Gupta told The Tribune.
Mirwaiz for comprehensive dialogue
Srinagar, December 16
The chairman of the moderate faction of the Hurriyat Conference, Mirwaiz Umar Farooq, today said a solution of the Kashmir issue within the present framework was not possible and called for a comprehensive dialogue between the three parties to the issue for a negotiated settlement.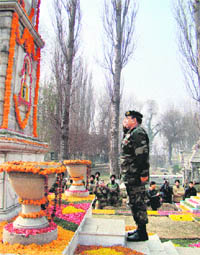 VIJAY DIWAS: Lt-Gen S.A.Hasnain,GOC,15 Corps, gives a salute at the Corps War Meorial in Srinagar on Thursday. Photo: Amin War
Verification Certificate
Make process time-bound, says CPM
Jammu, December 16
The CPM state secretary and MLA, Kulgam, MY Tarigami, has resented the delay in the issuance of police verification certificates of lecturers appointed by the state government since April following their selection through the Public Service Commission (PSC).
Dry spell adds to farmers' woes
Jammu, December 16
Already suffering due to an erratic power and water supply, a dry spell has compounded the problems of farmers of the region.
Man detained for duping family
Jammu, December 16
The police today detained a man from the GMCH following allegations by a family of Gujjar Nagar that he had posed himself as a Sub-Inspector and had taken a huge amount of money to provide government jobs to three of its members. Gulshan Kumar, one of the victims, told The Tribune at the GMCH that he, along with his two brothers, had given nearly Rs 7 lakh to Tassaduq Ahmed Shah, a resident of Sant Nagar in Srinagar, who had assured them that he would get them government jobs.
Experts to conduct comparative study of Panchayati Raj Acts
Jammu, December 16
The state government has decided to constitute a team of experts to conduct a comparative study of the Panchayati Raj Act in the rest of the country and the Jammu and Kashmir Panchayati Raj Act for a proper implementation of the 73rd Amendment of the Constitution of India in the state.The team will submit its report in a month.
Students participate in the annual day function of St Xavier Convent School, Domana, at the Zorawar Singh Auditorium in Jammu on Thursday. Photo: Inderjeet Singh
Training programme on rainwater harvesting
Jammu, December 16
The Central Ground Water Board, North Western Himalayan Region, yesterday organised a one-day training programme on 'Rooftop rainwater harvesting and artificial recharge to ground water'. It dwelt on rainwater harvesting, artificial recharge, drilling concepts, groundwater quality, water conservation, geophysical surface surveys, borehole logging etc.
Teachers' deputations call on Governor
Jammu, December 16
A deputation of the All J&K College Teachers Association called on Governor NN Vohra here today and submitted a memorandum of demands to him. The deputation was led by the president of the association, Dr Sanjay Verma.