Snow, ice ground flights in Europe
n Flights cancelled in UK, France, Germany
n Millions see Christmas travel plans disrupted
London, December 19
Europe saw little respite today from the Arctic conditions that have closed airports and disrupted travel on the weekend before Christmas, traditionally one of the busiest times of the year.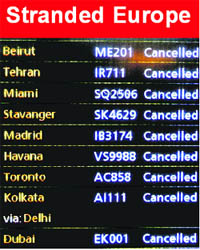 Britain's busiest airport, London Heathrow, which was forced to close both its runways for much of Saturday because of heavy snow, was not accepting inbound flights on Sunday and said only a few planes would be leaving.
About 30 tonnes of snow was being removed from each parking stand around the planes, but ice was making it dangerous for the aircraft to be moved.
"There comes a point at which the weather has such an impact that it's simply not safe to fly," Andrew Teacher, spokesman for airport operator BAA, told BBC television.
The runway at London's second busiest airport Gatwick was open but thousands of passengers were facing delays and cancellations, as they were at most other British airports.
In Germany, Frankfurt airport operator Fraport said 470 flights had been cancelled on Sunday so far and a worsening of weather conditions was expected from noon onwards. "The airport halls are packed with flight guests," a spokeswoman said, adding that about 1,000 people were forced to stay at the airport overnight.
Snow blanketed northern France, delaying trains and forcing flights to be cancelled. At Paris's main Roissy-Charles de Gaulle and Orly airports, where 700,000 passengers were expected, a quarter of flights were cancelled and delays were running on average to at least an hour.
Britain's Transport Secretary Philip Hammond said he had asked the government's chief scientific adviser to assess whether the country was experiencing a "step change" in weather patterns due to climate change and if it needed to spend more money on winter preparations.
Britain traditionally experiences mild winters, but last year's was the coldest for 30 years and this December is likely to be it's coldest since 1910. The Met Office said temperatures could hit minus 15 degrees Celsius in western Scotland later on Sunday and icy conditions were forecast across the country.
The government and transport operators have faced criticism as the cold spells have seen trains delayed and cancelled, roads closed and some drivers forced to sleep in their cars. — Reuters