2G Spectrum scam
CBI summons a routine affair, says Karunanidhi
Raja undergoes checkup, denies seeking anticipatory bail
N Ravikumar
Tribune News Service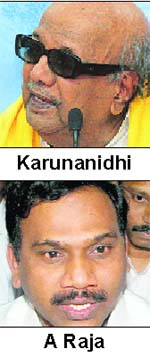 Chennai, December 20
Tamil Nadu Chief Minister M Karunanidhi today described the CBI summons to DMK propaganda secretary A Raja as a "routine" procedure even as the former Union minister denied that he had applied for an anticipatory bail. Karunanidhi said action would be taken against the DMK MP only if the charges levelled against him in the 2G Spectrum allocation scam were proved.
To a question whether he considered the CBI raids at the residences and offices of Raja's friends as an insult to the DMK, he said, "This movement (DMK) has grown after facing many insults."
About the CBI summon to Raja, he said, "It is their routine procedure. It is customary for the CBI to put queries after these kinds of raids. They may ask questions. Raja will answer them."
When asked whether the scam had distanced the Congress from the DMK, Karunanidhi said, "You (media) cannot cut the relationship." To a query on Congress president Sonia Gandhi's recent speech advocating strong action against corruption, the DMK leader said, "Why are you afraid of that?"
Meanwhile, A Raja today denied that he had sought an anticipatory bail in the wake of CBI summons, saying he would cooperate with the investigation agency.
"I am not afraid of the CBI. I am a lawyer. As a lawyer, I will abide by the law. I will not evade the law," Raja told reporters here.
Terming reports that he had sought anticipatory bail as "rubbish", he said, "I am not an accused and there is no question of my applying for an anticipatory bail."
Regarding Prime Minister Manmohan Singh's statement at the Congress plenary session today that no guilty person would be spared, Raja said he was "not competent to comment on that".
Describing his meeting with the DMK chief yesterday as "natural", he said, "It was a meeting between a leader and a cadre."
Raja had earlier undergone a routine health checkup at a private hospital, leading to speculations that he was planning to admit himself in the hospital and apply for anticipatory bail on health grounds.
The CBI has sent a notice to Raja to appear before it for questioning in connection with the 2G Spectrum scam. This follows raids by the CBI at the residences of Raja, his business associates and relatives at Chennai, Tiruchi and his native district of Perambalur on December 8 and 15. Raids were also conducted at the office of "Tamil Maiyam", an NGO patronised by the Chief Minister's daughter Kanimozhi.