| | | |
| --- | --- | --- |
| | OPED INTERNET | |
'It's not about how many pages.
It's about how good they are'
Ian Burrell
When in doubt, most people who have Internet access go to Wikipedia, the free, web-based, encyclopedia that can be edited by users. Jimmy Wales, the founder of what has become the unrivalled source of knowledge, speaks on how his website is a fundamental part of the information structure in the world.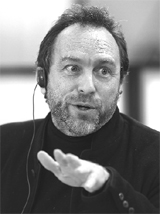 Jimmy Wales
It's not yet the tenth day of Christmas and time for lords to start leaping, but one of the great aristocrats of the internet, Jimmy "Jimbo" Wales, can be forgiven for having a spring in his step as he walks the London streets.
A decade after he founded Wikipedia, the apparently limitless trove of online information has grown to 17 million articles and attracts a monthly audience of 400 million users, making it the fifth most popular website in the world.
If Wikipedia — which some estimates have valued at $5 billion — were not a non-profit venture, shunning advertisers and overseen by a charitable foundation (of which he is emeritus chairman), Wales would possess unimaginable wealth. As it is, he is making his annual appeal to Wikipedia users for added funding, this year seeking $16m, in order to maintain independence by avoiding dependence on major benefactors.


Fact file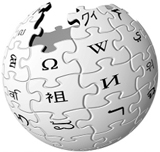 n Wikipedia is a multilingual, web-based, free-content encyclopaedia project based on an openly editable model.
n The name "Wikipedia" is a portmanteau of the words wiki (a technology for creating collaborative websites, from the Hawaiian word wiki, meaning "quick") and encyclopaedia. Wikipedia's articles provide links to guide the user to related pages with additional information.
n Wikipedia is written collaboratively by largely anonymous Internet volunteers who write without pay. Anyone with Internet access can write and make changes to Wikipedia articles (except in certain cases where editing is restricted to prevent disruption or vandalism). Users can contribute anonymously, under a pseudonym, or with their real identity, if they choose.
n Since its creation in 2001, Wikipedia has grown rapidly into one of the largest reference websites, attracting nearly 78 million visitors monthly as of January 2010.
n There are more than 91,000 active contributors working on more than 17,000,000 articles in more than 270 languages. There are 3,507,215 articles in English.
n Unlike printed encyclopaedias, Wikipedia is continually created and updated, with articles on historic events appearing within minutes, rather than months or years.
n Wikipedia is run by Wikimedia Foundation, Inc. is a non-profit charitable organization headquartered in San Francisco, California, United States. The foundation operates several online collaborative wiki projects including Wikipedia, Wiktionary, Wikiquote, Wikibooks, Wikisource, Wikimedia Commons, Wikispecies, Wikinews, Wikiversity and Wikimedia Incubator.
Source: Wikipedia
He made his own small fortune as a futures and options trader in Chicago before even dabbling in the Internet. And, having established Wikipedia with his then partner, Larry Sanger, on 15 January 2001, Wales has since set up a separate for-profit business, Wikia, which carries advertising and caters to more than 100,000 "wiki" groups with specialist interests ranging from The Muppet Show to the cult computer game World of Warcraft.
Speaking at a London hotel, Wales, 44, admits that the scale of Wikipedia's growth has outstripped even his famed self-confidence. "[With] 400m people a month visiting the site it has become really a fundamental part of the information infrastructure of the world," he says. "I didn't imagine this.
It just didn't occur to me, sitting at my computer, that I would end up travelling all over the world. That bit escaped my thought process." Before starting Wikipedia, Wales's only foreign trips had been to Canada and Mexico. Now he travels to speak at global economic events, and his social network includes Bono, Richard Branson, Al Gore and Jimmy Carter.
But as he spreads his gospel internationally he must overcome an unforeseen and potentially damaging misapprehension: the comparatively commonly held view that Wikipedia is in some way attached to WikiLeaks, the scourge of the Western establishment for its publication of millions of confidential documents, exposing diplomatic secrets and covert military operations.
While Wales has been hobnobbing with British politicians in London, the WikiLeaks co-founder, Julian Assange, spent much of last week across town in Wandsworth prison fighting extradition charges.
"The most important message... is that we have absolutely nothing to do with WikiLeaks," says Wales, who is irritated by the name of Assange's site.
"What they're doing is not really a wiki. The essence of wiki is a collaborative editing process and they're just getting documents from people and releasing them. There's no collaborative editing going on. The fundamental of what they're doing is not really a wiki. It's unfortunate. I wish they were called Open Leaks." That's not to say that, as a champion of free speech, Wales doesn't have some sympathy with WikiLeaks in its current position. "It's complicated. In open and free societies it's really important that people who have evidence of wrongdoing have some avenue to make that known. I think that's a good and healthy part of democracy. At the same time I would echo some of the concerns raised by Amnesty International and Reporters Without Borders, and counsel that WikiLeaks should be careful about the ramifications of what they're releasing, and work with people to make sure that what they're doing is providing a useful public service." Wikipedia, he has no doubt, is doing just that. The site was once widely lampooned for the untruths that resulted from allowing anyone to edit its entries. Wikipedia's own Wikipedia page contains the acknowledgement that "some media sources satirise Wikipedia's susceptibility to inserted inaccuracies". The Onion, the American satirical newspaper, once published a prominent article headlined "Wikipedia Celebrates 750 Years of American Independence".
Wales believes the quality of articles has markedly improved. This is partly due to protection measures recently introduced for the most sensitive articles (such as the biography of George W Bush), where all changes are subject to a delay so that they can be reviewed by an established Wikipedia editor. "Where we've gotten to now is fairness — we don't get these stories that we are a crazy bunch of people and it is complete garbage," says Wales, acknowledging that an institution of the scale and influence of Wikipedia is rightfully held to account. "We do get criticised where there are errors and I do think it's a valid subject, a really important subject, for broad public dialogue."
Where Wikipedia can improve, he admits, is in the diversity of its contributors. Around 1,00,000 volunteers are involved in editing on at least a monthly basis, allowing the site to operate with only a tiny staff of around 45. But editors are "over 80 per cent male and tech-savvy", he says, meaning that subjects such as "sociology or Elizabethan poetry" can be neglected.
"Whatever 26-year-old tech geek males are interested in we do a very good job on. [But] things that are in other fields we could do with some more users participating." So Wikipedia will begin its second decade by making it easier for less tech-minded users to edit pages. In future, users are likely to be encouraged to give ratings to the pages they read.
Not that Wales wants everyone to be an editor. "We've never been about participation for participation's sake. We are trying to build an encyclopaedia." Similarly, he is unconcerned that growth in new articles on English Wikipedia seems to be slowing. "All the easy topics have been written about. But it's good to slow down. It's not about rapidly creating the maximum number of pages — that's not the point. The point is to create useful pages."
Wales focus is moving east, in particular to India where in the next six months Wikipedia will open its first office outside of America, probably in Mumbai or Bangalore. Increasing the number of articles in Indian languages is "really key", he says. "We have 50,000 articles in Hindi and tens of thousands in other languages, so we already have active communities there but we are still very far behind the European languages."
There is still so much to do. Africa remains largely undocumented by the site, especially in native languages. Around 20,000 articles have been written in Swahili (and a similar number in Afrikaans) but Zulu accounts for barely 100 entries. He cites a need for more contributions in Arabic but is pleased that the linguistic breadth of Wikipedia — which has 262 language editions — gives it a remarkable reach in the developing world.
Where many of the great digital media brands have lost their way — AOL, MySpace, Yahoo! — Wikipedia has maintained its relevance. According to Sergey Brin, a founder of Google, Wikipedia is "one of the greatest triumphs of the internet".
Wales does not have the same profile as some of the other great online pioneers. He has not had a Hollywood film made about him like the creator of Facebook. But as a character he is more red-blooded than other famous nerds such as Bill Gates and Mark Zuckerberg. After working as a futures trader, he set up Bomis, a male-oriented dot-com business focusing on "babes" and sport. He has been married twice and has a daughter with his second wife. When he broke up with one girlfriend, Rachel Marsden, she delighted internet gossips by selling off his clothes — on eBay.
His first marriage was to a former work colleague in a grocery store who he wed when he was 20. Back then in Alabama — where he had grown up as the son of a store owner and had spent long hours poring over the Encyclopaedia Britannica — he had the ambition of being rich and living in Britain, seeing a photograph of an English castle and telling his young wife Pam: "Yeah, we're going to have that one day."
Sitting here in the hotel drinking from a glass of water, he's just an ordinary-looking bearded guy in an open-neck shirt. He might not be quite the king of the internet but for millions of users of Wikipedia, there's something quite noble about Jimmy Wales.