| | | |
| --- | --- | --- |
| | ARTICLE | |
Don't lose that public voice
Prasar Bharati caters to the disadvantaged
by B.G. Verghese
The report that the President has given her consent for proceedings to remove the current CEO of Prasar Bharati on charges of irregularities is overdue. This institution, created after years of pleading to represent the public voice of India in an increasingly information age, was ill-designed, and then, in turn, frustrated by being denied personnel and financial autonomy or a proper board, then relegated and finally hijacked by its chief executive to be reduced to a pathetic caricature of what it was intended to be.
Sadly, and only partly because the experiment was aborted along the way, some of staff are now agitating that Prasar Bharati be scrapped and the body revert to being a government department representing the official voice against all the private radio and TV channels that now abound. Genuine autonomy is often feared as it entails responsibility and accountability and the loss of the cloak of anonymity that allows laggards to seek more for doing less and pass the buck for failure to perform to the "system". Not that Prasar Bharati lacks good people. But they are a demoralised lot. Autonomy is seldom given. It has to be grasped.
The rot started ab initio with an Act that placed excessive faith in recruiting the highest functionaries virtually exclusively from within the ranks of the bureaucracy. These functionaries were treated as deputationists and subject to whimsical recall as happened in the case of S.Y.Quraishi, DG, Doordarshan, now Chief Election Commissioner. Again, when the AIR staff went on strike, board members who sought a resolution were fobbed off by the I&B Minister as busybodies with no jurisdiction over government servants.
The independent selection panel also singularly failed when it made no appointment to critical positions such as that of Chairman, CEO and Directors of Personnel and Finance for months on end. It kept waiting for a governmental nod on matters of procedure, salary fixation and so forth. Recruitment, training, planning and programming faltered. A hardware-led policy dictated by considerations of "political reach" through umpteen relay stations ignored matching programme and software development so that the vast infrastructure created has remained hugely underutilised. A proposal that the engineering and technical services of Prasar Bharati be hived off as a separate transmission corporation and profit centre was never seriously considered. Programmes were increasingly outsourced and talented Prasar Bharati staff members, lacking in-house opportunities, took to moonlighting to produce excellent programmes for private channels.
The final blow came more recently with the CEO usurping the board's powers and rendering it impotent. Finally, the Supreme Court had to intervene and now the CEO faces possible impeachment and removal. The newly appointed Chairperson and board find themselves immobilised. Immediate action is called for if Prasar Bharati, long in coma, is not to die.
It would seem that few would mourn such an event - the government, Parliament, much of the staff, the private channels, the print media, advertisers, and most of the listening and viewing public. Rank ignorance of what public serviced broadcasting is about and its seminal importance at this time, combined with indifference born of dissatisfaction with its performance, possibly explains why this is so.
There is a fallacy that he who pays the piper must call the tune. Further, with private broadcast stations voicing multiple private interests and concerns, it would be legitimate for Prasar Bharati to be an official trumpet. A moment's reflection will show that both propositions are wrong. Government defrays the cost of Parliament, the judiciary, the CAG, the Election Commission and many other public institutions. Yet none of these are official handmaidens, nor would anybody suggest otherwise. Democracy requires that these institutions be fiercely independent. The public service broadcaster is no exception.
The idea that the government needs an exclusive broadcast voice is equally baseless. First, "government" embraces a plurality of regimes, parties and ideologies - the Central government, 29 state governments, some Union Territories, hundreds of multi-level panchayats and nagar palikas, and autonomous regional councils. Who is "the government", or should every "government" set up its own broadcast facility and should its policies change with every change in "government". Such a policy would result in a cacophony of warring and variables sounds, images and messages at considerable cost to little purpose.
However, there is a more important reason to make Prasar Bharati a vibrant institution. Private broadcasters understandably solicit advertising to earn their keep and dumb down programmes to earn better ratings in a highly competitive market. The public service broadcaster is under no such compulsion. It does not have to cater to the lowest common denominator, trivialise and sensationalise news, manufacture bogus "breaking news" and indulge in programming geared to fetching advertisements. The government need not be its only support. Advertising and programme sales and public support would be forthcoming.
The great difference is that while the private broadcaster primarily caters to the (well-heeled) consumer of advertised goods, the public service broadcaster caters to the citizen. While all Indians are citizens, only half or less are "consumers" of other than basic goods and services. The public service broadcaster, therefore, caters to disadvantaged, marginalised, minority (ethnic, linguistic, faith/caste, tribal, remote, isolated) communities that make up the vast plural, disempowered undermass of India. It constitutes a powerful tool for empowerment, participation, creating awareness, information, education, dialogue and engendering inclusiveness and accountability. It embodies the right to information. Not that private channels are impervious to any of this, but they must first survive.
An upwardly mobile India is seeking rights and entitlements. A great churning in progress will mould unity out of diversity and quell a million ongoing mutinies by creating conditions for equal opportunity and equal citizenship. It is to make the Preamble of the Constitution come alive in action and to sustain that ideal that India needs a public service broadcaster. That public voice must never die.
| | | |
| --- | --- | --- |
| | MIDDLE | |
When time stood still
by Major-Gen G.G. Dwivedi (retd)
It was a race against time. Over the fortnight, we traversed half the breadth of War Zone; i.e the erstwhile East Pakistan. Advance across the vast golden-brown paddy fields and endless water bodies was marked by some bloody hard-fought battles. Each of the 14 days were, hence fully accounted for.
Every mile we covered was most rewarding as it brought seismic change in the destiny of thousands of people; liberation from brutal subjugation and oppression, unleashed by the Pakistani Army. Scantly clad, semi starved, with misery written large on the faces, these hapless brave hearts had nothing to share but deep anguish and grief.
Hysterically, they narrated the horrid stories of terror and torture. Devastated and battered, their hutments barren and bare, what kept them going was sheer conviction; 'hope never dies'. The only words that were discernable in their chocked voices were Bandhu and Joi Bangla.
By the 16th December morning, we closed on to Narainganj, after a fierce battle for Bandar Railway Station, the previous night. It was one of the key outposts of Dhaka Garrison. The town wore a desolate look. As we were in the process of clearing pockets of resistance on the outskirts, suddenly, small groups of people began to show up on the streets. Soon the crowds began to swell. Many were holding piece of green cloth with an orange circular patch, symbolising Bangladesh national flag and chanting slogans of triumph. It was an indication that the Pakistani troops were evacuating Narainganj and surrender was in the offing.
The sounds of firing gradually died down, engulfed in the echoes of Joi Bangla. There was outburst of emotions, volatile mix of agony and ecstasy. Commotion and bewilderment were visible all around. Tables had been turned and frenzy of revenge was looming large. Now it was the colluders and collaborators who were on the run. A few were even lynched by the violent crowds to mete 'on the spot justice'.
As the darkness fell, we deployed astride the banks of mighty Buriganga River. Since the start of the Bangladesh War (Operation Cactus Lilly), it was for the first time we had a proper wash and hearty meal. Puri-Halwa prepared from captured rations was a rare delight.
Despite the moonlit night, the serene flowing river wore a ghastly look, with number of bodies floating — a tell tale sign of the last minute carnage. The uneasy calm was occasionally shattered by the victory shots or barking dogs, busy digging up the wayside shallow graves.
To stretch out in the open, rather than being cramped in a trench appeared to be a luxury after a long time. Strolling past the resting men of my platoon, I found a few were peacefully snoring, while others were tossing on their ground sheets, yet to reconcile to the fact that the war was over. In sombre mood, they were scanning the sky, perhaps searching in vain, for their fallen comrades.
It was 'nine month' long ordeal for the Bangladeshis. They endured horrific atrocities and indignation, the ugliest side of humanity. The dawn was yet a few hours away. However, the time appeared to have stood still; to condole the unparallel sufferings and immortalise the martyrs, marking an end of a gory saga, awaiting for the newborn nation to announce its arrival.
| | | |
| --- | --- | --- |
| | OPED YOUTH | |
Have youngsters started associating their happiness with iPhones and Blackberries rather than with real-life activities? Or have they the right and the means to live the kind of life they choose, since they can afford it. We look at two viewpoints at the opposite ends of the spectrum
It's a Branded Existence
Ashima Thakur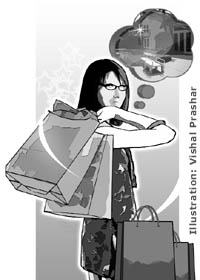 Descartes' once said, "I think, therefore, I am". But in our days of excessive consumerism, it is, "I consume, therefore, I am". Consumerism has, quite simply, become the end-all and be-all of our lives.
Food, clothes and shelter were certainly the needs of a primitive man. We are modernising, and so our needs have undergone a metamorphosis, too. Now, our food is Mc Donald, clothes are Tommy Hilfiger and Lacoste, and shelter is maple wood ceiling and marble flooring.
Brands are an anesthesia to the intellect of consumers. The propensity of capitalistic societies toward brands is quite evident through the fetishism they display. Man was worth his dignity, character or rectitude once, but now, his worth is measured in terms of the insignia of brands he can flaunt. Someone once put it, rather cheekily: "Well, you're as good as your car!"


One is always cowed down by the pressure of owing up latest brands or constantly striving to being one step up from one's peers in terms of lifestyle. Brands are considered as symbols of one's worth. A person's inherent potential, goodness and humane qualities remain hidden under the sheen of Gucci or Prada.  Probably, they hide our insecurities and loneliness too. 

— Geetanjali, Legal Associate, Defence Firm, Noida
The voracious desire to acquire luxury goods and services is life force of contemporary societies, which is taking away all their vigour ironically. We succumb to the multiple charms of consumerism, without a demur. The Oxford English Dictionary defines consumerism "as the emphasis or preoccupation with the acquisition of consumer goods". Our acquisitiveness knows no limits, and the clout of brands has clouded our judgments.
There is a perpetual bombardment of brands on our vulnerable psyche via advertisements, television, radio, magazines. Consumerism is nothing but the end-result of our obsessions with that. Our private lives are remote controlled by large business corporations, leading to the creation of what a French philosopher, Baudrillard calls "a hyper-real world".


What they think…

"I like shopping from exclusive brands and like the fact that I have access to what many others don't. For me it's about being unique and exclusive, very similar to how we work in consulting, provide unique and customised solutions. Having said that let me also add that I was not born with this notion. Over the years, with constant exposure and changing environment, this concept has evolved and today I feel pleased, if not entirely elated. Maybe it is wrong, but then maybe it is not."
Manu Birendra Singh, (Consultant in one of the Big 4 consulting firms in Mumbai)

Youth today is strong, financially influential, globally connected. Youngsters start working early and are not dependent on anyone to fulfil their wishes. They are also well-informed and well-connected. With an increased purchasing power they are the most avid consumers of brands.
Swati Rawat, (Soft Skills Trainer, Mumbai)

"Anti-consumerism lobby is primarily based on one assumption and a frivolous moral high ground. The assumption being "consumerism is induced" by an external agency (read: corporate) in order to make their bottom lines plump. The frivolous moral highground being that simple frugal living is the only right way to lead life. It is an ideology professed by Gandhi, Karl Marx amongst other scholars. It has its own perils . It is natural for economies to become more consumerist as they grow because it is natural for people to have varying degrees of likeness towards material possessions and no socio-economic order can abolish this instinct. It can only be unfairly deferred."

Kuber Chopra, (Proprietor of a Brand Consulting firm in Noida.)
So hyper-real is our pre-occupation with goods and goodies that our emotions and feelings often appear unreal, if not surreal, in comparison. It is sad to see gifts and presents take precedence over our feelings and emotional quotient. Gone are the days when a caring thought or a word mattered, now all that matters is a diamond necklace or a platinum ring; and again, the costlier, the better.
Consumerism is taking its toll on the youngsters, which, sadly enough, they tend to celebrate, unabashedly. Brands have become so much an integral feature of youth culture that in the colleges and university campuses, we come across brand ambassadors, sporting Nike, Adidas, Reebok, Tommy Hilfiger, Lacoste and Calvein Klein, who may sometimes be called students, too.
Now-a-days, our language has also undergone metamorphoses. For us, westernisation is modernisation, fooling is advertising, and falling prey to the agenda of MNCs is to be ahead of our times. These are the shifting paradigms of our modern culture.
The euphoria amongst girls in hostel, where I reside, for buying stuff from Tommy, Espirit and other big names has to be seen to be believed. Leave youngsters aside, these days even "the ceremony of innocence is drowned". A four year kid is so brand-conscious that he reels off first hand information about brands. Thanks to television and Internet. Brand mania is induced by the corporates to make their bottom lines plump
And if you think, it's only an urban phenomenon, just wait and watch. Students from humble or rural backgrounds, too, don't want to be left behind in this race. It's another matter that this brand mania might add to their woes, both emotional and financial. This flaunting of material objects induces an inferiority complex in those who can't afford them.
We should not become a slave to them and go on a blind pursuit, chasing them. We should counter the dominance of consumerism by becoming conscious consumers.
We live in a world where, each person is battling against his "innate nature" to have more and more. The raison d'être of our life is solely to possess a good house, a big car, branded clothes. At times, one wonders, whether it is an ascent or a descent. We can buy all the riches of the world except happiness, because the "real fountain," as they say, "is within".
The writer is a research scholar at Panjab University, Chandigarh.