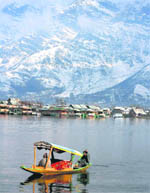 Srinagar-Jammu highway opened to traffic
Srinagar, January 1
After remaining blocked for two days due to snowfall, the 296-km Srinagar-Jammu National Highway was thrown open to two-way traffic this afternoon and stranded trucks carrying essential commodities were cleared for movement towards the Valley.





A day after heavy snowfall, a tourist enjoys a shikara ride at the Dal Lake during a sunny day in Srinagar on Saturday. — PTI
Snowfall will help make up for losses, hope hoteliers
Srinagar, January 1
They lost the entire summer season of income generation due to the six months of unrest in the Kashmir valley, but now the recent snowfall here has revived their hopes of making up for the losses incurred during the unrest.
Road Safety Week
Awareness rally on traffic rules held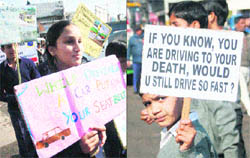 Jammu, January 1
To observe the road safety week, the traffic police took out a traffic rules awareness rally through the city today. More than 500 students along with some traffic policemen and members of civil defence committees took part in it.


Students carry placards about road safety on the first day of the road safety week in Jammu on Saturday. Photos: Inderjeet Singh
Cong demand of rotating chief ministership widens rift with NC
Jammu, January 1
Notwithstanding claims of senior leaders of ironing out differences on the contentious issues rocking the coalition government, differences between the National Conference (NC) and the Congress have further widened due to the utterances of leaders of both parties.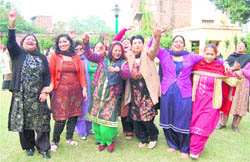 Women dance during a function to celebrate New Year at the Janana Park in Jammu on Saturday. Photo: Inderjeet Singh
Lt-Gen Parnaik takes over as GOC-in C, Northern Command
Udhampur, January 1
Lt-Gen KT Parnaik today took over the command of the Northern Command at Udhampur after the superannuation of Lt-Gen BS Jaswal.
Bus driver, 175 cops awarded DGP's commendation medals
Jammu, January 1
For the first time a civilian has been honoured with the DGP's commendation medal, a certificate and cash award for saving the lives of a large number of passengers during a terrorist attack on their bus in the Baigo Nar area near Thanamandi in Rajouri district.
Army gives sports items to 41 children
Jammu, January 1
The Ace of Spades Artillery Brigade welcomed 2011 by conducting a "gift a smile" goodwill drive in the Bal Ashram at Nowshera in Rajouri district. Forty-one children of various age groups from the Bal Ashram were presented with educational and sports equipment.
21 students back from educational tour
Jammu, January 1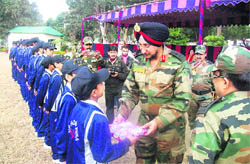 Twenty-one students and two teachers of Army School, Jammu, returned from an educational tour of historic cities of Agra and Delhi today.





Major Gen TPS Waraich, GOC, Tiger Division, interacts with children belonging to militancy affected areas, in Jammu on Saturday. A Tribune photograph
Dogri film team felicitated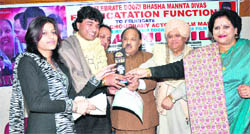 Jammu, January 1
In connection with the ongoing celebrations of Dogri Manata Divas, the Nami Dogri Sanstha felicitated the entire team of Dogri film "Maan Ni Mildi" at the KL Sehgal Hall here today.


Officials of the Nami Dogri Sanstha felicitate the team of Dogri film "Maan Ni Mildi" at the KL Sehgal Hall in Jammu on Saturday. Tribune photo: Anand Sharma
Following brawl, constable fires into air
Jammu, January 1
A constable of the 11th Battalion of the Indian Reserve Police (IRP) allegedly fired into the air from his service rifle during an altercation with some persons here today.
Mattoo's appointment as VC flayed
Jammu, January 1
The Jammu and Kashmir Awami Congress criticised the Union Human Resource Development Ministry for appointing Prof Amitabh Mattoo as the Vice-Chancellor of Central University of Jammu in utter "disregard" of the opposition to his candidature.
25 injured in bus mishap
Udhampur, January 1
New Year began on a sad note as 25 persons were injured when a private bus they were travelling in met with an accident at Battal Morh, about 30 km from here, today.
Two die of cold in Udhampur}
Udhampur, January 1
The cold weather conditions have claimed two lives in Udhampur district. The police brought both bodies to the District Hospital, Udhampur, today where the doctors declared the cold as the cause of their death.
Human rights activist's death mourned
Jammu, January 1
The convener of the People's Union for Civil Liberties (PUCL), J&K state, and director of the Institute of Jammu and Kashmir Affairs, Balraj Puri, expressed sorrow over the death of KG Kannibrian, former president of the PUCL and veteran human rights activist.