On CM's assurance, onion traders end stir
Strike in the first half of the day meant there was no offloading of onion at Azadpur Mandi
New Delhi, January 12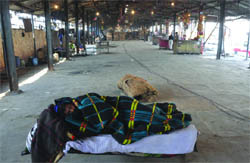 Wholesale traders of onion today called off their strike after Chief Minister Sheila Dikshit assured them that they would not be "harassed in the name of income tax raids" and told them that their cooperation was needed to bring down the spiralling prices of onion.


A labourer takes a nap at Azadpur Mandi, which wore a deserted look due to wholesale traders' strike, in New Delhi on Wednesday morning. Tribune photo: Mukesh Aggarwal
Firm sealed as staff dupe investors of `500 cr
Noida, January 12
The Noida police today sealed the office of EndMark Forex Services at Chorenthum complex in Sector 62. Yesterday, investors had lodged an FIR against the company directors for duping them by promising high returns of the money. It is reported to be a Rs 500-crore scam.
Now, speed limit haunts Airport Metro line
New Delhi, January 12
After the much-awaited safety nod from Commissioner for Metro Rail Safety (CMRS) on the Airport Express line arrived, other concerns of security and speed now haunt the express line.
GGSIPU admits general category students in 'unfair manner'
New Delhi, January 12
The Guru Gobind Singh Indraprastha University and the Maharaja Agrasena Institute of Technology which is affiliated to the GGSIPU varsity were found defaulting by admitting general category students without consideration of their ranks in vacant reserved seats.
Last phase of Census to count homeless
Gurgaon, January 12
The state director of census operations, Neerja Shekhar, has appealed to all residents to get themselves counted during the second and the last phase of census from February 9 to 28, 2011.
Sunny days back
New Delhi, January 12
A bright and sunny day brought some relief to the city residents after a skin-numbing early morning chill when minimum temperature dropped to 3.9° C, the second coldest for the season.
Ayurvedic medicine shortage hits MCD dispensaries
New Delhi, January 12
A number of dispensaries working under cash-strapped Municipal Corporation of Delhi (MCD) in the city are struggling to procure Ayurvedic medicines due to financial crunch.
Pragya's aide moves court against 'harassment'
New Delhi, January 12 Ananth Brahmachari, an associate of Sadhvi Pragya Singh who is a key suspect in the 2008 Malegaon bombing, approached the Delhi High Court today alleging that he was "harassed" by the National Investigating Agency (NIA).
House tax notice to illegal colonies unfair: Cong
New Delhi, January 12
The Congress condemned the move of the Municipal Corporation of Delhi (MCD) to serve the house tax notice to lakhs of residents of unauthorised colonies.
Khan Market road rage: Pilot gets bail
New Delhi, January 12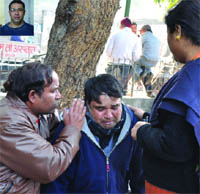 A Jet Airways pilot, Vikas Agarwal, who was arrested yesterday in an accident case leading to the death of a man in the Khan Market area, was granted bail by a city court this morning. According to police officials, Aggarwal was bound to get bail as he was booked for bailable offence. "It was a bailable offence. He was charged under Section 279 (rash driving) and 304 A (causing death by negligence) of the Indian Penal Code (IPC)," said a police official close to investigation, adding that, a penal of doctors will be constituted to conduct postmortem on victim Rajiv Jolly Wilson.
Relatives of Rajiv Jolly Wilson (inset), the victim in the case, console each other outside the RML Hospital in New Delhi while waiting to receive his body after postmortem on Wednesday. Tribune photo.
One more killed over trivial issue
New Delhi, January 12
A petty argument relating to hurrying-up of purchase between two customers at a dairy shop led to the murder of a 30-year-old man in the Samaipur Badli area of outer Delhi last night. According to the police, Naval Kishore, 19, was arrested while fleeing after stabbing one Mukesh. The victim, who was admitted to the hospital in critical condition, died this morning. A case of murder has been registered at the Samaipur Badli police station in this regard.
One held in murder case
New Delhi, January 12
The Crime Branch of the Delhi police has arrested a hardcore criminal, Abdul Wazid, who has been absconding after brutally killing one Danish at Minto Road in January last year.
Neighbour rapes girl in Delhi
New Delhi, January 12
A 13-year-old girl was raped allegedly by her neighbour in south Delhi, the police said today.
MCD worker among four held for vehicle thefts
New Delhi, January 12
The Delhi police has arrested four persons, including a temporary MCD worker, accused of being involved in several cases of robberies and vehicle thefts, the police said today.