Liquor sale touched all-time high in Dec
New Delhi, January 9
Liquor sale in the Capital touched nearly Rs 190 crore in December, recording an all-time high for the month, when severe cold conditions prevailed in the city. Delhiites consumed more than 13 lakh cases of liquor including scotch, rum, vodka, gin and beer in December last year as against 11 lakh cases in December 2009.


Indian flowers going to flourish in global market
New Delhi, January 9
Cymbidiums orchids, the unique large sized orchids exclusive to altitudes of 4,500 to 5,500 meter of Sikkim as far as India is concerned, is among the most expensive flowers produced here.

All Praise: Girls pose with cymbidium orchids at the expo in New Delhi on Sunday. Tribune photo: Manas Ranjan Bhui
Firms ready to build FOBs for free
Want advertising rights, says MCG
Gurgaon, January 9
If the local municipal authorities are to be believed, certain companies are ready to construct foot over-bridges (FOBs) at different locations in the city free of cost. This was stated by Gurgaon municipal commissioner Rajesh Khullar at a recent meeting with the district as well as the HUDA authorities.
Attack on Mirchpur Dalits
Court orders shifting of 100 accused to Tihar
New Delhi, January 9
A Delhi court has directed the Haryana government to transfer the 100 inmates of the Hisar Jail, accused in a case related to attack on the Dalits allegedly by upper caste Hindus at Mirchpur village in April last year, to the Tihar Jail here.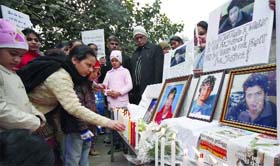 Family members of Nihkil Kadyan, Samantha, Divay Sharma and Siddarth, killed last month in an accident at Gazipur border, hold a candlelight march to demand arrest of the accused in New Delhi on Sunday. Tribune photo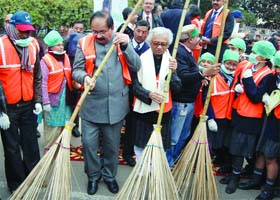 Delhi finance minister A.K. Walia takes part in a cleanliness campaign at R. K. Puram in New Delhi on Sunday. Tribune photo
Noida troubled by stray dogs
Noida, January 9
Stray dog menace has assumed alarming proportions in Noida. In December alone, as many as 925 anti-rabies injections were administered at district government hospital.
Books capture the burden of history in South Africa
New Delhi, January 9
Celebrated author Dr Kusum Ansal's books-"Beyond Silence" (English) and "Khamoshi ki Goonj" (Hindi), which were released this evening in the national Capital, came up as perfect mementos to all the Indians, especially to those living in South Africa.
2 held on charges of extortion
New Delhi, January 9
The crime branch of the Delhi police has arrested a young man and his teenaged friend for attempting to extort Rs 30 lakh from his former employer to pay a debt incurred in chit fund business.
Chatterati
Politicos spend hols in fine style
The holiday season began in Delhi with lots of Christmas parties and a jovial mood. Right after Christmas to New Year, a lot of ministers went for their holidays. The new destination for them seemed to be Thailand. Some flew to the famous Thai spas outside Bangkok while some headed to Phuket, an Indian destination which is still very famous in Goa.
Parkash Utsav on Jan 11
New Delhi, January 9
Congress MLA and parliamentary secretary of Delhi government, Tarvinder Singh Marwah will take out a procession of Parkash Utsav on the birth anniversary of the 10th Guru Gobind Singh on January 11.
Gang of vehicle thieves busted
Ghaziabad, January 9
Police today claimed to have busted a gang of vehicle lifters with the arrest of five persons in the district. The accused, Komal, Mohan, Sanjeev Gupta, Layak Singh and Ranbeer, were taken into the police custody in Kotwali here yesterday where they confessed that they had sold stolen vehicles in UP and Delhi using forged documents, officials said.
Manís body found in drain
New Delhi, January 9
A 33-year-old man was found dead in a drain in north-west Delhi today morning, the police said. The victim has been identified as Pyare Lal. Lal's body was recovered from a drain in Mahendra Park, A-Block.
2 held for murdering contract killer
Ghaziabad, January 9
Two persons have been arrested for the murder of an alleged contract killer. The body of the victim, Gaurav, was found on December 23 in Vijay Nagar here with stab wounds.
Minor fire in CP
New Delhi, January 9
A minor fire broke out near the Air India office in Connaught Place in central Delhi on Sunday morning, fire brigade officials said. No one was injured in the fire. "We got a call about a fire near the Air India office in Connaught Place around 11 am and we rushed two fire engines to the spot," a fire brigade official said.