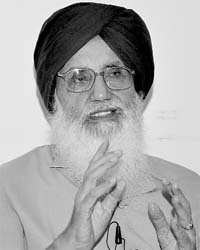 EVERY New Year brings one face to face with an opportunity to reflect on the challenges and opportunities of both the year gone by and the year that knocks at our doors. In my long political career, I have always put myself through severest tests to see as to how much we have been able to achieve for our state. It gives me great satisfaction to say that the past four years have been among my most satisfying periods in terms of service to the state.
I say this on the basis of several landmark efforts we have made to take our state into a new orbit of development and growth. Even more satisfying has been the knowledge that all our efforts are bearing fruit in terms of concrete developmental projects on the ground. I briefly list some of these here.
The SAD-BJP government has drawn a blue print for ensuring overall development and welfare of all sections of society. Power, infrastructure, civil aviation, education, skill development, medical education and health care, governance reforms and welfare of the under-privileged sections of society are on the top of the government's agenda. The year 2011 will be significant as it will herald the fructification of landmark projects, thereby putting Punjab on a higher growth trajectory.
On the power front, our government has focussed its attention on making Punjab a power surplus state by generating additional capacity of 9494 MWs. To fulfill this commitment, work has already commenced at the thermal plants near Talwandi Sabo (2640 MW), Goindwal Sahib (540 MW) and Rajpura (2100 MW). An MoU and a power purchase agreement for the thermal plant at Gidderbaha (2640 MW) has been signed with NTPC for execution as a regional power station.
Education has always been close to my heart, and I am glad to say that in this sphere Punjab has made a decisive push forward. We have brought three new universities to the state. In addition, the iconic ISB at Mohali and the IIT at Ropar are set to embellish the academic and professional education horizon of the state. We have recruited over 45,000 fresh teachers in various disciplines.
Health has been the other key sector for us. As a part of upgradation and modernisation of medical education and research, Rs.197 crore has been spent on Govt. Medical College, Amritsar, Rs.100 crore on Baba Farid University of Health Sciences at Faridkot and its constituent college, Guru Gobind Singh Medical College, and Rs.101 crore on Rajindra Medical College, Patiala.
Guru Ravi Dass Ayurveda University is also being set up at Hoshiarpur. As many 135 Professors, Associated Professors and Assistant Professors, besides 101 Senior Residents and Junior Residents and 748 nursing and other paramedical staff have been recruited in medical colleges.
Fully-equipped cancer diagnostic and treatment centres at Amritsar , Faridkot, Patiala and Bathinda are being set up to effectively tackle the growing menace of cancer. A plan of Rs 346 crore for the upgradation of infrastructure and equipment in hospitals to provide medical and health care facilities to the people is under implementation.
Two super speciality hospitals are being set up in Public Private Partnership over government land in Mohali and Bathinda in collaboration with MAX Healthcare at a cost of Rs.300 crore. As many as 878 specialist and medical doctors, besides 3,835 paramedics, have been recruited in government hospitals Students suffering from heart diseases and cancer are being provided with free treatment at the PGI, Chandigarh, and other hospitals under the school health programme
An ambitious programme of Rs. 2,111 crore for the cleaning of the Satluj river (Rs.1,376 crore), the Beas (Rs.222 crore) and the Ghaggar (Rs. 513 crore) has been initiated to clean these rivers and make them pollution-free within a year. As a part of this programme all the cities and towns will be provided with the facilities of sewerage and safe drinking water by November 2011. Another major programme has been chalked out to construct rural latrines in villages at a cost of Rs. 2 crore.
I can proudly say that we have pushed Punjab into the next-gen infrastructure development era. Major initiatives have been taken to revamp the network of roads involving an investment of over Rs. 25,000 crore. Besides, the New Year will also witness the linking of every important city in the state with 4/6 lane roads, besides the completion of 33 ROBs / RUBs initiated at the cost of Rs. 7073 crore.
The strides made in the key area of civil aviation in Punjab are a matter of pride not only for our state and our government, but also for the country as a whole. Punjab attempts to soon become one of the few states in the country to have three international airports with the setting up of a new international civil air terminal at Mohali and another Rs. 17,000 crore Greenfield International Airport planned near Ludhiana. We already have one international airport at Sri Amritsar Sahib.
For the first time since Independence a concrete initiative has been taken for governance reforms to make day-to-day administration responsive, accountable and transparent. These reforms are aimed at eliminating various outdated and cumbersome procedures for which people had to face undue harassment in government offices. These governance reforms in terms of computerisation of land records and simplification of archaic revenue acts will not only be public friendly but also change the perception of the common man about the functioning of government offices.
The New Year will witness the commissioning of Rs. 20,000 crore Bathinda refinery. Besides, the dedication of five thermal plants being built at a combined cost of Rs. 62,000 crore will put Punjab state on a higher pedestal of growth apart from opening new vistas of employment for Punjabi youth through skill development initiatives.
We have recently come up with a new sports policy 2010 aimed at achieving excellence in sports and giving incentives to sportspersons, who win laurels for the state at the national as well as international level.
Our government has undertaken the construction of three world-class historic memorials at Chapparchiri (SAS Nagar), Kup Ruhira (Malerkotla) and Chhamb Kahnuwan (Gurdaspur) at a cost of Rs. 44 crore in commemoration of the victory of Sirhind by Baba Banda Singh Bahadur and in the memory of Chhotta and Wadda Ghallughara martyrs respectively to bring awareness about our rich legacy among the future generations.
Our aims are clear, our vision is focussed and our approach is firm and sure-footed. As the New Year 2011 dawns, let us pledge to make the coming year a year of complete transformation in terms of development, prosperity and progress. I wish you all a very happy and successful new year – and many, many more years ahead.