Encroachments removed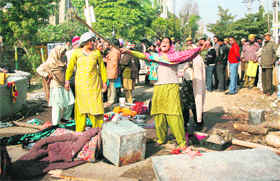 MC seals 8 shops for non-payment of rent
Jammu, January 12
Over 100 families of migrant labourers were rendered homeless as their shanties were demolished during an anti-encroachment drive of the Jammu and Kashmir Housing Board at Channi Himmat (Narwal) today.
Women protest against the Jammu and Kashmir Housing Board for demolishing their shanties in Jammu on Wednesday. Photo: Inderjeet Singh

Girls outshine boys in Class X exam results
Srinagar, January 12
The first three positions in the Class X examinations, the results of which were declared here yesterday, have gone to girls from Srinagar and Baramulla schools, while a boy has secured the fourth position.
Create infrastructure for cross-LoC trade: Mufti
Jammu, January 12
Stressing the need for creating requisite infrastructure for the cross-LoC trade, Peoples Democratic Party (PDP) patron and former Chief Minister Mufti Mohammad Sayeed demanded that free movement of people and commodities should be allowed across the LoC.
NGO celebrates Lohri with Vridh Ashram inmates
Jammu, January 12
The New Young Blood Organisation, an NGO, celebrated Lohri with the inmates of Vridh Ashram at Ambphalla here today. The office-bearers of the NGO led by its president Ashok Verma and SS Shingari distributed fruits, sweets and peanuts among the inmates.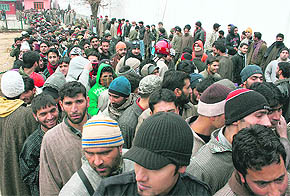 Good response to police recruitment drive
NC favouring its candidates, alleges PDP
Srinagar, January 12
A large of youth came to take part in a police recruitment drive held in the Khanyar area of Srinagar here today, reflecting a different scene in an area which witnessed stone throwing and clashes last year.

Youths line up for recruitment to the police in Srinagar on Wednesday. Photo: Amin War

Chinar Corps celebrates 95th Raising Day
Udhampur, January 12
The Chinar Corps celebrated its 95th Raising Day with Chief of Staff Maj-Gen SK Khajuria paying floral tribute at the BB Cantonment War Memorial on behalf of the GOC, Chinar Corps, Lt-Gen SA Hasnain, here today.
Absence from Duty
2 headmasters, 3 teachers suspended
Jammu, January 12
The Director, School Education, suspended two headmasters and three teachers of different government schools for remaining absent from duty here today. During a surprise checking of various government schools, the Director, Gulzar Ahmad Qureshi, found the three teachers and the two headmasters absent.
BPL families get relief to build pucca houses
Jammu, January 12
Minister of Revenue, Relief and Rehabilitation Raman Bhalla today asked families belonging to the below poverty line (BPL) category and living in urban areas to take the benefits of the Basic Services to Urban Poor (BSUP) scheme, which has been especially formulated for their uplift.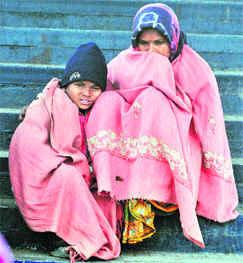 Braving the chill: A woman along with her child sits on the stairs of Jammu railway station on Wednesday. Tribune photo: Anand Sharma

Army Day
62 personnel to be felicitated
Jammu, January 12
The Northern Command will hold an investiture ceremony at Akhnoor to felicitate its heroes on the occasion of 62nd Army Day on January 15. Army Day is celebrated on January 15 every year to commemorate the assumption of the post of the first Commander-in-Chief of the Indian Army by Lieutenant-General (later Field Marshall) KM Cariappa.
Hideout busted, IEDs seized
Udhampur, January 12
The security forces busted a hideout of militants and seized a cache of arms and ammunition in Reasi district today.
Regularise daily wagers, says Youth Cong
Jammu, January 12
The Pradesh Youth Congress (PYC) demanded a uniform policy for reasonable wages as well as regularisation of daily wagers or contractual workers engaged by the government here today.
Governor greets people on Lohri, Makar Sankranti
Jammu, January 12
The Governor, N. N. Vohra, has felicitated the people on Lohri and Makar Sankranti and prayed that the auspicious occasions would be the harbinger of peace, progress and prosperity in the state.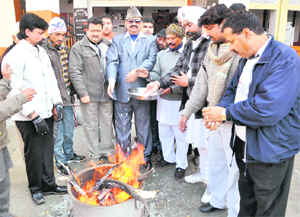 Inmates of Vridh Ashram celebrate Lohri in the Amphalla area of Jammu on Wednesday. Photo: Inderjeet Singh

Motorcyclist killed in mishap
Jammu, January 12
A man in his mid-forties was killed after a speedy minibus hit the motorcycle he was riding near the Jiwan Nagar in the Digiana area here today.
Police advice to job-seekers
Srinagar, January 12
The Additional Superintendent of Police, Crime Branch, Srinagar, today said the department had advised those applying for jobs abroad to do so only through agents who had been duly authorised by the Government of India.
Labourer crushed under Army truck
Jammu, January 12
A migrant labourer from Chhattisgarh was allegedly knocked to death by an Army truck in the cantonment area at Janglot near Kathua city yesterday.