Forgotten Australian pianist may have visited Mussoorie
Ajay Ramola
Mussoorie, January 17
Western classical music lovers will be delighted to know that the brilliant, but forgotten Australian pianist who played Chopin graced the fields of Waverly Convent School in Mussoorie Edward Cahill between 1921-1920.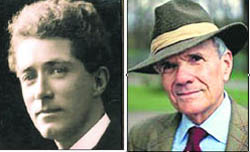 Edward Cahill Michael Moran
Australian author and classical musician Michael Moran, who is also nephew of pianist Edward Cahill, revealed this here today. Michael Moran is presently busy writing a book on Edward Cahill.
Speaking exclusively to The Tribune on the telephone, he said Edward was a pianist par excellence and was born in 1885. He was the pianist, who visited Mussoorie and graced the lawns of a convent school (presumably Waverly) with his talent, as a part of a huge concert tour of India and the
far-east that lasted from 1919 to 1921.
Moran revealing some of his research work said Edward left Darwin, Australia, on October 11, 1919, for the far-east tour for the impresario Frederic Shipman, aboard the MV Montoro. Largest far-eastern tour ever attempted by any Australian/European artiste playing classical music then. Their first halt was at Siam (Thailand) and performed at the British Club, Bangkok, and on October 30 again performed at the United Club in 1919.
After their brief stint in Thailand, they headed for India and landed in Bangalore (Bangluru). The first concert of the Indian leg was on January 22 at the Electric Theatre Bangalore (Bangluru). The repeat performances were held at the same venue on January 23 and 24.
Following that, Edward Cahill performed at the concerts that were held in Bombay (Mumbai) in February at Gymkhana. Edward Cahill concert was also held in the same month at the Royal Opera House Bombay where they gave two concerts daily.
The pianist also enthralled the audience at the Madras Wellington Cinema in the same month. A concert for the Maharaja of Benares HH Maharajadhiraja Sri Sir Prabhu and Maharaja of Benares Narayan Singh Sahib Bahadur was also performed at Fort Ramnagar where half the audiences were Parsis. This was not long after the Amritsar Massacre on April 13,1919.
He was the first maharaja to have a private Chopin classical music European recital in India. One family attended 18 concerts in Mumbai and then followed them to the next venue, Mussoorie.
According to Michael Moran the concert of his uncle Edward Cahill Hill was held at some convent school. The reporter found out that, as there was only one such girls convent school with the name Waverly existing at that time, the concert would have presumably taken place on the lawns of the school situated near the Library Bazar.
Local historian from Mussoorie Gopal Bhardwaj said he had also heard from old English ladies about such a concert, but he had no photographs to show. Michael Moran further said Edward also gave concert near Peshawar in a fort somewhere at the Khyber Pass in 1920 as part of the same tour.
Michael said, "He played in some of the great villas on the French and Italian Riviera of the glamorous 1930s and I decided to try and find at least one of them. Menton (or Mentone in Italian) is now part of the French Department of the Alpes-Maritimes, but this was not always so. In the 19th century it was popular with English aristocrats as a sanatorium for tuberculosis sufferers. In fact, a prodigious number of European writers, painters and musicians wintered or died here from their bronchial ailments.
It retains much of the intimacy and picturesque local colour of the past despite the influx tourists. Edward Cahill stayed in the famous Villa Maria-Serena at Menton-Garavan as a guest of Henri Konig, who was also one of his close friends and patrons. This important villa is uninhabited today, but botanical tours are still taken once a week of the magnificent gardens.
Michael Moran further says that the tour to Mussoorie was the largest tour by a European classical pianist playing classical music that had ever been attempted up to that time. He also said this Asian tour included India, Java, Philippine Islands, Borneo, Sumatra, Kashmir, Burma, China, Manchuria and Japan and lasted till 1921. Michael Moran further says that a few of Edward Cahill's ('Uncle Eddie') private recordings of Chopin made in 1935 miraculously survived his glamorous career of travel and royal engagements and a disastrous fire at his home in 1932.
Speaking on the work of great pianist Moran says that one realises on hearing these remarkable interpretations that Cahill lies on the cusp of the great 19th century Chopin pianistic 'individualistic' tradition of de Pachmann, Friedman, Lehvinne, Godowsky and Rosenthal and the advent of the more 'modern' less overtly 'personality' based approach of say Artur Rubinstein.
Edward Cahill died in 1975. Miachael Moran says that the story of the great pianist of his times need to be told to the younger generation and he would be coming out with the book on his uncle within couple of years.