Absence of U'khand from R-Day tableau disappoints
people: UKD
Dehradun, January 24
President, youth unit of the Uttrakhand Kranti Dal (UKD), Sunil Bisht, rued the fact that on the Republic Day, Uttarakhand would not get to participate in the tableau in New Delhi, and burnt an effigy of the state government at the Drone Chowk for its apathy on this issue.
Policemen to be honoured
Dehradun, January 24
Policemen and other officials who operated in the disaster relief work will be honoured on the Republic Day.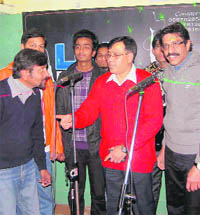 All set to celebrate in musical style
Dehradun, January 24
With just two days left for the Republic Day, busy bees in the town are all set to celebrate the festivity in a musical style. These days Dr Manoj Kumar Gupta, a surgeon and urologist, Kumar Vishwajeet, Deputy Inspector General, Kunal Mallah, academician, Alok Lal, Additional Director General, Hemant Kocchar, a hotelier, and Nitin Gupta are busy shooting the video of a patriotic rock song, "Lakshya itna ho prabal, Kalpanaye ho jaye safal, Ho prabhu ashish tera, Khil uthe abhinav savera...", which is scheduled to be aired on local cable channels on January 26.

The members of local rock band Lok Dhwani record a patriotic song in Dehradun on Monday. A Tribune photograph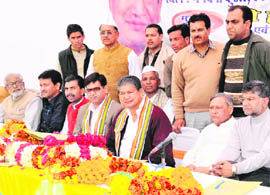 Political temperature rises as Haridwar nears panchayat polls
Haridwar, January 24
Now that the nomination phase is over, political parties have started organising strategic campaign programmes and booth management workers' convention for party workers to ensure the success of their supported panchayat candidates.

Union Minister of State for Agriculture and Food Processing Harish Rawat addresses a booth management meeting in Haridwar on Monday. Tribune photo: Rameshwar Gaur

Minister for better implementation of health insurance scheme
Dehradun, January 24
Union Minister for State for Agriculture and Food Processing Harish Rawat today called upon officials to strike a balance between the National Rural Health Mission (NRHM) and the Rashtriya Swasthya Beema Yojana (RSBY) or the National Health Insurance Scheme for achieving better results.
BJP burns PM's effigy on price hike issue in Mussoorie
Manmohan Singh puppet in the hands of Sonia Gandhi: Uniyal
Mussoorie, January 24
The Mussoorie BJP unit led by Municipal Council (MC) president OP Uniyal came on the road yesterday in protest against the recent hike in prices of oil and other commodities. BJP workers gathered at Picture Palace and burnt an effigy of Prime Minister Manmohan Singh, raising slogans against the UPA government and Sonia Gandhi in particular.
Guv, CM condole death of Bhimsen Joshi
Dehradun, January 24
Governor of Uttarakhand Margaret Alva has expressed deep shock and sorrow at the death of eminent Hindustani classical vocalist Bharat Ratna Pt Bhimsen Joshi in Pune today.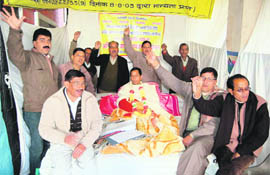 DRDA employees submit memorandum to Chief Secy
Dehradun, January 24
Members of the District Rural Development Authority (DRDA) Employees Union of Uttarakhand submitted a memorandum of their demands to the Chief Secretary and other officers of the state.

Employees of the District Rural Development Authority stage a dharna in Dehradun on Monday. A Tribune photograph

Callous digging done by Jal Nigam costs BSNL dear
Mussoorie, January 24
The callous digging being carried out by the Pey Jal Nigam has cost the BSNL dear, as more than 100 telephone lines were damaged and two exchanges went out of order in Mussoorie.
Unplanned construction in seismic zone goes on unchecked
Pithoragarh, January 24
Despite Pithoragarh falls under zone V of the earthquake-prone region, the houses being constructed in the town area are violating all the norms laid down by the regulating authority in the district.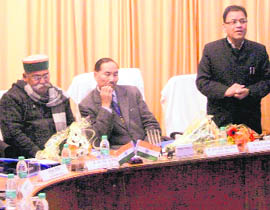 Meeting held on developing tourism circuit around Mussoorie
Mussoorie, January 24
In a review meeting held in the Nagar Palika, Mussoorie, headed by Chief Secretary Subash Kumar, various development works regarding the town keeping in view the summer tourist season ahead were discussed in detail.



Chief Secretary Subash Kumar addresses a meeting in Mussoorie.

2-day workshop on motor control ends
Dehradun, January 24
A two-day workshop on physiotherapy education on motor control (neurological and musculoskeletal perspective) conducted by the Department of Physiotherapy concluded at the Dolphin PG Institute of Biomedical and Natural Sciences here on Saturday.
Purnagiri Mela
Panchayat to take land from Forest Dept on lease for 3 months
Pitthoragarh, January 24
Taking lessons from last year's row after the Forest Department objected to installing shops on reserve forest land for the Purnagiri fair, the Champawat Zila Panchayat this year has started a process to take land from the Forest Department on lease for three months' duration of the mela which starts from March 15 this year.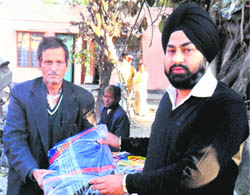 Blankets given to leprosy-affected people
Dehradun, January 24
Members of the Rashtriya Sikh Mahasabha distributed blankets among leprosy-affected people at Shri Ram Mandir Kustah Ashram, Chand Nagar, here today.



President of the Rashtriya Sikh Mahasabha Harpal Singh Sethi distributes blankets to the poor in Dehradun on Monday.

Chief secy apprised of non-management in MC
Dehradun, January 24
Leader of Opposition Ashok Verma and councillor of the Municipal Corporation (MC) Raj Kumar met chief secretary, City Development, S Raju to apprise him of the non-management in the MC here yesterday. Aggrieved with the ignorance of the representatives in the JNNURM scheme, they stated that they had made a DPR without involving the spokesperson and the result was that they were not able to solve the problems.
Villagers seek action against anti-social elements
Nainital, January 24
Residents of Mandalsera village in Bageshwar are agitated over the failure of the police to check activities of certain anti-social elements who are creating a nuisance in the village on a large scale.