UT engineering department workers remove barbed wire that had been put up to fence off vacant land, which was highlighted in these columns (left). The fence was raised following instructions of UT Home Secretary Ram Niwas even though the vacant piece of land was being used by parents to park their vehicles while dropping off and picking their wards. Tribune photo: Pradeep Tewari
24-yr-old girl found dumped naked near road
Panchkula, January 28
In a bizarre incident, a 24-year-old girl, said by the police to be "mentally challenged", was allegedly found dumped near near National Highway 22 in a nude condition by some unidentified people in the vicinity of Maheshpur village in Sector 4 today morning. The girl, who was later identified as Harmanjit Kaur, a resident of Amritsar, reportedly lay in the same position for over about half an hour. However, a female passerby gave her some clothes that were lying nearby to put on and called up the police.
GMSH
No sterilisation, no surgery
Chandigarh, January 28
Setting their house in order seems to be the last word in the dictionary of the authorities at the Government Multi-Speciality Hospital (GMSH), Sector 16.


Villagers complain of rising pollution
Chandigarh, January 28
Residents of Raipur Khurd and Makhan Majra villages have alleged that certain people have been violating norms and creating pollution in the vicinity of the two villages.
Aerocity, Mullanpur
Impact on environment to be studied
Mohali, January 28
Three months after concluding the draw of lots for plots in Aerocity, the Union Ministry of Environment has directed the Greater Mohali Area Development Authority (GMADA) to conduct an environment impact assessment study of the much-hyped urban estate, indicating that nod to start development work at the site will come by June.
Residents don't want cops as neighbours
Mohali, January 28
The allotment of a one-kanal plot in a residential area of Phase 9 by the Greater Area Mohali Development Authority (GMADA) to the Punjab Police intelligence wing for constructing a safe house has led to protest by residents of the area.
Crime busters to work in harmony
Will set up joint interrogation teams to crack major cases
Chandigarh, January 28
The UT police is all set to tie up with the police of other states and set up joint interrogation teams to investigate major and sensational crime cases. The decision was taken at a coordination meeting held here today.
Deputationists' delight no more
Patil gets cracking on period of stay with UT Admn
Chandigarh, January 28
Known to be a deputationists' paradise for bureaucrats from Punjab and Haryana, many of whom have been overstaying with the UT Administration by seeking extensions, UT Administrator Shivraj Patil is finally putting a stop to this trend.
What is in a nose?
They will reply — mental health!
Panchkula, January 28
Abnormality in nose shape may lead to psychiatric problems. Sounds bizarre, but it is true. Two such cases have been reported at a private hospital in Sector 21 here recently.
Police, MC to instal CCTVs in Zirakpur
Zirakpur, January 28
Taking a step towards better policing and to keep a tab on the movements of anti-social elements, the Zirakpur municipal council and the police have collectively planned to instal closed circuit television (CCTV) cameras all across the town.
GMADA to hire cityscape, traffic experts
Mohali, January 28
After hiring horticulture and town planning consultants, the Greater Mohali Area Development Authority (GMADA) will now hire cityscape and traffic experts to change the face of Mohali, dubbed the future city of Punjab by the Akali government.
R-Day Camp
Region's NCC directorate among top 3
Chandigarh, January 28
The Punjab, Haryana, Himachal Pradesh, and Chandigarh NCC Directorate was adjudged second runners-up in the national-level Republic Day Camp held at New Delhi. The directorate, for the second consecutive year, has been placed among the top three among 17 directorates.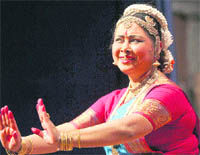 Treat for classical lovers
Chandigarh, January 28
Dr Karan Singh, former Union minister, and president, Indian Council of Cultural Relations (ICCR), was the chief guest at a classical dance programme organised by the regional chapter of ICCR and Punjab Sangeet Natak Akademy at Randhawa auditorium here today.



Suchitra Mitra performs at Randhawa auditorium in Chandigarh on Friday. A Tribune photograph

National Girl Child Day observed'
Dera Bassi, January 28
A function was organised at Sekhpur Kalan village to mark the National Girl Child Day.
Uterus weighing 2 kg removed
Mohali, January 28 Doctors of the Mohali Civil Hospital today successfully removed a big uterus, weighing about 2 kg, during a surgery carried out on a 52-year-old patient suffering from excessive menstrual bleeding for the past two years.


'Self-help groups can empower women'
Chandigarh, January 28
Postgraduate Government College for Girls, Sector 42, Chandigarh, today organised a national seminar on "Women Empowerment in Socio-Cultural Context: Issues and Concerns".
Students air grievances at PU
Chandigarh, January 28
Replicating the "Reach out programme" launched by the Students Council at Panjab University last year, members of the Panjab University Campus Students Council (PUCSC) have initiated a "Speak to the council" programme in all university hostels.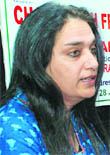 'Consider English as another language'
Chandigarh, January 28
On the first day of the Chandigarh Festival of Letters, held at Panjab University today, Dr Karan Singh, member of the Rajya Sabha and president, Indian Council for Cultural Relations, said consider English as another Indian language contributing equally to the richness of the Indian ethos. "We have to preserve our literature and culture no matter whatever happens," he said, elaborating further by referring to books as "More precious than gems."
Manjul Bajaj

Seminar on challenges for India
Chandigarh, January 28
A national seminar on "Challenges of Inclusive Development in North-West India: Sites, Strategies and Possibilities" began at Panjab University here today. The seminar was organised jointly by the Centre for the Study of Social Exclusion and Inclusive Policy (CSSEIP) and the Indian Institute of Advanced Study (IIAS), Shimla.
3,000 students attend management fest
Chandigarh, January 28
More than 3,000 students from various colleges from across the tricity participated in the two-day annual management festival being organised by GGDSD College, Sector 32. The fest, along with an MBA fair, is being organised by the BBA Club of the college in collaboration with Bulls Eye, an MBA coaching institute.
COLLEGE NOTES
Chandigarh: Postgraduate Government College, Sector 46, has started free coaching classes for students belonging to SC/ST/OBC/minorities/physically challenged categories for competitive exams of civil services and bank recruitments. Principal of the college Sham Lata motivated the college students to become more career conscious. She said regular maths, reasoning, general studies and English classes would be taken.