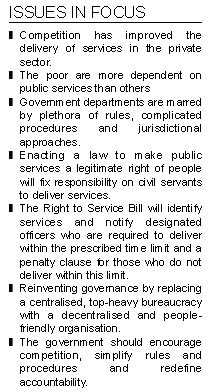 The intense competition brought about by economic reforms has left one definite advantage for the Indian consumer, and that is, a quick delivery system in the private sector. Pizzas are delivered at your home in half an hour, internet connections are installed within 24 hours and a car loan is sanctioned within 48 hours.
However, the movement of files in government offices still remains sluggish. War widows have to wait for months to get pension. Scheduled Castes students have to pass through a rigorous exercise to get a caste certificate issued. Compensation to the 'refugees of their own land' is delivered after years of the acquisition of land. An ambulance rarely reaches the patient in time. Trains and public transport buses usually run behind schedule, sometimes 12 to 24 hours late.
India is known to have the best of laws and regulations in the world, yet they help little to deliver services to people in time. For this reason a World Bank survey in 2007 ranked India at 134 out of a total of 175 countries. The rank rose to 120 in the 2008 survey.
The report states that it takes 35 days in India to start a business compared with an average of 17 days in OECD (Organisation for Economic Co-operation and Development) countries and two days in Australia. The official cost to start a business is high at 74 per cent of per capita income compared to 9 per cent in China, 43 per cent on average in East Asia and 47 per cent on average in South Asia.
It notes that rigidity in labour laws imposes significant costs. As a result, India has failed to create almost three million formal manufacturing jobs due to certain provisions in the Industrial Disputes Act. In the case of registering property, India ranks 110th, taking six procedures and 62 days, compared to one day in Norway, 32 days in China and 47 days in Brazil. The costs of registration are high at 8 per cent of property value compared with 3 per cent in China and 5 per cent on an average in South Asia.
There is a widespread perception that governments are not delivering what is expected from them. In a country like India, where the socially and economically weaker sections of society have fewer alternatives to public services, there is a growing demand to improve the delivery system in the public sector. Governments are not only required to do the right things but are also expected to do them right, more efficiently and effectively. Enhanced government effectiveness not only improves the welfare of the citizens in the short-term but also in the long run. Conversely, the failure to deliver welfare and social security services, especially to the disadvantaged, adversely affects the health and productivity of people and also brings down the country's competitive advantages in a globalised world.
Traditionally, governance structures in India have been characterised by rule- based approaches. There are a plethora of rules and regulations in the governance business, rules for budget estimates, accounting procedures, for conducting enquiries, awarding punishments and observing protocols in the services, but there are no rules for making a civil servant responsible for the delivery of services.
In fact, there are many outmoded rules and procedures that restrict the civil servants from performing effectively. The civil servants spend a lot of time in maintaining and clarifying their jurisdictional rights and boundaries, clearing their decisions through increasingly complex internal processes and coordinating their activities through a number of agencies wasting energy and resources.
With the focus on processes, systems in the government are oriented towards input usage, about deployment of resources, staff and facilities in a programme or project, and not towards completing the job efficiently and effectively. With top-down approaches, thinkers and doers are usually separate emphasising more on control and less on performance. The success of schemes, programmes and projects is generally evaluated in terms of money spent and compliance of rules. This has led to a situation in which civil servants are rarely held accountable for the outcomes.
The biggest challenge, therefore, confronting the government is how to deliver the services to the people in a time-bound and effective manner. The recent Vidhan Sabha elections in Bihar have reiterated that it is the development plank that is going to win future elections. In the democratically elected governments promises made to the people through the electionmanifestos have to be translated into government programmes to address the woes of the people.
The Preamble of the Constitution promises to secure justice, "social, economic and political" for the citizens of India. However, despite a number of ambitious Five Year Plans, one-third of our citizens live in poverty, 28 per cent are illiterate and 58 per cent are deprived of basic amenities of sanitation.
There has been no dearth of programmes and schemes. For example, the government has launched several programmes intended to help the poor such as the public distribution system, Antodaya, school assistance, mid-day meals programme, Integrated Child Development Services, Food for Work Programme and Mahatma Gandhi National Rural Employment Guarantee Scheme, but they are not delivering benefits to the masses as desired.
Bihar has shown that given the opportunity and resources, people can bring up productivity and the Gross Domestic Product. The Bihar Chief Minister's novel idea to move the Right to Service Bill to ensure smooth functioning of the delivery system of public utility services is a step forward in the direction of bringing justice to the people. Surely, such legal framework is required to be emulated in all states to end the sufferings of the countless poor people at the hands of powerful babus.
In Punjab, though the Governance Reforms Commission has suggested a number of reforms, how many of these are implemented remains to be seen. It is high time that the government brought up the Right to Service Bill to ensure the delivery of services within the prescribed time limit on the lines of Bihar Rajya Sewa Dene Ki Guarantee Vidhayak Bill.
The proposed Bill envisages to provide 46 most common identified services to the citizens within the stipulated time limit (see box). The Act is also to notify designated officers responsible for the delivery of these services, making a further provision for the quick disposal of appeals and fixing responsibility for those causing unnecessary delay and deficiency in service. The officials at fault may have to pay Rs.500 to Rs.5,000 as penalty after the deadline is over. The government may also award compensation to the aggrieved citizen out of the penalty imposed on the civil servants, besides taking disciplinary action.
Only a law of this kind can provide relief to the people who have to wait inordinately and make multiple trips to government offices to seek public utility services. The Act is likely to tackle red tape in offices, bring transparency and weed out corruption to a large extent. The Right to Service Bill will also make the RTI Act more meaningful and useful as information alone is not enough. The information will have to be supplemented by giving people the right to demand service. The Act can, therefore, go a long way in the implementation of decisions.
Besides, there is a strong need for reinventing governance in India. While the freedom to compete is the driving force that keeps the markets vigorous and dynamic, the absence of competition among government organisations is mainly responsible for the inefficiency or low productivity in government systems. Countries across the globe are reforming their economies and undertaking privatisation and deregulation. In the US alone, since 1905, there have been ten commissions aimed at trying to make the federal government more efficient and effective.
The urgency for reinventing governance is dictated as much as by the imperatives of global developments as by the forces of new technology and communication, bringing out global competition, by shrinking distances and rendering conventional approaches and practices of administration obsolete and dysfunctional. Towards this end, a number of measures have to be taken for the simplification of rules and procedures, delegation of enhanced powers, better enforcement and accountability for speedy delivery of goods and services to the people.
Reinvention is not just about finding faults or monitoring results. It is about replacing large, centralised and top-heavy bureaucracies with decentralised, entrepreneurial organisations that are driven by competition and accountability to people for the services they deliver at the public expense. Voting in favour of governments that work, people have shown that they want better schools, better hospitals, lower crime rates, better public transports, and if governments want to deliver, they have to govern differently, in a business-like manner.
Leading business houses are getting rid of layers of middle management for years. Now the governments should also do so. Creating regional offices and promoting officers and transferring them to the head offices is more than harming the delivery mechanism. In fact, once a ministry, department or a division is created, it is difficult to abolish it even if its functions become redundant.
Reinventing governance is a challenging task which cannot be accomplished without an intense political will. The public servants are to be reoriented to their jobs through continual learning, shifting paradigms, setting standards and applying innovative methods. They should be clear about the differences between outputs and outcomes.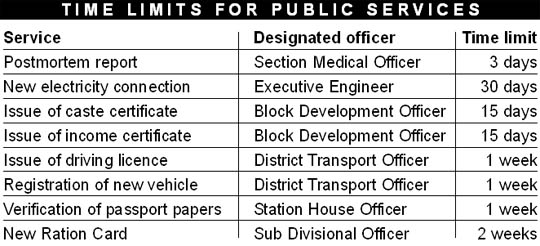 The writer is an IFS officer.