Chidambaram may visit Jammu on Thursday for discussions
Jammu, January 30
Pradesh Congress Committee (PCC) chief Saif-Ud-Din Soz said here today that Union Home Minister P Chidambaram is likely to visit Jammu on February 3 to hold discussions with Congress workers on certain recommendations of the Centre's interlocutors.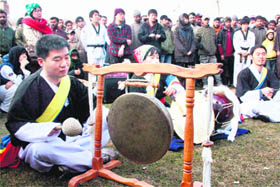 South Korean tourists give a performance at a park in Srinagar on Sunday. — PTI
Religious leader Andrabi dead
Srinagar, January 30
A prominent religious and spiritual personality, Mohammad Sayeed Andrabi, known as a popular teacher from Bandipore district of north Kashmir passed away in the Sher-i-Kashmir Institute of Medical Sciences here last night.
Fresh snow in Vaishno Devi cheers business community
Udhampur, January 30
The fresh spell of snow at the Vaishno Devi shrine last night has delighted the local business community. This is the third time the area has received snow since New Year's Eve. Though this is considered as an off-season period from the business point of view, the fresh round of snow is expected to ensure a longer stay of pilgrims, even as their number goes down during this period.
Employment fair at Reasi from Feb 4
Udhampur, January 30
The District Employment Department in association with other government departments is organising an employment fair at Dharmari in Reasi from February 4 to 6.
Congress rallies: City witnesses traffic chaos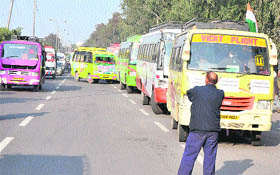 Jammu, January 30
As thousands of Congress activists arrived here to take part in rallies addressed by the Union Health Minister Ghulam Nabi Azad and the Pradesh Congress Committee chief Saif-ud-Din Soz, the administration virtually failed to manage traffic in the city.
Buses parked haphazardly, leading to traffic chaos in Jammu on Sunday. Tribune photo: Anand Sharma
Police harassing party activists from Kashmir Valley: BJP
Jammu, January 30
Raising serious doubts about the sincerity of the Centre and the state government to restore mainstream political activity in Kashmir, chief spokesman of state BJP Jitendra Singh yesterday alleged that party activists from the Valley, who had participated in the Rashtriya Ekta Yatra were being subjected to torture and harassment by the state and police authorities instead of being rewarded for their initiative to defy militants' dictates and participate in mainstream nationalist activity.
State tableau wins third prize in R-Day Parade
Jammu, January 30
The tableau of Jammu and Kashmir, based on the theme of 'Bhand Pather', which took part in the Republic Day Parade in New Delhi, has won the third prize. As many as 40 tableaux from 23 states and Central Government departments, took part in the parade.
Valley gets respite from intense cold wave
Srinagar, January 30
Residents of the Kashmir valley today got respite from the intense cold wave conditions as 'Chillai Kalaan', the 40-day harshest period of the winter, ended today with fresh snow and rain in many parts of the Valley.
Applications invited for voluntary service allowance
Udhampur, January 30
Educated unemployed youth of Reasi district in the age group 26-37 and registered with the District Employment and Counselling Centre can apply for availing voluntary service allowance.
180 kg poppy straw seized, two held
Srinagar, January 30
In a major drive against narcotics and drug smuggling, the police arrested two smugglers from whose possession 180 kg of poppy straw was recovered in Kulgam district of south Kashmir yesterday.
Four injured in road mishap
Jammu, January 30
Four persons, including an auto-rickshaw driver, were injured, after the driver lost control over the vehicle and it skidded off the road near Kalibari in Kathua district today.
Man kills 3-year-old daughter
Udhampur, January 30
In a shocking incident, an alleged mentally unsound farmer killed his minor daughter at Malhar village, about 8 km from Udhampur, today.
Mystery shrouds death of woman
Jammu, January 30
Mystery shrouds the death of a woman who was found hanging in her room in the house of her in-laws at Bhagwati Nagar yesterday.