Even as India emerges as an exciting and growing market, airlines will have to scramble to provide service at low prices to attract more passengers.
Airlines expanding in turbulent conditions
Global profitability may fall from $15.1 billion to $9.1 billion
Vibha Sharma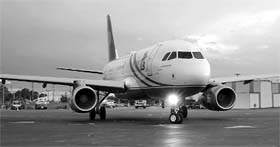 If airlines want more people to fly, they will have to somehow keep costs down. Photo: Mukesh Aggarwal
For the closely-linked global business that aviation is, the year 2011 will be challenging. IATA, international trade body representing major world's carriers, predicts global profitability to fall from $15.1 billion to $9.1 billion in 2011, a 1.5 per cent margin on revenues of $598 billion.
Driving this deterioration in profitability are these factors: IATA estimates oil price at $84 per barrel in 2011, up from $79 in 2010. This will add $17 billion to costs, bringing the fuel bill to $156 billion. With oil nearing $90 per barrel, this appears to be a rather conservative estimate.
Globally, GDP growth is predicted to fall from 3.5 per cent to 2.6 per cent in 2011. And topping it all is over-capacity. While capacity will grow by 6.1 per cent, demand is likely to increase only by 5.3 per cent. Therefore, there is a clear mismatch.


Air facts
n At present there are 16 scheduled (11 scheduled passenger airlines, two scheduled regional airlines and three scheduled cargo airlines) and 121 non-scheduled operators.
n The high cost of the fuel is causing serious problems to the aviation sector. ATF constitutes 40 per cent of the operating costs of airlines and the price of the fuel itself is 60 per cent higher in the country as compared to the rest of the world.
In all, while 2010 witnessed "better-than-expected profits but had nothing for shareholders", profits are expected to deteriorate in 2011, warns IATA.
This is the ground reality as Indian aviation companies go shopping for planes. The industry added 10 per cent capacity last year. However, the capacity was outpaced by an 18 per cent increase in passenger traffic, leading to a shortage of seats and inflated fares in the festive period.
Each airline now has ambitious expansion plans for the country's fast-growing aviation market.
The industry, which has a combined fleet of 419 aircraft, is expected to add 50 more aircraft in 2011, for which it will require 5,000 additional personnel, including 500-700 pilots and 1,200-1,500 cabin crew.
The national carrier Air India, plans to double the size of its fleet over five years, even while it struggles to cut costs and reduce losses. The airline, with a current fleet size of 135, plans to lease 107 aircraft by the end of 2015. IndiGo recently placed order for 180 Airbus A-320 passenger jetliners-the largest single order that evoked collective gasps on the basis of sheer figures involved. Another low-cost carrier, SpiceJet, has also placed an order for 30 Boeing jets and 30 turboprop aircraft from Bombardier
The airlines are trying to return to expansion mode to meet growing demand. However, the question is: How will they get those extra passengers to fill that additional capacity, especially with key costs, including operational costs, heading north?
Indian Airlines have just about managed to emerge from two years of turbulence due to surging costs, excess capacity and intense competition.
The airline industry, more than any other business, is not just sensitive to global economy but circumstances as well, e.g., when Europe froze, business got affected everywhere, including India. This is why the years ahead may turn out to be extremely challenging for Indian carriers as they try to balance ambitions of individual growth with competitive airfares to lure travellers. In fact, keeping airfares in control will be the biggest challenge, both for airlines and the government.
Last year, when airfares spun out of control, public and media outrage forced former Civil Aviation Minister Praful Patel to intervene. The biggest challenge before new Aviation Minister Vayalar Ravi, apart from competing with his predecessor's suave image, will be to ward off inherent craving of airlines for "predatory pricing" without hurting their financial prospects, apart from making national carrier Air India profitable
Industry sources, however, maintain that there is no way the government can curb airlines on fares because there is no sector mechanism to stop them. Faced with rising ATF prices and other expenses, airlines have no other option. "The government has business interfering in a liberalised sector," is what they say.
Indian carriers are gripped with challenges that are also impacting the industry across the globe-high ATF prices, rising labour costs, shortage of skilled labour, excess capacity, huge debt burden and intense price competition. It also has to deal with spiralling inflation back home.
The comfort zone for domestic flyers except in business class is between Rs 3,500 and Rs 5,500, and airlines know this well. No matter how good the service you provide is, an airline is chosen on the basis of fares, aviation expert AN Hanfee says.
Today, flying has become more expensive for passengers, thanks to development fees levied at airports. The fare gap between full and low cost is almost non-existent. If airlines want more people to fly, they will have to somehow keep costs down, even with high ATF and other flying related expenditure. With the government watching, the airlines' biggest challenge will be to manage the growth and rationalise airfares to attract new flyers.
There is a strong case for giving jet fuel declared goods status, attracting a sales tax of 3 per cent, but the issue continues to be in a limbo. States are reluctant to lower sales tax rates on ATF, as they stand to lose revenue without any immediate offsetting benefit.
Indian carriers also have to deal with serious legacy problems. The combined loss of Indian airlines shrank in 2010, but their huge debt burden remains a matter of concern, IATA Director-General Giovanni Bisignani says.
Fortunately, India is the leader in the world's most interesting region — Asia Pacific. Indian aviation market will grow to 150 million passengers by 2015 from the current 72 million. India is a big market with 42 million domestic passengers, 34 million international passengers and an enormous potential for growth. The current capacity is 117 million seats per year, 0.1 seats for each of the 1.2 billion population. In comparison, the US has 3.5 seats per person.
Indian spending power is set to triple over the next two decades, fuelling continued rapid growth. The good news is that the private airlines have started reporting profits, or at least shrinking losses. "In the face of major challenges, Air India's position is also improving. However, Indian carriers will still lose an estimated $0.4 billion this year. Also, I am concerned about their $13-billion debt. In a market as rich in potential as India, this precarious financial situation indicates that structural weaknesses must be addressed," Bisignani explains.
The government's Rs 2000 crore bailout is linked to performance on some key parameters. Air India's wage cost is estimated to be 17 per cent of its overall operating costs. The airline had drawn a plan to cut wages by Rs 500 crore, but was able to achieve only Rs 100 crore saving on this account.
Estimates put AI's wage bill at around Rs 3,600 crore a year. It has 125 aircraft in operation. In comparison, Jet Airways, with 107 aircraft and 12,000-odd employees, has a wage bill of about Rs 1,200 crore. AI, in fact, is not just overstaffed it also overpays its staff.