Chidambaram to visit Kishtwar on Feb 4
Udhampur, February 1
Union Home Minister P Chidambaram is visiting Kishtwar on February 4 to interact with senior police and civil administration officers of the five districts under Doda-Kishtwar and Udhampur-Reasi police ranges in the Jammu region.
Rashtriya Ekta Yatra
PC complimenting Omar smacks of arrogance: BJP
Jammu, February 1
Expressing concern over Union Home Minister P. Chidambaram's remarks complimenting Chief Minister Omar Abdullah for the "tactful handling" of the Rashtriya Ekta Yatra of the Bharatiya Janta Yuva Morcha (BJYM) last week.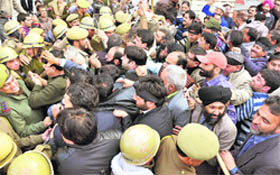 Government employees clash with the Jammu police during a protest in Jammu on Monday. Tribune photo:Anand Sharma
Residents block Jammu-Poonch highway
Jammu, February 1
Angry over an encroachment on a Government Middle School land by a nambardar,a relative of a Congress leader, residents of Kotan village in Mendhar subdivision of Poonch district blocked the Jammu-Poonch highway for more than two hours today.
Jammu Central University
Mattoo undecided on joining as VC
New Delhi, February 1
Jammu Central University continues to be headless even more than a month after the President cleared the controversial appointment of Prof Amitabh Mattoo as its first Vice-Chancellor.
Heli-skiing begins at Gulmarg
Srinagar, February 1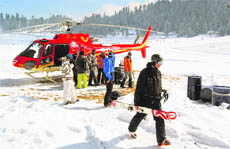 Minister for Tourism and Culture Nawang Rigzin Jora today inaugurated heli-skiing at Gulmarg, which is a joint venture between Himalaya Sports and Moten Joseph of New Zealand.Addressing the gathering on the occasion, the Minister for Tourism and Culture said the youth of the state had a great potential and stressed upon channelling their potential in the right direction.

Foreign tourists at Gulmarg where heli-skiing was started on Tuesday. Photo: Amin War

Prisoner escapes from police custody
Jammu, February 1
A prisoner of the Kot Bhalwal Central Jail, arrested under the Public Safety Act in a case of attempt to murder, escaped from the police custody when he was being taken to the Government Medical College and Hospital for a routine check-up here today, sources said.
Two employees held with narcotics
Jammu, February 1
Two employees were arrested yesterday for allegedly smuggling narcotics in a car at Rajouri, the police said.The Rajouri police said a junior engineer at Baba Ghulam Shah Badshah University (BGSBU), Rajouri, Mohammad Shakoor, and a junior assistant at a branch of J& K Bank in the BGSBU, were arrested while carrying 6 kg of charas and 400 gm of poppy straw in a Santro car.
Narcotics destroyed
Jammu, February 1
The sleuths of the Narcotics Control Bureau (NCB) destroyed a large quantity of seized heroin and charas at the Government Medical College and Hospital (GMCH) here today.
Varsity declares B.Ed results
Pass percentage falls by 20 pc
Jammu, February 1
The University of Jammu announced the results of the B.Ed examination 2009-10 here today. The pass percentage this year was 70 per cent, which was 20 per cent less than the previous year's results.
Governor, CM mourn Justice Sageer's death
Jammu, February 1
Governor NN Vohra has mourned the death of Justice Sageer Ahmed, a former Judge of the Supreme Court.In his condolence message, the Governor recalled his meetings and discussions with Justice Sageer Ahmed in 2007-08 after the latter had accepted the responsibility to head the Working Group on Centre-J&K Relations, which was set up consequent to the discussions at the Roundtable on J&K chaired by Prime Minister Manmohan Singh.
Ensure timely distribution of ration, says minister
Jammu, February 1
The Minister of State for Power, CAPD and Forest, Shabir Ahmad Khan, asked the authorities concerned to ensure timely distribution of ration, timber and adhere to scheduled power supply to consumers here today.
Two held with brown sugar
Jammu, February 1
The Gharota police arrested two narcotic smugglers with 500 grams of brown sugar and impounded the car they were travelling in in the Kanger area in Domana here today.
Bhawana wins first prize in talent hunt
Jammu, February 1
The final phase of the Display-Your-Talent,2010-11, comprising dance, theatrical and classical dance (solo) events commenced at the Brig Rajinder Singh Auditorium, University of Jammu, here today.