Every Wednesday & Saturday

Work hit as face-off between lawyers, DTO staff intensifies
Amritsar, February 4
Common people had to pay for the face-off between lawyers and the District Transport Officer. Work at the local courts and various government offices remained affected due to the confrontation.
Civil Surgeon's office staff 'exploit' school kids
Amritsar, February 4
While Nishkam Sewa Public School was conceptualised by an NGO to transform the lives of underprivileged children, yet the staff of the Civil Surgeon's office (CSO) did not spare a chance to exploit them.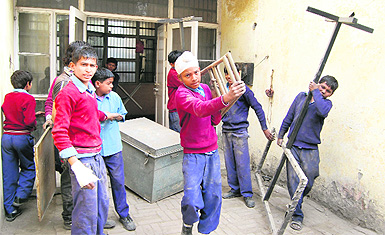 Schoolchildren made to lift ladder, boxes and other heavy things in Amritsar. Photo: Vishal Kumar