Mattoo declines to be Jammu Central University V-C
New Delhi, February 4
Noted academician and Kashmir affairs expert Prof Amitabh Mattoo today declined to be the first Vice-Chancellor of Jammu Central University, the academic session of which is already running late by more than a year.
State to provide uniforms to school students: Peerzada
Jammu, February 4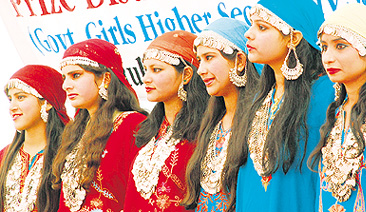 The state government has decided to provide special uniforms to children studying in government schools. "The State Education Department has decided to provide special uniform coat, pant and shirt with ties to all children studying in government schools," Education Minister Peerzada Mohammad Sayeed said here today.
Students of Government Girls Higher Secondary School, Mubarak Mandi, give a performance at the Annual Day function in Jammu on Friday. Photo: Inderjeet Singh

Huge quantity of timber decays at sale depots
Jammu, February 4
Timber worth crores is decaying at various sale depots of the Jammu and Kashmir State Forest Corporation. A huge quantity of dimensional and rough lumber of deodar, pine, sheesham, kaile and other trees could not go under the hammer earlier due to the "reserve" prices fixed by the Pricing Committee of the corporation.
Two police public schools to come up at Rajouri, Doda
Jammu, February 4
Buoyed by 100 per cent results in the Class VIII examination of Police Public School, Srinagar, last year, the state police has decided to open two more schools in Rajouri and Doda districts of the Jammu region. "To impart education is part of the welfare programme of the state police and providing quality education to the wards of martyrs and serving police personnel is foremost on our minds," said DGP Kuldeep Khoda.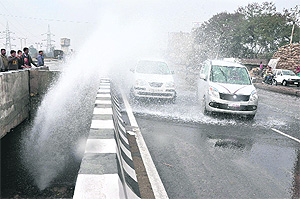 Car wash for free: Water gushes out of a water pipeline at the bypass near Narwal on Friday. Tribune photo: Anand Sharma

Artificial Shortage of Spray Oil
Concern over private dealers fleecing farmers
Srinagar, February 4
Ghulam Nabi Malik, general secretary of the Jammu and Kashmir Kisan Tehrik, has expressed resentment against the sale and supply of tree spray oil to farmers at exorbitant rates by private dealers and distributors.
Governor tours Kathua areas
Jammu, February 4
Governor NN Vohra toured the Bani and Basohli areas of Kathua district yesterday. He visited the sites of the Sewa hydroelectric projects near Bani and Mashka, interacted with students of Jawahar Navodaya Vidyalaya and paid a visit to the historical Basohli Fort. The Governor and the First Lady, Usha Vohra, on their arrival at Bani from Jammu, were accorded a warm reception by prominent citizens at Government Higher Secondary School.
Strengthen village defence committees: Panthers Party
Jammu, February 4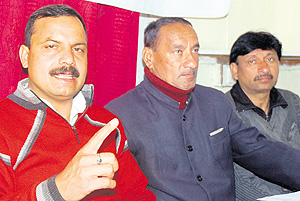 Expressing concern over not inviting political parties to meet the Union Home Minister, Balwant Singh Mankotia, state president of the Panthers Party, regretted that only Congress leaders were allowed to meet him. While addressing a press conference he said, "It seems that P Chidambaram is the Union Home Minister of only the Congress".
Balwant Singh Mankotia, president of the state unit of the Panthers Party, addresses mediapersons in Jammu on Friday. A Tribune photograph

Jammu Central University VC
Forum to hold protest today
Jammu, February 4
In support of its demand for the appointment of a local academician of high calibre as the Vice-Chancellor of Jammu Central University, the People's Forum will hold a torchlight protest tomorrow.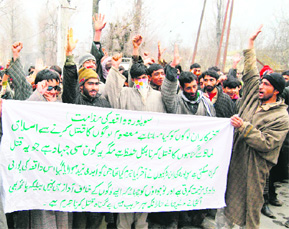 KILLING OF SISTERS
Clashes in Baramulla, Sopore
Srinagar, February 4
A shutdown was observed in Sopore town today in protest against the killing of two sisters by suspected militants, while clashes took place in Sopore and Baramulla after Friday prayers. The strike was observed in response to a call given by the hardline faction of the Hurriyat Conference, led by Syed Ali Geelani, which has already condemned the killings.
Residents protest in Srinagar on Friday against the killing of two sisters in Sopore. Photo: Amin War

World Cancer Day
Symposium on esophageal cancer
Srinagar, February 4
The Vice-Chancellor of the University of Kashmir, Riyaz Punjabi, has stressed the need for concerted and coordinated efforts by scientists, clinicians and oncologists to understand the etiology of the rise of esophageal cancer in Kashmir and explore means of its early diagnosis, improvement in prognosis, surgical and therapeutic modules and its management.
Boy consumes poison, dies
Jammu, February 4
A 25-year-old boy died allegedly after consuming some poisonous substance at his house on the Shalamar road here today.
Seminar on mathematics
Jammu, February 4
The Mathematics Department of Government College for Women, Parade, organised a seminar in collaboration with the Science Club under the chairmanship of Principal Kiran Bakshi today. Prof SD Sharma, Head of Mathematics Department, University of Jammu, was the resourceperson. Sharma delivered a lecture on topic "Trans Finite Mathematics". Students of the college, namely Nisha Arora, Pooja Thappa and Arpana, also spoke on various topics in mathematics.
Special lecture on Buddhism
Jammu, February 4
The Department of Buddhist Studies, University of Jammu, organised a special lecture on "Tantric Buddhism with Special Reference to Ladakh" here today.
Avalanche warning in Gurez
Srinagar, February 4
In view of the fresh snowfall at the higher reaches of the Kashmir valley, the Disaster Management Cell of the Kashmir division has issued a medium danger avalanche warning in the higher reaches of the Gurez area.