Uttarakhand Janmanch to stage rally tomorrow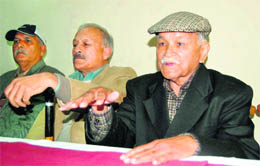 Dehradun, February 6
Seeking fulfilment of goals that were the basis to the formation of the state, the Uttarakhand Janmanch will stage a Parvat Garjana rally in Dehradun on February 8. Spokesperson for the Janmanch Lakhi Ram Bijalwan said the Garjana Rally was aimed to highlight the plight of the hill communities in the state.

Members of the Uttarakhand Janmanch address a press conference in Dehradun on Sunday.
Ganga Ahvaan to start drive in support of its demands
Dehradun February 6
Under the aegis of the Ganga Ahvaan, an organisation that strives for the conservation of the Ganga and the Himalayas, a day-long convention was held at DAV PG College here today. A large number of its members participated in the meeting and concluded on the same view of commencing a concrete drive in support of their demands.
Congress stages protest, submits memo to Governor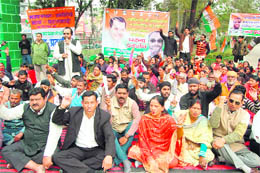 Dehradun, February 6
Members of the state Congress Committee staged a protest in support of their demands at the Gandhi Park here today. They shouted slogans against the negligence of the state government in providing basic civic amenities to the public. To press for the demands on the administration, the protesters gave a memorandum to the Governor of Uttarakhand.
Members of the state Congress Committee protest in Dehradun on Sunday.
Lengthy sanction process of salary irks GMVN staff
Dehradun, February 6
As many as 700 employees of Garhwal Mandal Vikas Nigam (GMVN) got their salaries of November and December, 2010, in January this year only, because of the lengthy process of sanction, which they have to seek from the Managing Director after every three months to get continuation of their work. Since it takes two to three months to clear the files regarding sanction, the employees continue to get their salaries smoothly only for five to six months, after which they have to wait for another two to three months to get their salaries as per the fresh order.
Experts dwell on management strategies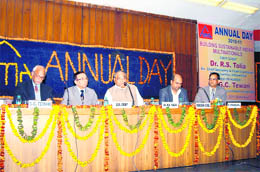 Haridwar, February 6
Accountability and transparency are essential in making a strong nation for which effective management is quite crucial. This was stated by experts at a seminar on "Building sustainable Indian multinationals". The seminar was organised by the Haridwar Management Association, BHEL, here today.
Management gurus at a seminar at BHEL in Haridwar on Sunday. Tribune photo: Rameshwar Gaur
Kisan Mouldings launches range of PVC fittings
Dehradun, February 6
Indian PVC pipe industry is expected to maintain its robust growth of over 10 per cent per annum on account of boom in housing, infrastructure, telecom and agriculture sector.
Body of girl drowned in Ganga not recovered
Dehradun, February 6
The body of Prabhjot Kaur, who had drowned in the Ganga yesterday while trying to save her friend from drowning, couldn't be recovered even on the second day of the rescue operation in Rishikesh.
MLA questions holding of Tehri Mahotsava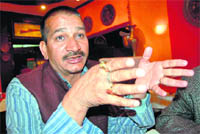 Dehradun, February 6
Uttarakhand Tehri Garhwal Congress MLA Kishore Upadhyaya has questioned the logic of the state BJP Government behind holding of the Tehri Mahotsava.

Kishore Upadhyaya, Congress legislator from Tehri, addresses a press conference in Dehradun on Sunday. A Tribune photograph
Bank staff union elects new members
Dehradun February 6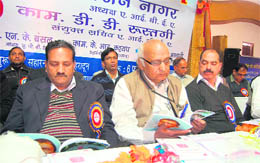 In their second convention, the Uttaranchal Bank Employees Union (UBEU) elected new members for their working committee for three years. They are Parvin Shah as president of the Nainital unit, NB Kapoor, president of the Haridwar unit, Rajen Pundir, president of the Dehradun unit, Jagmohan Mehndiratta, general secretary, Dehradun

Rajen Nagar, president of the UBEU (middle), at a conference in Dehradun on Sunday. A Tribune photograph
MNREGA: BDOs asked to expedite work
Nainital, February 6
District Magistrate, Udham Singh Nagar, BVRC Purshottam has asked officials to expedite the utilisation of funds sanctioned for the implementation of the Mahatma Gandhi National Rural Employment Guarantee Act (MNREGA).
Astitva holds annual fair
Dehradun, February 6
To celebrate women empowerment in the society, a group based in Defence Colony, Astitva, organised a fair here today. The chief guest of the annual fair was Savita Kapoor, wife of Speaker of the State Assembly Harbans Kapoor. Protection officer (domestic violence) Ramindri Manderwal accompanied her.
Panchayat felicitates sportsperson, poet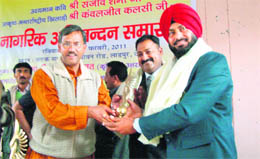 Dehradun, February 6
The Ladpur gram panchayat, Raipur block, Dehradun, today honoured and facilitated upcoming English poet Sanjeev Sharma and famous international player Kavaljeet Kalsi at a function held today.
Agriculture Minister Trivendra Singh Rawat honours Sanjeev Sharma (middle ) and Kavaljeet Kalsi at a function at Raipur block, near Dehradun, on Sunday.
Scientist backs agitators opposing hydro project
Dehradun, February 6
Jal Andolan scientist Dr Anil Prakash Joshi has demanded immediate release of agitators who had been arrested for protesting against the under- construction hydroelectric project in Rudraprayag district.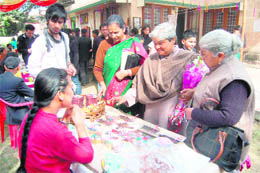 Women enquire about products displayed by women entrepreneurs at an annual fair in Dehradun on Sunday. A Tribune photograph
Man killed as Jeep falls into gorge
Dehradun, February 6
A man died and two others got injured when the Mahindra Max Jeep in which they were travelling fell into a gorge near Budakedar in Tehri this evening. The Jeep was coming from Ghansali and heading to Budakedar. As per the police, the deceased has been identified as Madan Singh. He died on the spot. The driver of the vehicle and another person got injured and have been sent to a local hospital. The police said the rescue was work was on. — TNS