Parivartan Party extends support to Avalon Resort employees stir
Mussoorie, January 27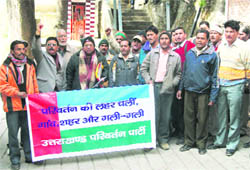 The Uttarakhand Parivartan Party (UPP) sounded the bugle for the next elections from Mussoorie by extending support to the protesting Avalon Resort employees today. The party workers, led by central vice-president Jai Prakash Uttarakhandi, central spokesperson Rajiv Kothari, Central member Youdhraj Tyagi and Mangal Singh Panwar, marched to the Collectorate premises raising slogans against the state government.
Uttarakhand Parivartan Party members protest in Mussoorie on Thursday

Govt still not implementing Panchayat Act: Jot Singh Bisht
Mussoorie, January 27
State Congress vice-president Jot Singh Bisht on his visit here yesterday said the government was violating rights of panchayat representatives by not implementing the Panchayat Act in the state. He said it was unfortunate that even after 10 years of the formation of the state, the Panchayat Act had not been implemented. He also said the government had pledged to identify Tehri, Chamoli and Champawat districts as backward and allocated funds under the BRJF scheme, but it had not be done till today.
UKD protests against casual attitude in rehabilitation work in villages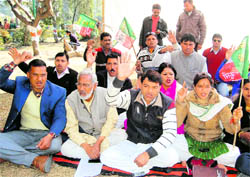 Dehradun, January 27
Members of the Uttarakhand Kranti Dal (UKD) staged a dharna in favour of their demands at the Gandhi Park here on Tuesday. A large number of protestors gathered and shouted slogans against the casual attitude of the state government in the rehabilitation work in the villages that got affected by the landslide, triggered by rain-related disaster.

UKD workers stage a dharna in Dehradun on Tuesday. A Tribune photograph

Chufal assures district status for Didihat
Pitthoragarh, January 27
The weeklong agitation demanding district status for Didihat ended today after state BJP chief and Didihat MLA Bishan Singh Chufal assured the agitators of starting the process of the formation of the new district after March 15.
Tea garden workers demand pay revision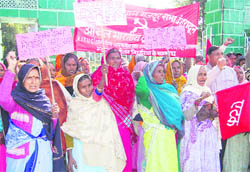 Dehradun, January 27
Demanding revision of minimum wages, tea garden workers owing allegiance to the District Chai Bagan Mazdoor Sabha today held a rally in support of their demands. In the morning members gathered at the Gandhi Park and then took out a rally that ended at the Secretariat where a memorandum was handed to the Principal Secretary (Labour).

Women workers of tea estates protest at the Gandhi Park in Dehradun on Thursday. A Tribune photograph

Govt doctors postpone agitation indefinitely
Dehradun, January 27
Government doctors owing allegiance to the Provincial Medical Health Services (PMHS) have for the time being postponed their strike after the Uttarakhand Government announced DPC of around 400 doctors.
Falling boulders kill 2 labourers
Pitthoragarh, January 27
Two minor labourers, both residents of Nepal, died this morning after big boulders fell on them near Tawaghat, 20 km from Dharchula, while they were extracting stones from the site.
Kitchen staple more affordable since peak of crisis
Onion prices crash to lowest ever in Doon; available at Rs 25 to Rs 30 per kg
Dehradun, January 27
The slide in onion prices in Doon markets has given wings to the hope that the crisis will end soon. As a big respite to consumers, onion prices that had touched Rs 60 per kg crashed to its lowest ever this season reaching a retail price of Rs 25 per kg to Rs 30 per kg.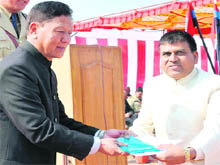 Social activists honoured
Haridwar, January 27
Acknowledging their role during the monsoon floods in Haridwar last year, social activists, 200 odd officers and employees were honoured by the administration here today.


Garhwal Commissioner Ajay Nambiyal honours secretary of the Indian Red Cross Society Dr Naresh Chaudhari in Haridwar. Tribune photo: Rameshwar Gaur

More girls keep off schools in rural areas: Report
Dehradun, January 27
Despite several districts boasting of higher female population, the percentage of girls keeping off school continues to be high in rural Uttarakhand.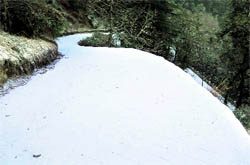 Mussoorie experiences mild snow
Mussoorie, January 27
Tourists and residents were amazed as mild snow covered the whole area and changed the landscape for an hour in the hill town of Mussoorie on Republic Day yesterday.




A road covered with snow in Mussoorie on Wednesday.

ONGC top officials given send-off
Dehradun, January 27
Members of the Retired ONGC Officers' Association gave a farewell to CMD of the ONGC RS Sharma and Director (Exploration) DK Pande, who are retiring on January 31.