Young World
Holy Heart 2nd in space settlement design contest
Tribune News Service
Amritsar, February 8
Students of Holy Heart Presidency School won second place in an international event held at Gurgaon. As many as 20 schools from all over the globe participated in the meet. Principal Vikram Seth told that five teams were selected to qualify for the semi finals. "Our team comprising four students --- Abhishek Hastir, Peeyush Malik, Rishabh Arora and Devyanshu --- representing group "Grumbo Aerospace" brought laurels by grabbing the second place. These students were to design a space settlement that had to be located between the orbits of Earth and Mars", he said.
Sharanjeet shines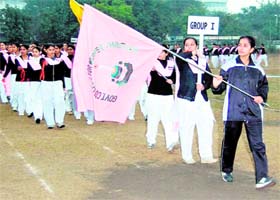 Students of Saroop Rani Government College participate in the march past in Amritsar. A Tribune photo
Sharanjeet had a golden run in 400 and 800 metres race during the 79th sports event held at the Saroop Rani Government College for Women, Amritsar.
Sharanjeet bagged the first place in both the events.
Harpreet and Mandeep were second and third, respectively, in 400 metres race.
In 1,500 metres, Paramjeet got first place while Harpreet and Sharanjeet pocketed second and third places, respectively.
In 4X100 relay race, the students of BA-III grabbed first place, diploma course students got second and BA-I got third place.
Sports meet
Ekamjot of Class V bagged the first place in the boys' category in skipping race, straight race, sack race and juice race during the various competitions held in Springdale Public School. Ekamjot also shared the first position with Abhish in 'Ball for Drop' event. Vishwas, also a student of Class V, was adjudged best in quiz during the personality development camp held in the school premises.
Parents of the participating students too participated in different races including needle and thread race, three-leg race and musical chairs, which lent greater significance to the camp, highlighting the coordination in the school's and parents' in a child's growth process.
The activities included relay race, running in pairs with 'ball for drop' (boys), running with the skipping rope, matka race for girls, straight run (70 mts), juice race, sack race, tug-of-war, besides musical chairs, three-leg race, needle and thread race for parents.
Annual function
The annual function of Revel Dale Public School, Ranngarh (Attari) was based on the theme 'School and Scholars' depicting the significance of the school in the life of a scholar.
Tiny tots of the nursery, LKG and UKG standards were shown as tiny titans on stage where they all performed so enthusiastically in the segment of poems. An enactment on the theme 'Inspiration' was also the part of this programme.
The need of having a strong bonding with books was duly emphasized in the enactment entitled "Books-Our Best Companions"
The musical play on the theme 'Welcome Examination' presented the value and worth of examination in everybody's life was projected. The student who did well in academic and co-academic activities were honoured with prizes.
Youth festival
Youth festival for schools in Amritsar district was held in Sri Guru Teg Bahadur College for Women. The students from 15 schools participated in well-contested events. The Champions Trophy was bagged by Guru Nanak Senior Secondary School, Town Hall. All winners were given cash prizes by the principal.
Tech Stud-2011
Tech-Era Computer Society, PG Department of Computer Science and Applications, organized an event "Tech Stud-2011" in which research papers on 12 important areas was presented by different students and posters like computer virus, cloud computing, computer network, mobile computing, GPRS, artificial intelligence and ethical hacking etc were presented depicting latest trends in computers and information technology. Dr Daljit Singh, Principal, Khalsa College, Amritsar, stressed on the need of spreading awareness on computers.
Basant Panchmi
Attired in myriad hues, students of Spring Blossoms Senior School celebrated Basant Panchmi on Friday. The celebrations were accompanied by a social message about avoiding the use of Chinese kite strings, which have injured many people in the city.