Central minister condemns CM for corruption in Maha Kumbh
Dehradun, February 9
Union Minister of State for Agriculture and Food Processing Harish Rawat has condemned the efforts by Uttarakhand Chief Minister Ramesh Pokhriyal Nishank to skirt the issue of alleged corruption in the conduct of Maha Kumbh at Haridwar in 2010.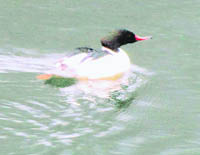 A first, Ladakhi duck spotted in Ram Ganga river
Pithoragarh, February 9
For the first time, the Forest Department and bird watchers in the district sighted dozens of common merganser, a bird usually seen in Ladakh, in the waters of the Ram Ganga (Eastern) river.


A common merganser in the Ram Ganga river in Pithoragarh.

No physiotherapist appointed in 10 yrs
Dehradun, February 9
Time and again cancellation of examination for the posts of physiotherapist has put a question mark on the intention of the government. For the past 10 years, the government has failed to appoint even a single physiotherapist at the district hospitals.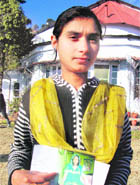 MLA promises help to ailing woman
Mussoorie, February 9
The tall claims made by the government of various health schemes being run for the benefit of the poor have no meaning for ailing Sunita Devi, a resident of Chaman Estate, Mussoorie. According to Pramila, three years ago her mother Sunita had gone to collect fodder for her livestock and slipped from the tree breaking her spine in the process. In addition to that injury, she tragically suffered a paralysis attack and was unable to move from her bed.

Pramila with the photograph of her mother Sunita Devi in Mussoorie.

Tyuni Plasu project of Irrigation Department faces roadblocks
Dehradun, February 9
The Yamuna Ghati section of the Irrigation Department is busy working on the construction of hydropower projects- Arakot Tyuni (81 MW) and Tyuni Plasu (72 MW) worth Rs 1,300- after it got an approval from the Cabinet to create a corporation to arrange finances for hydro purposes in October last year.
Jawans' arrest case: CJM rejects Army officers' plea
Dehradun, February 9
Chief Judicial Magistrate (CJM) today rejected Army officers' plea to allow the force to carry out a further trial of the case in which six jawans in an allegedly inebriated condition were arrested by cops for creating a ruckus at the Premanagar Chowki.
'Controversial' Appointments in GMVN
UKD leaders submit memorandum to Garhwal Commissioner
Ask him to re-look into glaring discrepancies and cancel the appointments
Dehradun, February 9
Leaders of the Uttarakhand Kranti Dal (UKD) met Garhwal Commissioner Ajay Nabiyal regarding the controversial appointments of 10 officials in the Garhwal Mandal Vikas Nigam (GMVN) here today.
Check illegal mining in dist, SDM told
Nainital, February 9
Udham Singh Nagar District Magistrate (DM) BVRC Purshottam has asked officials to take immediate action to check illegal mining in the district. He has asked Sub Divisional Magistrate (SDM), Kashipur, SS Jangipani to stop mining operations in Ajitpur.
Avalon Resort Impasse
Nishank directs DM to resolve issue
Mussoorie, February 9
The protesting Avalon Resort employees, who are waging a battle against the management for its illegal retrenchment drive due to which more than 80 employees had boycotted work, met the Chief Minister at Mussoorie today.
Bear enhanced cost: CM to Rail Ministry
Dehradun, February 9
Chief Minister Ramesh Pokhriyal Nishank has asked Railway Minister Mamta Banerjee to bear the enhanced cost of the Muzzafarnagar-Roorkee railway line, caused due to the delay in the project and make provisions for the same in the coming Union Budget.
Kaushik to meet SSS on Feb 12
Dehradun, February 9
The efforts of Sanyukt Sangharsh Smiti (SSS) seem to be bearing fruit at last, with the assurance coming from Urban Development Minister Madan Kaushik for the conversion of their revenue land into freehold.

Wife accuses husband of rape, torture
Dehradun, February 9
A Rishikesh-based woman has accused her husband of raping her, making an MMS, besides torturing her over the demand for dowry. She lodged a compliant with the police yesterday against her husband Ajay Sharma.